The smartphone changed the way people live but might it be the beginning of the end for the once pioneering technology and, if so, what comes next?
Apple did not invent the smartphone. But it is largely thanks to the California giant, which last week reached the landmark valuation of $1trn powered by the success of the ground-breaking iPhone, that life has changed as dramatically as it has.
Before the iPhone, the smartphone market was dominated by Blackberry.Often seen as the preserve of high-powered City types, the Blackberry's once-loved qwerty keyboard ended up eclipsed by Apple's intuitive interface and sleek design as everybody started swiping.
Behaviour, including shopping, changed to mirror the iPhone, as consumers frequently leap-frogged the tablet and migrated straight from desktop to smart phone, leading to an exponential rise in m-commerce.
Despite the popularity of the smartphone, there are some signs of change. Apple sold 41.3 million iPhones in its third quarter, but that was half a million less than expected. Many observers think the smart phone's dominance will inevitably subside, so what technology will turn how people live – and shop – on its head once more? And how well-placed is Apple to capitalise on that?
No hero hardware
Expert consensus is that there is no single piece of consumer tech set to transform people's lives as the smartphone did. What happens next is far more complex.
In the coming years, consumer tech will, in the words of OC&C Strategy Consultants' Michael Jary, evolve into "a whole set of technologies that essentially create multiple new interfaces to the internet".
Ways of connecting such as smartwatches, glasses and other wearables will, when used in conjunction with connected homes and cars, allow the internet to "surround and envelop us", he believes.
"The internet in terms of a place to go and search will cease to make sense, it will just be seamlessly part of our experience," he maintains. "There will be no distinction between the virtual world and the physical world."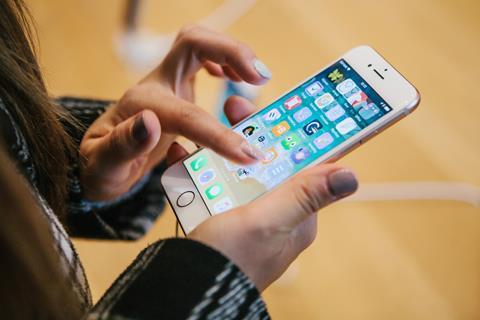 That might sound far off – and far out – but so did the idea that everybody would carry around mini-computers with which they could run their lives in their pockets.
What seems certain is that the physical hardware itself, through which Apple has become iconic, will become less important.
Isobar head of insight Alex Hamilton says: "The hardware might be agnostic – it could be glasswear, a watch or something else – but it will be able to operate many different systems and technologies," he says.
"It will be an ecosystem. If I was to make a prediction, I would say that whatever hardware device somebody has will evolve into something that combines voice, a WhatsApp-type messaging service, a retail-led chatbot service and has AR."
Apple vs Amazon and Google
While hardware may become less important on its own, it is still the carrier for consumers' new relationships with their chosen interfaces. Apple will face a fight to be consumers' chosen interface but so too will fellow tech giants Amazon and Google.
The three may have the same end goal but in some ways they are far from evenly matched.
"Amazon has long suffered from device envy", says Jary. "They know they don't have a smartphone operating system in the way that Apple and Google do, and that always means they are at risk of disintermediation."
Following the failure of Amazon Fire, the etail giant's foray into mobile devices, Amazon is attempting to use the Alexa service to landgrab consumers and hook them into an ecosystem in the same way Prime does for online shopping.
Conversely, Apple may have stellar hardware but it has lagged behind on the types of interaction Amazon and Google are beginning to forge with their users as their ecosystems develop.
"I think Apple has been very focused on user experience in terms of the user journey," says Gemma Spence, head of etail at PHD Media, a division of global media giant Omnicom. "It has all been about the physical interactions with the device. People go into stores just to look at and touch their product and they have not had to go down a different route yet."
Refocusing
Capgemini principal consultant Bhavesh Unadkat believes Apple will have to refocus its lens away from beautiful product and on to experience, if it is to keep up with Amazon and Google.
"There is no way they will be able to have same levels of success if they focus on product," he asserts. He says Google's Express service in the US, which enables shoppers to buy from a varity of retailers using an app, voice or website and have delivery, shows the true potential of how central a tech company could become to everyday lives.
"Amazon lets you buy anything listed on Amazon," he explains. "But Google can show you anything online. In my opinion, Google could become the holder of the relationship between the customer and the product. They could manage the shopping process and the fulfilment process too. The customer would never know who had fulfilled that on Google's behalf."
"Apple, Google and Amazon understand that whoever owns all the interfaces owns your perception of everything"

Michael Jary
Apple may yet surprise, however. The business was not first to market with MP3 players or smartphones but it was able to monopolise the market nonetheless, though that dominance did revolve around product rather than an ecosystem.
"Apple is very conscientious and careful," says Spence. "It is all about design quality and user experience. They will make sure they curate it and get it perfect before coming to market – it is all about design.
"Apple is not about failing fast, it is about perfecting something. They do things beautifully and perfectly and consistently to ensure and manage their brand identity based on core product. I think we will see that happen for sure."
Whichever of the tech giants people opt for, it will control the various interfaces through which people interact with friends, search for information and shop.
That, argues Jary, goes beyond tech. "Apple, Google and Amazon understand that whoever owns all those interfaces owns your perception of everything," he says. "And that's worth far more than a trillion dollars."