Amazon has unveiled a home ordering button called 'Dash' which customers can use to quickly replenish items such as coffee capsules, razor blades and toilet roll.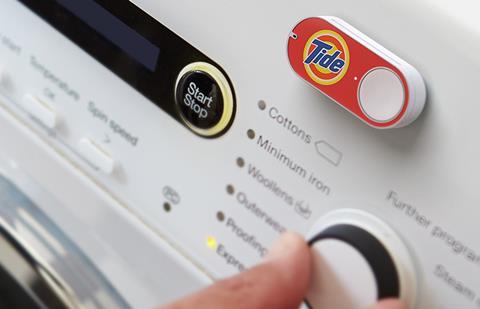 The etail giant is inviting Amazon Prime members to try out the device, which prevents customers running out of their favourite products. The button comes with a reusable adhesive as well as a hook so it can be placed near the coffee machine, or in the bathroom or laundry room.
"When you're running low, simply press Dash Button, and Amazon quickly delivers household favourites so you can skip the last-minute trip to the store," said the etailer.
In a real-world example of how the internet of things could really help consumers, the Amazon Dash button uses the Amazon app on a smartphone to connect to a home Wi-Fi network. Customers select the product they want to re-order and when stocks get low, users can press the button which automatically places an order of the item.
Amazon then sends an alert to the customer's phone, but unless cancelled, customers won't have to do anything else to receive their products.
The US launch has brands including Bounty, Tide and Maxwell House on board, but the offer is currently limited to three Dash buttons per customer and account while Amazon supplies last.
This is part of a drive by Amazon to automate the shopping process. Yesterday it was revealed that the etailer is envisioning a store without payment.
Amazon has recently filed for a patent for use of in-store technology which will allow customers to delay payment. Technology such as RFID and cameras could be used to identify products leaving stores and customers could be charged after exiting with goods and then sent digital confirmation.