Amazon has declared its lowest UK tax bill for five years, despite almost doubling its profits.
Accounts for the online Goliath's biggest UK arm, Amazon UK Services Limited, revealed it incurred a £4.6m corporation tax bill in 2017, compared with £7.4m the year before.
But the division, which is in charge of Amazon's fulfilment centres in the UK, paid out just £1.7m after deferring £2.9m, the Daily Mirror reported.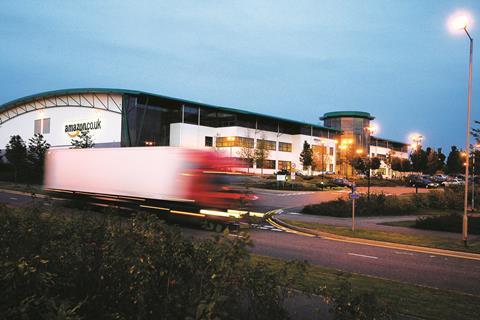 Amazon UK Services made an operating profit of almost £80m in the UK in 2017, up from £48m in 2016.
Amazon's sales soared to £8.8bn in the UK last year, as profits tripled to £72m.
But the etailer's tax bill marked its lowest for five years – and a 36% drop year on year – while other similar-sized retailers including Marks & Spencer, John Lewis and Dixons Carphone shelled out almost 20 times more in corporation tax.
Amazon reduced its tax liability by providing shares as awards to all permanent staff, which are deducted under standard UK tax rules.
Workers on permanent contracts received an average of more than £3,000 from their shares last year, pushing share-based payments up from £37m in 2016 to almost £55m last year.
UK investment
An Amazon spokesman told Sky News the business paid all the tax it was required to both "in the UK and every country where we operate".
The spokesman said the numbers were driven by Amazon establishing a "local country branch" in 2015 "to ensure we had the best business structure to serve our customers going forward".
He added: "Corporation tax is based on profits, not revenues, and our profits have remained low given retail is a highly competitive, low-margin business and our continued heavy investment.
"We've invested over £9.3bn in the UK since 2010, including last year opening a new head office in London alongside development centres in Cambridge and London.
"This year we plan to create 2,500 permanent jobs across the country in research and development, our head office, customer service and fulfilment centres, to bring our total workforce in the UK to over 27,500."
Earlier this week, Amazon posted a spike in international profits to £1.98bn for the three months to June 30.