New Retail Week interviews with 50 senior retail supply chain and tech executives reveal just 36% want to leave their jobs – down 20% from last year – while 96% now feel supported by leadership
Despite uncertainty in retail, the mood among the sector's supply chain and IT leaders is becoming increasingly positive as fresh research from Retail Week's annual Supply Chain report shows.
In January 2023, 50 staff working in senior supply chain and IT positions – who remain anonymous – were surveyed to understand how they feel about their role, their leadership team and their investment priorities, and the challenges they and their retailers are facing.
The results were then compared with the same survey conducted in February 2022, revealing significant findings.
For instance, only 36% of the retail supply chain and IT leaders interviewed for the report had considered leaving their job in the past year. This is a dramatic fall compared with the 56% that felt the same way in the 2022 study when sentiment was low in the immediate aftermath of the Covid-19 crisis.
Additionally, 74% of those questioned feel very or somewhat positive about the state of their business' supply chain, compared with 62% last year. That represents progress, especially with some respondents telling Retail Week that "things are improving" with regards to supply chain management.
Furthermore, a significant 96% of those working in retail supply chain and IT said they are now very or somewhat supported by leadership – with 35% saying they feel more supported than they did in 2022.
However, the report, produced in association with GreyOrange, also explored what these leaders believe is required for successful retail supply chains of the future. The research found a major disconnect between what the respondents want from their employer's supply chain investment strategy and where their money is being directed.
For example, 38% said their retailers were not making the most of AI-driven warehouse automation in their supply chains, while the majority of those interviewed felt micro-fulfilment – placing small-scale warehouses in urban locations close to consumers – should not be a priority for retailer strategies and was not a transformative solution.
Want more first-hand insights like this from those at the centre of the sector? Access your free copy of Supply Chain 2024: 50 leaders on their boards' strategy and vision today.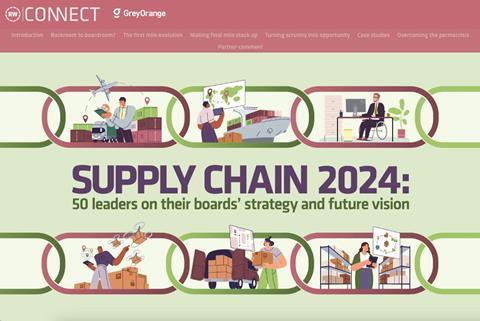 You will also discover:
Retailers' top supply chain and tech investment priorities for 2023
How retailers such as Walmart and Next are innovating in the first and final mile
An exclusive ranking of retailers and brands by operational excellence
How to make returns pay with case studies from JD Sports, New Look and more

GreyOrange is a global company that modernises order fulfilment through AI-driven software and mobile robots, built together so they co-operate in deciding on and executing warehouse activities that maximise payoffs and minimise tradeoffs to create the highest yield.