Retailers are beginning to analyse prices along a product's lifecycle in order to maximise their returns, finds Joanna Perry.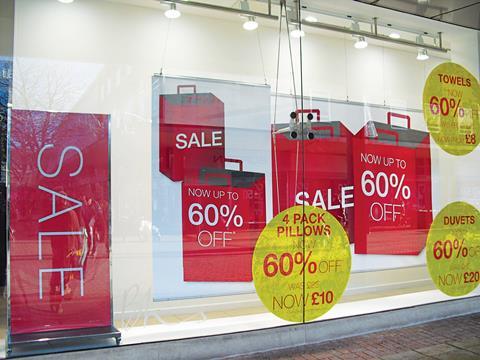 Price has been the biggest weapon for many retailers battling in the intensely competitive landscape of the last couple of years. Yet many in the UK are only just starting to think scientifically about the pricing and promotions decisions they make.
In the longer term, it is clear that analytics has a crucial role in retailers' buying and merchandising departments, and can help with decisions throughout the entire lifecycle of a product. So where should retailers that want to be more strategic about pricing decisions begin, and is analytics necessary?
SAS retail pre-sales consultant Alex Fovargue argues that the amount of analysis required in modern retailing is significantly greater and more in-depth than even a decade ago. "Nearly 15 years ago while working at Dunnhumby, I was involved in the first pricing project for Tesco. We were looking at about a thousand lines. The project took about three months and was a classic Excel-based exercise. These days we are talking about analysing tens of thousands of lines on the fly."
He explains how analytics can now be used throughout the product lifecycle: "It starts at the beginning with new product development. Simply put, what sort of products do customers want to buy and how much should you charge? The price point can be based on price elasticity but should also take into account that no product sits in isolation. Sales of one product will impact others in your assortment."
Moving on from initial product decisions and price, markdowns is another area where optimisation based on analytics can assist, especially for non-perishable goods. It has been used widely by fashion retailers trying to sell-through products in relatively short season windows of just six to eight weeks (see box).
However, Fovargue says it is now also being applied to different types of retail businesses, such as non-food in grocery. For instance, should a DIY retailer discount barbecues at the end of the summer, or put them back in the warehouse for next year?
IBM director for Smarter Commerce in North East Europe Iain Devine says analytics is becoming more holistic: "It's not just about prices of new products, but is linked to promotional offers. In the second stage, analytics is about deciding the tipping point of what percentage discount you must give a customer before they will actually buy a product. When you know they have been back several times to your site to look at your product then you can infer a tipping point."
To the point
FreshDirect, the US online grocery business that Morrisons has taken a 10% stake in, has seen a near 1 percentage point improvement to margin by analysing its flagship ready-meal range.
The goal of the project was to increase revenue and margin without reducing the number of units sold. After testing several price scenarios, it was proven that the optimal outcome came from moving certain products between the price points of $5.99, $6.99, $7.99,
$8.99 and $9.99, rather than trying to change the price of all products. The analysis proved that maintaining these price 'buckets' was crucial to price perception, but customers were less bothered if individual products moved to different buckets.
The project involved the pricing team working closely with the merchandising team to create and test possible scenarios. In this case, as an online- only retailer, FreshDirect has the benefit of in-depth purchase histories and additional behavioural data from each of its customers.
Another retailer to have seen real results from analytics is Waitrose. SAS pre-sales consultant Ruth Jackson explains that the grocer was able to make a one-off reduction in stock holding of 8%, and a continual reduction in wastage of up to 4% a year, with the introduction of a forecasting system from SAS.
Jackson adds that demand forecasting and optimisation are other areas where analytics can give retailers an edge. She explains: "A retailer can benefit from having an accurate demand forecast, but the real advantage comes when advanced analytics uses the forecast and optimises the flow of stock. Optimisation doesn't just benefit the supply chain. It can be used to help make educated, controlled decisions about the best price to sell a product and even how much space a product should be given on the shelf."
Personal touch
Already some UK retailers – and particularly the grocers who operate a range of formats – are offering products for sale at different prices in different stores. The next stage in the evolution of how retailers make pricing decisions is likely to mean that offers are much more targeted to groups of customers.
Devine says his retail clients are trying to close the loop on pricing and promotions, particularly by being more targeted about the offers they send to maintain margin. He says: "For example, blue cross-style promotion days are a big sledgehammer to crack a nut. If you know your customer you only need offer a promotion for a few things that they have already looked at. We have seen retailers improve their conversion rates online by 1 to 1.5 percentage points by targeting their offers." With online conversion rates as low as 3% to 3.5%, this makes a substantial difference to their top and bottom lines.
He explains: "Our research tells us that the more specific you are with promotions the better your margins are." Devine says he expects this to quickly lead to more targeted offers, not just through email marketing, but promotions pushed to customers via their mobile devices while they are in the vicinity of a store.
Devine says price and promotions optimisation gives the fastest return on investment, but allocation optimisation can also provide value. And Fovargue concludes that at a time when many retailers are having to run more promotions, analytics helps buying and merchandising departments to regain control of their margins.
Maximising margins through scientific markdowns
Canada's Hudson's Bay Company (HBC) operates four banners, and has more than 600 stores employing approximately 50,000 associates. It has seen a return on investment from markdown optimisation and will be extending its use of the technology next year.
A believer in advanced analytics, HBC has also rolled out a tool to improve efficiency of stock allocation by store for each SKU. And a size optimisation tool is helping the retailer buy the right range of sizes for each store.
HBC vice-president for the merchandise information office Joanne Cooper explains that the retailer's SAS markdown optimisation tool has been in use for several years, and allows the company to better utilise its markdown dollars. Decisions on which products to mark down, and by how much, are based on analysis of factors such as geography, inventory turns, financial performance and even climate.
She explains: "We apply discounts in zones where we need to, to achieve our goals, and can carry on selling at full price for longer in other zones. It has also taken away much of the manual analysis which was time-consuming." Cooper explains that tangible benefits can be seen when HBC hits its target of 95% sell-through at the end of a season, and is also able to bring new assortments into store earlier because of the selling space this frees up.
HBC senior manager of markdown optimisation Brenda Carr adds that the company will introduce a new version of the tool next year that will allow it to make markdown decisions at the store level to better achieve its aims.
Carr explains that the first markdown decision for any SKU will determine an optimal discount normally of between 30% and 50%. The goal is always to achieve sell-through with the first markdown. Any further markdowns required may vary further by zone/store.
Cooper concludes: "Analytics always has to be balanced with the basics of retail. You can lose sight of common sense otherwise. For instance, a 5% markdown might be what the system suggests, but a retailer will know that it's not worth the cost of the labour involved in making such a small discount."