Airport duty free retailing is quicker and less predictable than the average retail supply chain. Charlotte Hardie finds out how World Duty Free copes with security checks, flight delays and even the odd volcano.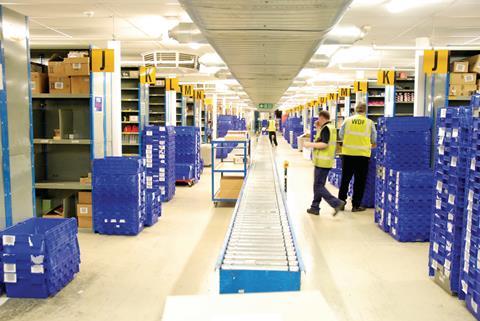 Imagine if not one thing was sold in any of your stores for eight days. Aside from being disastrous from a sales perspective, it would pose more than a couple of issues for a retailer's supply chain. And yet that's exactly what happened to World Duty Free last year when the unpronounceable Icelandic volcano decided to spew its ash high into the atmosphere, rendering the UK a flight-free zone and causing airports to ground all flights.
The fast-paced nature of the business made the situation even more complex. Airports charge astronomical rents, and so World Duty Free's airside stock room is tiny. Head of supply chain Dan Curran estimates Heathrow T5's to be in the "low hundreds" in terms of square footage. What's more, its central distribution centre, a few miles away from Heathrow, is only about 100,000 sq ft. So within hours of the airports being shut, stock instantly backed up. "It only took 36 hours before the warehouse was completely full," says Curran. "The aisles were double-stacked with pallets and it was out onto the yard."
When you consider that stock turnover at its T5 stores is roughly equivalent to that of one of the big grocer's superstores, the challenges faced by World Duty Free's supply chain teams become ever more intriguing. Because it has virtually no storage space at the stores, its supply chain needs to be exceptionally reactive. The average time it takes for product to be sold, replaced and back on the shelf again is 16 hours. It can be as quick as nine hours if the store is near to the distribution centre.
Supply chain agility is even more important in this business because forecasting can be a veritable nightmare. There are certainly definite patterns; August is full of families travelling with children, so cigarettes and luxury goods sales will be low, confectionary sales will be high. The first two weeks of September are crammed with child-free couples with more money, taking advantage. They buy more cigarettes and more luxury goods. And when Muslims are fasting during Ramadan, food and alcohol sales drop off.
Always be prepared
The team also has to contend with flight cancellations and delays, which are impossible to anticipate. Curran says: "We're on the receiving end of trends and events much more than on the high street. You can see sales spikes on individual days of anywhere between 50% and 100%. We have to make sure the supply chain is ready – at the drop of a hat we might have to cancel deliveries or spend could be 50% higher." He adds: "We hate cancellations because a lot of people won't rebook, but we like short delays because people have more time to shop."
The availability figures are impressive. In fact, the team won a Retail Week supply chain award for Team of the Year last month for its ability to deliver industry-leading KPIs while contending with factors such as snow and fog grounding flights, delays and even volcanoes. Every day, the team receives an automated email about availability. Curran accesses that day's on his Blackberry: spirits: 99.3%, cigarettes: 99.5%, beauty, 98.2%. And all this against the backdrop of a business that has 204,000 store/SKU combinations. Has it ever attained 100%? "Once in cigarettes we were one store/SKU combination off 100%," says Curran.
No room for movement
There may not have much storage space at its stores, but there isn't much at its 100,000 sq ft distribution centre either. Moreover, the distribution centre can't be expanded. It's flanked by the Thames on one side, and a major road and houses on the others. There is only one door for inbound deliveries and one door for outbound. It's also akin to a tax haven − product held there is duty suspended, with systems linking to Customs. World Duty Free only pays duty on products that are sold to customers travelling within the EU. "We have to trace every movement of stock to notify customs," explains Curran. "If we lose a case of cigarettes, we're liable for the duty on it. All customs care about is that it's not in the EU, and so shrinkage is a nightmare. Duty on a case of cigarettes is 10 times the cost of cigarettes themselves." What's more, if that case of cigarettes later turns up, they don't get a rebate on that duty.
The retailer therefore has to be particularly careful with those who enter and leave the distribution centre. Everyone goes through airport-style security systems. Shoes come off, hand-held detectors come out. And no one – including staff – is allowed to wear a watch. That way, if anyone comes back through security wearing one, staff would know it's been stolen. Of course, all retailers need to consider ways to safeguard against staff theft, but the challenge for World Duty Free is that everything is picked in singles to account for the fact that stores have virtually no airside storage space. Sending a box of even three face creams when the store only needs one would be a waste of space. The result is a very unusual looking distribution centre. Clinique moisturisers and cartons of cigarettes line the shelves as if you were picking them off the store shelf. Walking past a shelf of Jo Malone perfumes, it's hard to resist the temptation to spray them as if they were testers. You can see why they need to work particularly hard to tackle shrinkage. There is also the added risk of terrorism. Product is "blind picked" – no one packing it knows which store it is heading to. That way, no one has any inside information that could compromise security if anyone were to plant anything in any of the containers.
A lesson learnt
Every retailer strives to make their supply chain more agile, reduce lead times, maximise availability and reduce inventory. But unless World Duty Free achieves all of the above brilliantly, its supply chain would fall apart. Other retailers can learn a lot from the way in which it operates. There are obviously factors that work in its favour; the distribution centre is, for instance, extremely close to several of its stores. But there are also myriad factors working against it. How many retailers have to security scan every single box of product that goes in and out of its distribution centre?
Ultimately, says Curran, the team has achieved such efficiency by getting the fundamentals right. "Over the last year, we've started to lead the field in training, for example." At a time when training budgets in many businesses are tight – if not non-existent – it has invested in making sure its team is better skilled at supply chain forecasting, for instance. And while all retailers bang the collaboration drum, if true collaboration didn't exist between World Duty Free and suppliers – as well as between the retailer's own teams – then any flaws in the supply chain would quickly become exposed.
Travel retail is like a different world. But this is one world from which many supply chain teams could learn a thing or two.
World Duty Free facts and figures
World Duty Free has a presence in 21 UK airports and Eurotunnel
It has 88 shops, totalling 336,490 sq ft of retail space
It has 12 different customer fascias including World of Whiskies, Glorious Britain and Beauty Studio
There are 22 people in its supply chain team
It has one central distribution centre
More than 100,000 bottles of fragrance are sold every week in its stores
Each Christmas the retailer sells almost 2 million bottles of perfume
It is the biggest retailer of fragrance in the UK – 20% of all fragrance sales
It is the biggest retailer of malt whisky in the UK – 25% of all sales
It sells one YSL Touche Éclat concealer every 11 seconds
It has 25,000 SKUs