EBay has signed a multi-year partnership with Argos that will allow the online marketplace's sellers to drop-off products at stores nationwide for delivery.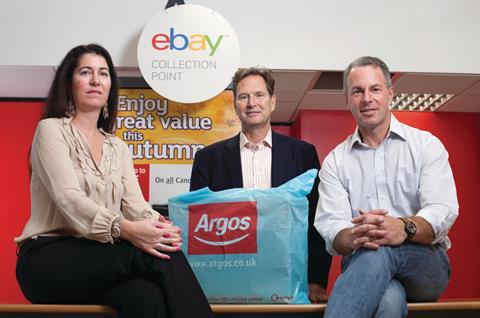 Click-and-drop was tested earlier this year at 10 stores and is now being rolled out to Argos shops nationwide.
The initiative is the latest extension of a burgeoning relationship between Argos and eBay, which began at the end of 2013 when Argos piloted allowing shoppers to pick up eBay purchases from its stores.
Since then more than 3 million parcels have been processed via the service and 200,000 businesses selling on eBay have used it.
EBay UK vice-president Tanya Lawler said the extension and broadening of the Argos partnership is part of an ambition to offer "more convenience, choice and value".
Allowing sellers to drop off parcels for delivery at Argos is the latest escalation in the war over fulfilment, which has included Amazon rolling out one-hour deliveries and Argos launching same-day delivery.
Combined capabilities
Lawler said: "We have been working on this for quite some time, what you are seeing is a lot of hard work in terms of creating differentiation, we have not been reactionary."
"EBay has been through a lot of change in recent years but our heritage lies in the SMB and consumer-to-consumer space."
Lawler said the Argos partnership has gained "enormous" traction and customers are "exceptionally satisfied".
She added that satisfaction scores have been higher than those from customers dropping off parcels at a Post Office.
Lawler concluded: "Nobody has the capabilities combined that eBay and Argos have."