The UK's leading retailers, start-ups and service providers were charged with innovating in the delivery space – find out what ideas they came up with.
Ask any Tech Sprinter at the end of last month's 24-hour hackathon-style event how they survived, and they'll tell you an unshakeable obsession with creating the very best delivery solution the market has to offer got them through. That, and an unending supply of Monster energy drink.
The task we set them was simple – the methods they employed to achieve it were far from it.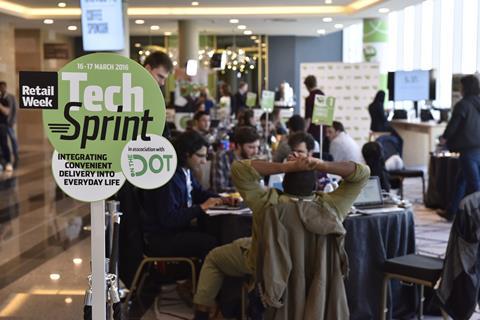 The Retail Week Tech Sprint, in association with On the Dot, and powered by Harman technology, gave the teams of hackers one simple instruction. Create a solution that will integrate convenient delivery into consumers' everyday lives.
What ensued was 24 hours of frantic activity as the teams battled it out to create the ultimate delivery solution, using every digital, technological, commercial and marketing skill in their collective arsenal.
Taking part were the greatest digital minds in the business, from start-ups, retailers and service providers. The five teams had all been shortlisted by our expert panel of retail judges and were:
Asos Code a la Mode
Team Red Ant
Flubit's Augmented Ecommerce
Kurt Salmon Digital
Qubit
The Tech Sprinters assembled at the O2 Intercontinental on the first day of Retail Week Live, and after a rousing introduction from head judge Martin Newman, chief executive of Practicology, the countdown began.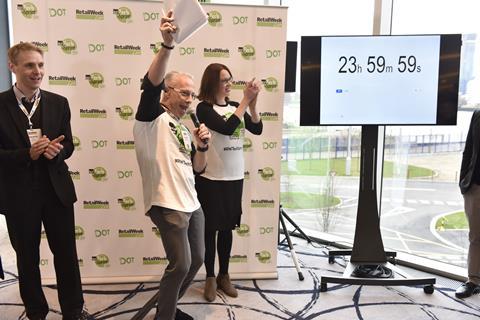 As the clock started clicking the teams began talking through early ideas for their delivery solutions. At 2pm, three hours into the Tech Sprint, the judges – made up of CIOs and ecommerce directors from retailers including White Stuff, Hobbs and Tesco Labs – carried out their first round of judging, chatting to each team in turn. Three hours later they carried out the same exercise to start building a picture of early development among the teams.
During each judging round on day one and day two, the judges were marking the teams against four important criteria:
Creativity of idea
Cohesion of team
How commercial is the idea?
Delivery of solution
While participating teams had the freedom to develop any innovation they liked using any application program interface (API) they wanted, the delivery part of the concept had to use one of On the Dot's APIs. The idea behind this was to create a level playing field for all the teams and encourage creative thinking.
The On the Dot technicians were on hand for the entire 24 hours to answer the Tech Sprinters' questions. Like the teams, they were sleep deprived but 100% committed to the task at hand and passionate about the aim to make delivery more convenient for shoppers.
As On the Dot senior architect Eduard Lazar reflects: "Kudos to our team for all its effort to date and to the attendees for their innovation, grit and desire to shine and win.
"We have demonstrated that we mean business and can foster innovation along with robustness and speed to adapt and fail fast."
For head judge Newman, delivery innovation in the retail space is vital. "The last mile in the customer's journey is arguably the most important. The last experience is the one customers remember most. And given how task rich, time poor we all are, putting the customer in control of when and where their orders are fulfilled will drive an increase in sales as well as repeat business for the retailers that engage with this solution," he says.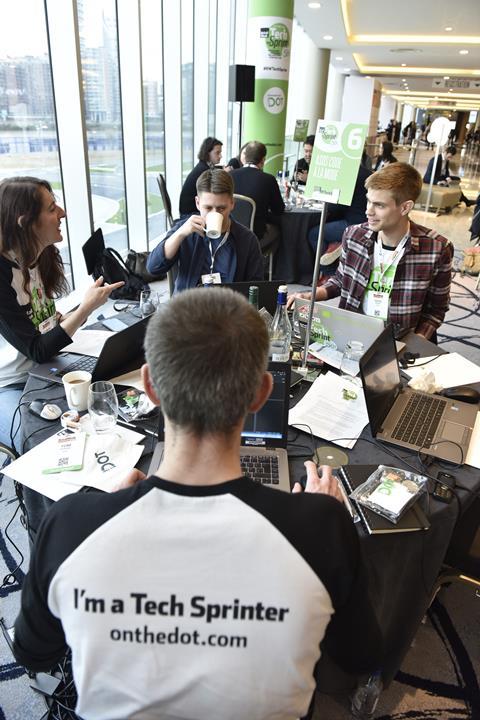 After a long night, interspersed with many more energy drinks and junk food, the Tech Sprinters watched the sunrise over Canary Wharf and awaited the arrival of the judges for their third round of judging at 9am.
Watch what happened over night in our video here.
Finally at 11am the clock stopped and the teams prepared for their nail-biting pitches, during which they had exactly three minutes to present their solution.
The teams' solutions
Asos Code a la Mode's idea was to open up their marketplace for same-day orders by leveraging On the Dot to deliver customer orders from the boutiques selling on Asos marketplace.
Team Red Ant created the Personal Assistant Tracking bot (aka PAT) to track down a missing delivery.
Flubit's Augmented Ecommerce team leveraged its product search and On the Dot to deliver products it could sell/source cheaper than the same products being offered on Amazon, Argos and other sites.
Kurt Salmon Digital presented its Speedly single-branded customer app that enables consumers to have an order shipped from a store, or from peer-to-peer, within hours. The app included a QR code that the customer can scan to schedule a delivery to their house directly from their phone within seconds.
Qubit's team focused on a mobile web app that aimed to take the guess work out of collection of delivery, with live updates on status of delivery and queue jumping function for consumers.
Lazar was highly impressed with the variety of the solutions created and digital methods employed. "We have had C#, Artificial Intelligence (Wit.ai, IBM Watson) , Node.js, Express, ElasticSearch, PHP, NoSQL, MySQL, Less, IOS and Xcode to name just a few."
The judges announced Asos, Flubit and Kurt Salmon Digital would go through to the final, where they would present their solutions in front of a live audience at Retail Week Live on the Launch Pad stage.
After a nerve-racking round of pitches, Newman announced Kurt Salmon Digital as this year's Tech Sprint winner. He praised the team's solution for "disrupting the fulfilment proposition in the UK and putting the customer in control".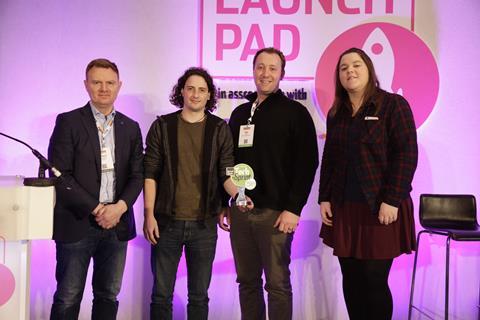 He added: "They created an end-to-end delivery proposition that puts the customer in control. They can pay for, schedule, re-schedule their deliveries from retailers, they can use the app to buy in store and ship to their home, but they can also control peer-to-peer deliveries. In other words, buy and sell directly with other consumers and leverage the app to schedule deliveries to and from them. It's a potentially highly disruptive and very customer-centric delivery proposition."
Santosh Sahu, director of On the Dot, praised Kurt Salmon Digital's "team work, idea generation, holistic view on product development and the way they presented".
Watch Retail Week's interview with winners Kurt Salmon and why their innovation took gold.