Trading peaks such as Black Friday and Christmas put a strain on fulfilment strategies. Here is how retailers can prepare.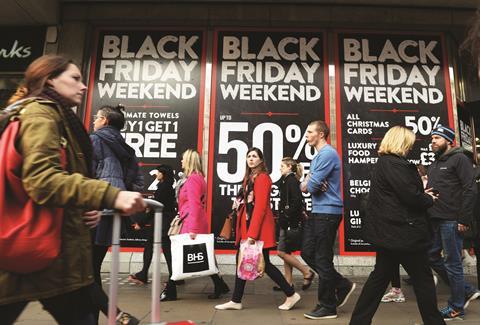 As the cameras focused on the hordes of shoppers fighting over flat screen televisions, retailers must have been wondering what kind of a monster they had created.
Black Friday 2014 was a shopping frenzy like no other and was one of the most successful sales days in UK retail history. An estimated £810m was spent on November 28 and a further £650m added on the following Cyber Monday.
Although Black Friday turbo-charged retailers' top lines, the unprecedented levels of demand created a host of problems, most conspicuously around delivery. It is for this reason that retailers remain divided on the desirability of consolidating so many sales into a 24-hour window, which itself falls within the most lucrative trading period of the year – Christmas.
John Lewis was a big beneficiary of the 'Black Friday effect', but boss Andy Street has said it is not in the industry's overall interest to focus so much trade into one day.
Dixons Carphone was another retailer that received a huge boost from peak 2014 – recording its biggest ever trading day on Black Friday before delivering a record Boxing Day Sale. However, on reflection chief executive Sebastian James noted that the peaks had affected trading in between, comparing the sales effect to a "double-humped camel".
Sales bonanza
Despite some concerns, many retailers have embraced the sales bonanza with more enthusiasm. Shop Direct chief executive Alex Baldock says his business will go full-throttle for this year's Black Friday while The Entertainer – like some others – has already ordered the toys it will sell at bargain prices.
As the clock ticks down to this year's Black Friday and Cyber Monday events, how can retailers prepare for the headline peak trading days and make sure their supply chains can cope with the events' inevitable growth in the future?
If the big selling days of 2014 taught retailers anything, it is that "offering big discounts, free delivery, free returns and returns after Christmas in one transaction and within such a short time-frame is a recipe for disaster," says Phillip Smith, UK country manager and retail expert at customer review business Trusted Shops.
Smith is far from alone in his observation. Whether they are in the pro- or anti-Black Friday camp, one thing all retailers and their supply chain partners are agreed on is that they need to plan better for this year's peak events.
Heightened expectations
One factor that has piled pressure on retailers is the growing consumer familiarity with events such as Black Friday and the sense of expectancy that now surrounds them.
"Consumers have become more aware of the concept of Black Friday in a very short time and now there's an expectation on retailers to deliver major discounts," says Sean Hallows, chief operating officer of logistics firm Clipper.
Managing these expectations in an open, transparent way will be key to successfully navigating future peak events. The Entertainer boss Gary Grant points out that the US model is to bring in specific products as Black Friday lines and he believes consumers cannot expect goods that have been shipped in especially to sell on Black Friday will be of the same quality as everyday high street items.
Expectations should also be managed from a delivery point of view, says iForce chief executive Brian Gaunt."It is one thing to offer a one-day price but another to be able to fulfil that order," he says.
"Success is entirely about getting the retailer to relax the order-to-delivery cycle"

Brian Gaunt, iForce
Gaunt says a key lesson learned by the industry following Black Friday 2014 is that logistics businesses do not have the capacity to soak up all the activity as an end-to-end process in one single day. "If you say to the customer 'great, you've got your bargain, but due to level of demand it'll be delivered in the next five days', you manage expectations and allow everyone to smooth that peak. Everyone wins," he says.
By being transparent and managing expectations, savvy retailers can deliver the experience their customers expect. But those that promise the earth and under-deliver will find themselves facing a backlash and possible reputational damage.
"Success is entirely about getting the retailer to relax the order-to-delivery cycle, to drop it down to a level where they have resource committed," says Gaunt. "If retailers don't do that, we'll be back where we were last year and one of the carriers will go over, or we'll default into chaos."
Be prepared
There is a sense that some businesses were grossly under-prepared for the scale of demand for Black Friday discounts and the consequent pressure on supply chains.
"Consumer demand caught some on the back foot last year, but the signs were there from the outset that Black Friday 2014 was going to be big," says Liam McElroy, Wincanton managing director of retail, who predicts this year's event will be even bigger
"It's a great opportunity for retailers to boost their sales, but the back-end operations must be watertight to avoid a disaster in terms of the fulfilment of those orders. Retailers and their supply chain partners need to be more agile and flexible than ever before."
"Retailers need to be certain of their whole supply chain process – basket to doorstep"

Sean Hallows, Clipper
Clipper says it handled 100% more orders than the comparable trading period the previous year and experienced a 400% increase compared with a typical weekend, equating to six items a second. "With peaks as big as that, retailers need to be certain of their whole supply chain process – basket to doorstep," says Hallows.
Some retailers are looking at new fulfilment models such as drop ship or supplier direct delivery, which allow them to have a greater range and connect a larger group of suppliers, according to supply chain business Kewill's chief marketing officer Evan Puzey.
"They will then need to efficiently and effectively manage this larger supplier network to gain better visibility of stock availability, organising personalisation, confirming ability to fulfil on time, all while using the retailer's branded documentation and labelling for delivery to customer and therefore maintaining the retailer's brand recognition," Puzey says.
The most obvious lesson to take away from 2014 is the importance of being prepared for every eventuality. As soon as one peak sales event is over, planning for the same event the following year should begin. Hallows notes that Clipper started its 2015 peak planning in January with a comprehensive review of performance over peak 2014.
Meanwhile, in a bid to ensure extra capacity in 2015, DPD has opened the largest automated sorting hub in Europe – a £100m investment in Hinckley, Leicestershire – and a further 10 new regional depots. That gives it significantly more capacity this year.
Early preparation
DPD chief executive Dwain McDonald cites the need for early preparation as a key lesson from 2014. The carrier managed around 24% more volume during peak last year, and is preparing for a further 30% increase in 2015. "Get everything agreed early and then stick to the plan," is McDonald's advice. "If you are a retailer and you haven't got your carriers sorted by September, you've probably left it too late.
"We have our staff numbers, retailers and volumes all agreed by then – that's how you have to manage it."
"Retailers must have complete real-time visibility of all stock to be able to maximise sales and profits"

Craig Sears-Black, Manhattan Associates
While getting the customer proposition right is vital, it should not be at the expense of the back-end operation. "A lot of investment has gone into the front end and setting up services. However, the same amount of investment needs to be spent on the back end," says Craig Sears-Black, UK managing director of Manhattan Associates. "Retailers must have complete real-time visibility of all stock to be able to maximise sales and profits."
Retailers and their partners should stress-test their website capacity and point-of-sale systems well in advance of peak seasonal promotions, says Andrew Fowkes, head of centre of excellence for retail at SAS UK & Ireland.
"Warehousing and dispatch systems are where retailers often fall at the last hurdle. Part of the problem is inaccurate forecasting, often a result of predictions made on historic data, manual calculations, and sometimes, gut feel."
The best omnichannel retailers have the inherent agility in their back-end systems and infrastructure to be able to manage through trading peaks, says Stuart Higgins, retail partner at LCP Consulting. "Most importantly, they also have the agility in their front-end customer offer to ensure they can dynamically alter their offer to ensure they can always fulfil on their promise," he maintains.
Ultimately, the key to a successful peak event is a combination of investment in systems, effective planning and managing expectations. As Gaunt concludes: "It is commercial suicide to commit to one day as your peak and my biggest advice is don't try to get your supply chain to respond in a single day. You have other options."
Making peak trading profitable
Even after retailers' systems for coping with peaks have been developed and tested, there is the thorny issue of profitability to consider. Black Friday may have flattered the top line but the positive effect on the bottom line was less clear-cut.
"If you examine fourth-quarter performance for many retailers last year, while Black Friday was huge, their overall quarterly figures were less impressive," says Stuart Higgins, retail partner at LCP Consulting. "The key question is could they have sold the merchandise at full margin later in the season, instead of on Black Friday, and delivered a higher net fourth-quarter profit as a result?"
Managing consumer expectations around delivery is a vital way to ensure better profitability, according to Mark Pettit, sales and marketing director at Hermes. "Incentivising longer lead times would make the peak season more manageable and therefore profitable," he says.
"As long as the consumer knows where they stand, and expectations are met, this will also reduce the number of incoming queries during the busiest time of year."
In an effort to better meet demand at peak trading, Hermes has made the decision to add a secondary sorting tier at its fully automated hub in Warrington, Cheshire.
Once the £10m extension is completed it will have the option to increase capacity from 550,000 parcels per day to over a million in a very short time frame. The risk and cost of returns is another consideration that can often get obscured in the sales frenzy, says iForce chief executive Brian Gaunt.
"There were a huge amount of returns on the back of Black Friday and Cyber Monday and for that reason it is so important for the retailers to choose the right products to discount, with the right imaging and information online to ensure that the product is what the consumer wants, and doesn't come back into the supply chain, causing a further Black Friday headache," he says.