Supermarket price wars, which have intensified over the past six weeks, drove overall shop price inflation down to its lowest rate this year in October.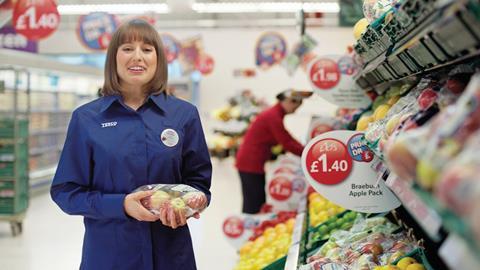 The British Retail Consortium (BRC) - Nielsen Shop Price Index showed a sharp month-on-month fall of 0.6 percentage points to 2.1%.
This was pulled down by a 0.8 percentage point month-on-month drop in food inflation to 4.2%, while non-food inflation dropped to its lowest rate in two years - excluding March - falling from 1.3% in September to 0.8%.
Tesco embarked on a Big Price Drop on essential items, Sainsbury's launched its brand match and Waitrose launched its '1,000 ways to great value' promotion.
BRC director general Stephen Robertson said: "The supermarket price war has had a dramatic effect. As the competitive battle intensifies, retailers are holding down shop prices despite their own costs, including energy, property and what they pay suppliers, going up.
"With the overall Shop Price Index of 2.1% the lowest since December 2010 and less than half the wider Consumer Price Index of 5.2%, it's clear inflation is not coming from shops. Rising utility, fuel and insurance bills are the big pressures on household budgets."
The Index showed almost £4 in every £10 spent in supermarkets is on promoted or discounted goods.
Across the categories fresh food fell to 3.5% from 4.3% in September and ambient food fell to 5.3% from 6.2%, its lowest rate of inflation for more than a year.
Within non-food, books, stationary and home entertainment reported deflation for the first time since September 2010, while clothing and footwear deflation accelerated to 3.9% from 3.4% in September which is believed to be due to the depleted cost of some raw materials.
The rate of deflation across electricals slowed by one percentage point to 3.5%. The Index forecast electrical retailers are facing an increasingly bleak outlook as consumer confidence fell in October and consumer appetite for big-ticket purchases fell to a three-year low.
On Monday electricals retailer Best Buy revealed it will close its UK stores following a "substantially" changed trading environment in consumer electronics since 2008.