Work is poised to begin on an 800,000 sq ft retail and leisure destination in the centre of Oxford that has been plagued by delays.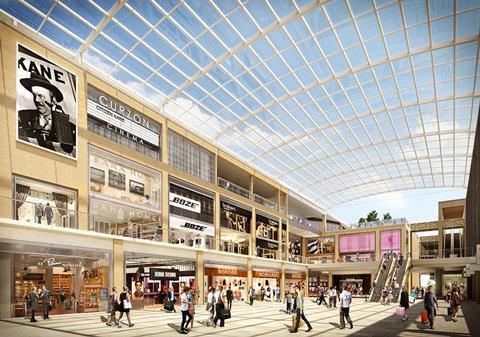 The Westgate Oxford Alliance, a joint venture between Land Securities and The Crown Estate, has revealed it is to start work on the £440m Westgate Oxford shopping centre development.
The commercial property companies said today that preparatory work will start immediately following four years of public consultation, with construction on the site expected to get unde rway in the spring.
The developers aim to complete the city centre scheme in autumn 2017.
The project will transform the existing Westgate Centre in the west end of Oxford to include more than 100 new retail units, 25 restaurants and cafes, a cinema and a roof terrace.
John Lewis has already agreed to open a new three storey, 100,000 sq ft store in the centre, which will create 500 jobs.
H&M, Superdry, Next, Primark and Schuh are among the other retailers that have signed up to Westgate Oxford, with 28% of units at the site now pre-let.
The development will create around 1,000 construction jobs and 3,400 retail positions once it is completed.
Land Securities chief executive Robert Noel said: "Today we've taken a significant step towards creating our vision for a world-class retail and leisure destination in Oxford, having worked hard with our customers and the community to shape the right scheme.
"Alongside our growing list of customers, we are committed to creating a new Westgate Oxford which not only complements the city's beauty and heritage status but also enhances its global reputation as a great place to spend time."
The Crown Estate director of investment and asset management Paul Clark said: "This significant milestone underscores our commitment to this ambitious redevelopment, which will totally transform the retail and leisure experience in Oxford and stand out as one of the best schemes of its kind in the UK."