Westfield London has beaten the Chelsea and Knightsbridge retail centres to the top spot of a ranking of the top 500 centres.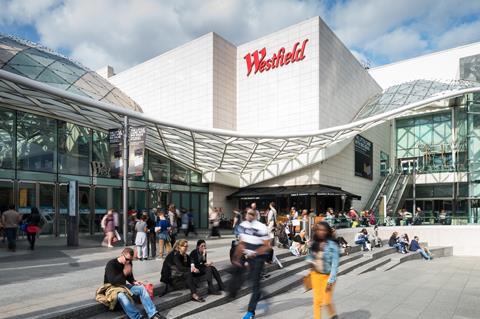 The Vitality Index, put together by retail property adviser Harper Dennis Hobbs, sets out to measure the quality of retail provisions in a centre. It ranked Dudley, Llanelli and Morecambe as the bottom of the 500 centres included in the research.
Shopping mall Westfield London, which has a potential retail spend of £2.3bn (calculated using the disposable income of the total number of people who visit the centre each year), came top of the table after being handed a vitality score of 312 out of a potential 400.
In contrast, Dudley, Llanelli and Morecame received scores of five, eight and nine respectively.
Small centres that ranked highly included Richmond, Islington and Chiswick in the inaugural study that will be published each quarter.
Harper Dennis Hobbs head of retail consultancy Jonathan de Mello said: "This key new metric enables retailers to assess which centres are growing fast in terms of the quality of retail, and as such where trading performance can be maximised.
"No retailer should ever open in a location purely based on market size. The best performing retailers plan their expansion by evaluating the quality of retail centres and the suitability of the centre to their brand."
Harper Dennis Hobbs is attempting to move away from ranking centres on vacancy rates alone and takes into account the type of retailer in a centre along with pure levels of occupancy.
Vitality was measured by factors such as the proportion of premium retail in the centre along with the presence of "out of fashion" retail tenants, which includes charity shops, pawnbrokers, payday loan stores, betting shops, bingo halls and e-cigarette shops.
The top 50 retail centres
| HDH Vitality Ranking | Retail Centre | HDH Vitality Score (0-400) | HDH Retail Spend Potential | HDH Retail Spend Potential Rank |
| --- | --- | --- | --- | --- |
| 1 | Westfield London | 312 | £2,265,528,498 | 13 |
| 2 | Chelsea | 290 | £795,283,829 | 98 |
| 3 | Knightsbridge | 261 | £675,270,025 | 128 |
| 4 | Canary Wharf | 254 | £563,390,481 | 149 |
| 5 | Brent Cross | 246 | £1,501,294,061 | 36 |
| 6 | Richmond | 244 | £413,187,352 | 195 |
| 7 | Cambridge | 240 | £1,465,236,495 | 39 |
| 8 | Bluewater | 236 | £1,960,572,594 | 17 |
| 9 | Kensington | 208 | £701,930,527 | 116 |
| 10 | Bath | 208 | £1,289,255,124 | 50 |
| 11 | Guildford | 205 | £1,365,457,817 | 47 |
| 12 | London West End | 201 | £8,470,734,807 | 1 |
| 13 | Kingston upon Thames | 201 | £2,127,365,507 | 14 |
| 14 | Westfield Stratford | 200 | £1,954,050,298 | 18 |
| 15 | Cribbs Causeway | 197 | £1,108,296,600 | 62 |
| 16 | Islington - Upper Street | 193 | £245,431,754 | 293 |
| 17 | Edinburgh | 191 | £2,297,048,682 | 12 |
| 18 | St Albans | 186 | £499,029,364 | 164 |
| 19 | Trafford Centre | 180 | £1,834,021,399 | 24 |
| 20 | Harrogate | 180 | £815,709,875 | 96 |
| 21 | Chichester | 179 | £693,839,884 | 121 |
| 22 | Brighton | 176 | £1,836,819,268 | 23 |
| 23 | Meadowhall | 175 | £1,801,190,169 | 26 |
| 24 | Oxford | 173 | £1,444,976,023 | 41 |
| 25 | Chester | 171 | £1,644,201,122 | 29 |
| 26 | Chiswick | 166 | £261,105,176 | 279 |
| 27 | Manchester | 165 | £3,424,696,667 | 4 |
| 28 | Sevenoaks | 163 | £123,115,413 | 382 |
| 29 | Leeds | 163 | £3,062,899,974 | 5 |
| 30 | Wilmslow | 162 | £202,907,794 | 334 |
| 31 | Hampstead | 161 | £101,789,161 | 394 |
| 32 | Lakeside | 159 | £1,622,017,826 | 30 |
| 33 | Liverpool | 159 | £3,029,719,219 | 6 |
| 34 | Marlow | 159 | £72,187,145 | 404 |
| 35 | Winchester | 159 | £410,707,986 | 197 |
| 36 | York | 159 | £1,356,202,848 | 48 |
| 37 | Tunbridge Wells | 158 | £1,113,434,066 | 61 |
| 38 | Bristol - Queens Road | 157 | £105,359,383 | 392 |
| 39 | Bristol | 155 | £2,095,123,247 | 15 |
| 40 | Clapham | 155 | £497,891,543 | 165 |
| 41 | Cheltenham | 154 | £889,872,403 | 86 |
| 42 | Canterbury | 152 | £972,588,591 | 75 |
| 43 | Ocean Terminal | 150 | £115,724,520 | 386 |
| 44 | Windsor | 149 | £485,783,631 | 168 |
| 45 | Solihull | 145 | £1,050,130,680 | 67 |
| 46 | Lymington | 144 | £173,041,448 | 349 |
| 47 | Cardiff | 141 | £2,746,380,212 | 8 |
| 48 | Metrocentre | 140 | £1,517,571,706 | 33 |
| 49 | Walton-on-Thames | 140 | £88,250,710 | 397 |
| 50 | Beverley | 138 | £270,520,870 | 272 |
The bottom 50 retail centres
| HDH Vitality Ranking | Retail Centre | HDH Vitality Score (0-400) | HDH Retail Spend Potential | HDH Retail Spend Potential Rank |
| --- | --- | --- | --- | --- |
| 451 | Bootle | 29 | £140,430,567 | 368 |
| 452 | Bognor Regis | 29 | £223,384,622 | 319 |
| 453 | Paignton | 29 | £219,275,655 | 322 |
| 454 | Chester-le-Street | 28 | £220,685,916 | 321 |
| 455 | Bridlington | 28 | £240,634,251 | 300 |
| 456 | Hinckley | 28 | £304,001,403 | 257 |
| 457 | Dunstable | 28 | £227,676,040 | 316 |
| 458 | Redcar | 28 | £229,682,651 | 314 |
| 459 | Beeston | 28 | £146,627,329 | 364 |
| 460 | Gosport | 28 | £165,275,333 | 355 |
| 461 | Glasgow - Parkhead | 28 | £603,833,444 | 138 |
| 462 | St Austell | 27 | £264,734,450 | 277 |
| 463 | Ashford (Kent) | 27 | £477,898,449 | 170 |
| 464 | Wembley | 27 | £91,816,607 | 395 |
| 465 | Glenrothes | 27 | £264,213,242 | 278 |
| 466 | Clacton-on-Sea | 26 | £344,520,303 | 229 |
| 467 | Barry | 26 | £75,526,124 | 403 |
| 468 | Rhyl | 26 | £277,913,626 | 268 |
| 469 | Peterlee | 26 | £107,804,571 | 389 |
| 470 | Evesham | 26 | £247,126,322 | 290 |
| 471 | Southampton - Shirley | 25 | £216,043,052 | 323 |
| 472 | Haverfordwest | 25 | £247,125,427 | 291 |
| 473 | Paisley | 25 | £315,094,762 | 250 |
| 474 | Blackwood | 25 | £209,250,715 | 328 |
| 475 | Accrington | 24 | £320,346,891 | 247 |
| 476 | West Bromwich | 24 | £425,682,531 | 190 |
| 477 | Bournemouth - Boscombe | 24 | £286,440,248 | 266 |
| 478 | Long Eaton | 24 | £236,394,402 | 306 |
| 479 | Letchworth | 24 | £221,183,339 | 320 |
| 480 | Retford | 23 | £165,524,247 | 354 |
| 481 | Ilkeston | 23 | £269,456,571 | 273 |
| 482 | Dewsbury | 23 | £333,958,656 | 238 |
| 483 | Rotherham | 23 | £460,029,473 | 176 |
| 484 | Wallasey (Liscard) | 23 | £125,848,354 | 375 |
| 485 | Arnold | 23 | £172,679,710 | 350 |
| 486 | Newport (Wales) | 23 | £733,420,442 | 111 |
| 487 | Stockton-on-Tees | 22 | £395,273,992 | 205 |
| 488 | Edinburgh - Leith | 22 | £3,239,093 | 414 |
| 489 | Aldershot | 21 | £401,655,127 | 201 |
| 490 | Folkestone | 21 | £363,001,712 | 218 |
| 491 | Stoke-on-Trent - Longton | 20 | £123,414,407 | 381 |
| 492 | Ramsgate | 19 | £227,302,963 | 317 |
| 493 | Stroud | 19 | £204,316,802 | 332 |
| 494 | Brighton - London Road | 17 | £123,646,799 | 380 |
| 495 | Bristol - Bedminster | 16 | £120,688,611 | 385 |
| 496 | Dover | 13 | £257,666,949 | 284 |
| 497 | Ellesmere Port | 12 | £130,487,947 | 372 |
| 498 | Morecambe | 9 | £76,743,232 | 402 |
| 499 | Llanelli | 8 | £237,206,935 | 304 |
| 500 | Dudley | 5 | £412,650,898 | 196 |