Trinity Leeds owner Land Securities will trial a new digital customer loyalty scheme in a bid to drive footfall at the shopping centre.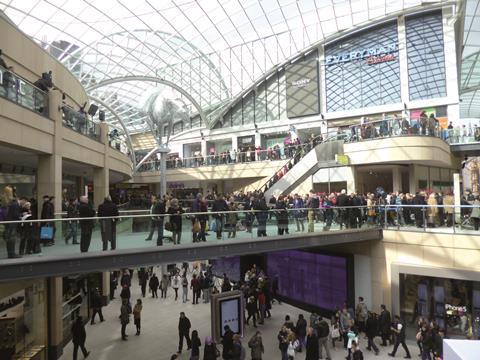 Centre owner Land Securities has revealed plans to expand the 'Love Trinity Leeds' app to include the loyalty programme for shoppers.
The updated app will feature exclusive store promotions and discounts tailored to individual customers, as well as other benefits including discounted parking and free gift cards.
Land Securities said that more than 60 retailers have already signed up to take part in the six-month trial, including Adidas, Superdry, Dorothy Perkins, Burton, BHS and Wagamama.
To use offers in store, shoppers share a barcode on the app at the point of sale. The more customers use the app, the more offers they will receive.
Land Securities said the app, which is compatible with Android and iOS mobile phones, lets retailers view customers' behaviour throughout their whole shopping journey, allowing them to tailor the type of benefits they make available to certain shoppers.
The technology behind the digital loyalty scheme has been developed by Coniq, based on research from technology entrepreneurs Founders Forum.
Land Securities' digital and CRM director Amy Richardson said: "As a team we are focused on providing best-in-class retail and leisure destinations and we can only achieve this by staying at the forefront of commercial digital innovation.
"We wanted to make the most of our shoppers' digital mind-set and find a way to harness technology, which would be truly beneficial to both them and our retailers.
"The Love Trinity Leeds app does both in abundance by giving retailers a new way to understand and engage their customers so they can retain a competitive edge, and by giving shoppers genuinely exclusive and relevant rewards."
Jemma Greenwood, manager of Trinity Leeds' Dorothy Perkins and Burton stores, added: "When we first heard about the scheme we didn't want to miss out.
"This loyalty scheme is so different to anything else I have seen and a great new way of communicating with our customers.
"It's a really quick and easy way to let people know the benefits of coming to shop with us. As it's so unique, I also think it makes for quite a fun shopping experience."