The top 30 stores in the UK that highlight retail design at its very best, making them a top destination for consumers.
Click on the company names below to jump to the corresponding description.
| | Shop | Location |
| --- | --- | --- |
| 1 | Selfridges | London |
| 2 | Topshop | Oxford Circus |
| 3 | John Lewis | Birmingham |
| 4 | Harrods | London |
| 5 | Uniqlo | Oxford Street, London |
| 6 | Niketown | Oxford Circus |
| 7 | Whole Foods Market | Kensington |
| 8 | Primark | Tottenham Court Road, London |
| 9 | Tesco | Watford |
| 10 | Fenwicks | Newcastle |
| 11 | Harvey Nichols | Birmingham |
| 12 | Next Home & Garden | Camberley |
| 13 | Paperchase | Glasgow |
| 14 | T2 | Regent Street, London |
| 15 | Waitrose | Kings Cross, London |
| 16 | Hedonism Wines | Davies Street, London |
| 17 | Habitat | Tottenham Court Road, London |
| 18 | Lush | Oxford Street, London |
| 19 | JD Sports | Oxford Street, London |
| 20 | Hamleys | Regent Street, London |
| 21 | Waterstones | Piccadilly, London |
| 22 | Argos | Old Street, London |
| 23 | Wickes | Chatham |
| 24 | Marks & Spencer | Cheshire Oaks |
| 25 | River Island | Bullring, Birmingham |
| 26 | Hunter | Regent Street, London |
| 27 | Burberry | Regent Street, London |
| 28 | Wyevale | Shrewsbury |
| 29 | Maison Louis Vuitton | Bond Street, London |
| 30 | Morrisons | Colindale, London |
This country is at the forefront when it comes to creating stores that really make the shopper stop, think and reach for the credit card or wallet. Top of the Shops is a fluid ranking. Stores can be knocked off the list to make way for others that prove more inventive, unique and customer-centric. Let us know what you think of the list, tweet using the hashtag #TopoftheShops.
This is retail's design premier league and what stands out in its first iteration is that three out of the top five are department stores. That is testament to the fact that while once department stores might have seemed to be destined for a slow but steady path towards extinction, they are now vibrant and innovative. The best are worlds under one roof, places where shoppers head to spend time as well as cash in environments that can't be found elsewhere. They are experiences in their own right.
The same can be said to some extent of all the stores in this ranking. No doubt you will have your own opinions about which stores should have made the list. Please do share your thoughts and make suggestions.
1. Selfridges, London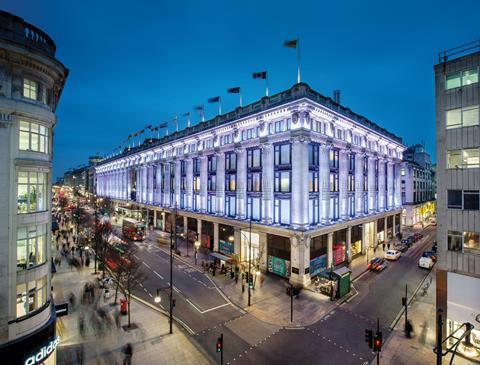 Once seen as Oxford Street's slightly dowdy grand dame, Selfridges has to come to be known as designer central for tourists and local shoppers alike. Voted for the last three years as the best department store in the world by the Intercontinental Group of Department Stores, Selfridges has got the knack of continuous reinvention down to a fine art; whether it is show-stopping window displays, the creation of the Wonder Room or personalised products. At 600,000 sq ft and with five floors, this is a massive store, even by the standards of London's West End - although Harrods is bigger – but it is the manner in which things are changed on a regular basis that marks this store out as being in the vanguard of change. The Weston family, the current owner of Selfridges, continues to make this one of the UK's most important retail destinations.
2. Topshop, Oxford Circus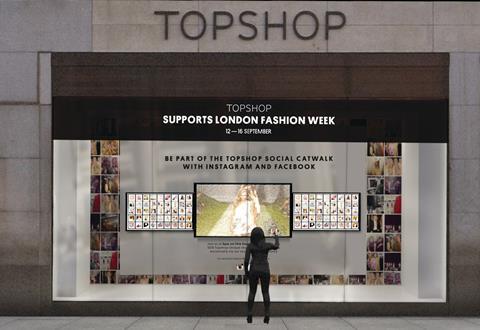 "Fashion central" as it is known by the modish crowd is a multi-floor edifice that has a basement, a sub-basement and then a series of floors dedicated to style. The point about this store is that while it may appear, from time to time, vaguely chaotic, it is in a constant state of flux – which makes it worthy of repeat visits by the fashion pack in search of something new. In terms of visual merchandising, the windows alone make this one worth a visit, as does the store layout, where each floor feels almost completely different.
3. John Lewis, Birmingham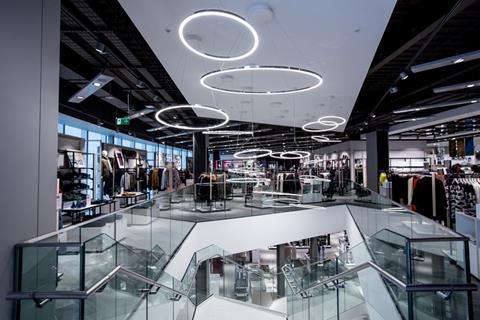 The arrival of John Lewis in Birmingham puts the city at the top of the tree for the number of department stores in a location outside London. This is a multi-level, 175,000 sq ft giant that forms the centerpiece of the newly opened Grand Central shopping centre which lies at the heart of the UK's second city.
As well as being large, the store is also representative of the latest thinking from John Lewis, including a heavy emphasis on hospitality and a more lifestyle approach to the interior than in the past. The store includes the first iteration of the retailers "Loved & Found" branded department.
4. Harrods, London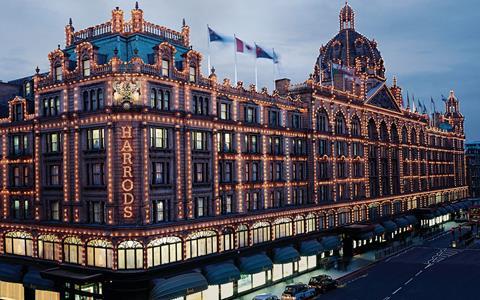 As Europe's largest department store, Harrods is an icon for the sector, a historic landmark architecturally and used by many as shorthand for London. This Victorian Gothic store undergoes almost continual reinvention as it keeps pace with the changing face of retail. There is almost nothing about this store that is not opulent, form the world-renowned food halls, to the fine jewellery rooms. For shoppers, it is often a case of selecting an area to explore in detail, as the store is almost too large to be digested at a single visit. In recent years, Harrods has opened stores in airports, but for most shoppers, the Knightsbridge emporium is what this retailer is all about.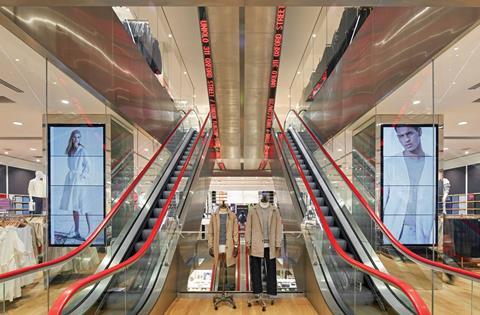 5. Uniqlo, Oxford Street
Store refurbishments and perhaps the addition of a floor or two would normally be insufficient to warrant inclusion in Retail Week's Top of the Shops. Yet when Uniqlo reopened the doors of its European flagship at 309 Oxford Street in March, it was clear that what had been done in the year and nine days that it took to revamp this multi-level emporium demanded a place on the list. This is now a store of two parts, with the lower levels broadly conforming to the Uniqlo global flagship template, but the two uppermost floors being completely different. The uppermost floors are in fact intended to feel like a loft-dwelling space and also offer access to a planked roof terrace, where events are held. This part of the store feels like a different shop even though the stock is in fact the same. It stands as a telling demonstration of how store design can influence shopper mood and expectations.
6. Niketown, Oxford Circus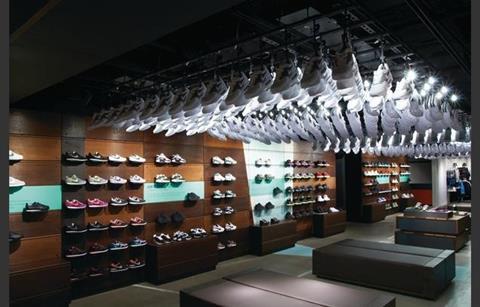 Open for more than a decade and a half, this is still the default store for Nike branded goods when in London and at more than 40,000 sq ft, it remains the brand's biggest outlet in Europe. With four floors and built around a central square/atrium, which acts as an event space on the ground floor, this is a temple to sport and at its heart there is a suspended cube, home to the "NIKEiD studio" where shoppers can design their own sports shoes. The store has been through several revamps since opening, which have helped it to maintain its iconic status.
7. Whole Foods Market, Kensington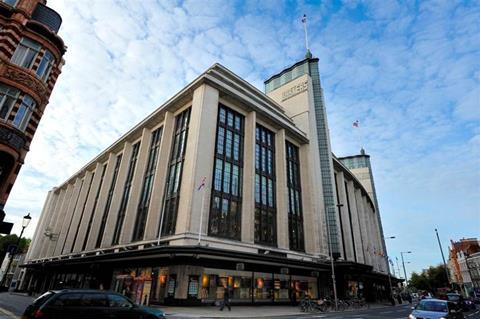 With three floors and a selling area of close to 70,000 sq ft, the Whole Foods Market store in Kensington is not only a European flagship for the brand, but is a giant by the standards of central London supermarkets.
The real point about this store however is the visual merchandising and the use that has been made of the former Barkers department store, which was a landmark in the area for decades. Today, the store boasts everything from a huge organic wine department to a cheese room, which is chilled and separate from the rest of the store to preserve the products. The first floor is devoted entirely to hospitality with a mix of bars and relaxed dining options.
8. Primark, Tottenham Court Road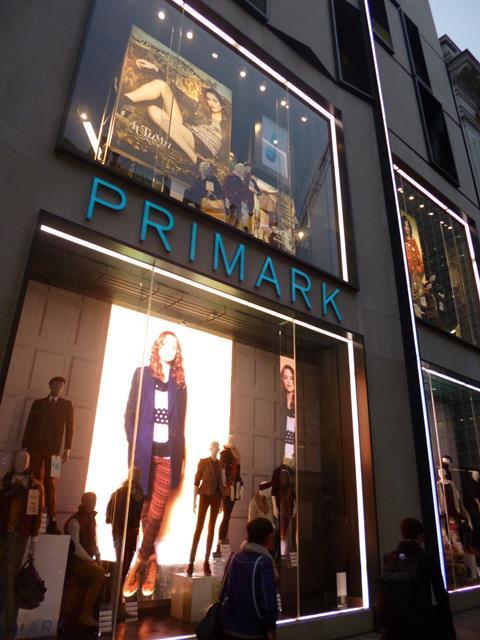 A second Oxford Street 'flagship' for the discount retailer followed in 2013, a few years after it opened around a mile along the thoroughfare at Marble Arch. Located opposite Tottenham Court Road tube station, this store takes value fashion and pulls off the trick, as do most of the retailer's newer stores, of making it feel not only acceptable, but desirable. It does so through a heady mix of large format graphics, a massive video screen on the ground floor and large amounts of natural daylight on every level. A space is also set aside for high(er) fashion in a corridor that leads to Tottenham Court Road, meaning that the 'Primarni' (mixing high and low price fashion) phenomenon can be realised to its full extent.
9. Tesco, Watford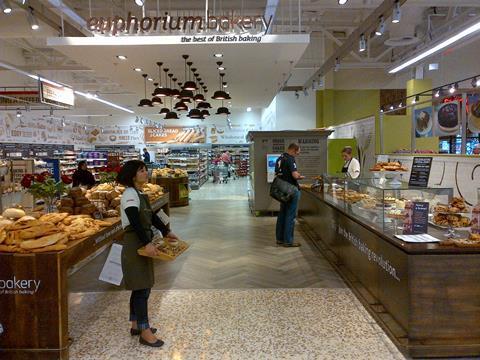 In spite of what has been a torrid time for Britain's largest retailer, Tesco has continued to refurb stores and create good-looking new outlets when it matters. The 80,000 sq ft Watford store, seen as a test-bed for what has followed subsequently, is a re-imaging of the hypermarket format, and is in fact a refurbishment of a Tesco Extra. A whole raft of initiatives were put in place, ranging from a semi-discrete restaurant to a pharmacy that would put many standalone chemists to shame. Tesco has taken pains to make the different zones in the shop very distinct and with a high level of natural daylight, it is clear that this has worked.
10. Fenwicks, Newcastle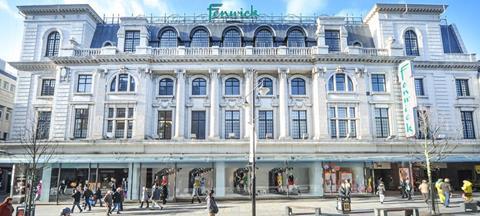 The flagship for the Fenwicks department store chain is at the heart of Newcastle's centre, and, to an extent, is the city's retail heart. Founded in 1882, with five floors and located on the 'Geordie Regency' thoroughfare that is Northumberland Street, the store is also the flag-bearer for an 11 store-strong nationwide chain.
Most of the UK's larger cities have a department store that they can reasonably claim as their own, but Fenwicks in Newcastle has an unusually close association with the urban fabric. That it has managed to stay the course and flourish when Newcastle also has one of the most vibrant city-centre shopping offers, is testimony to the level of loyalty that this one inspires.
11. Harvey Nichols, Birmingham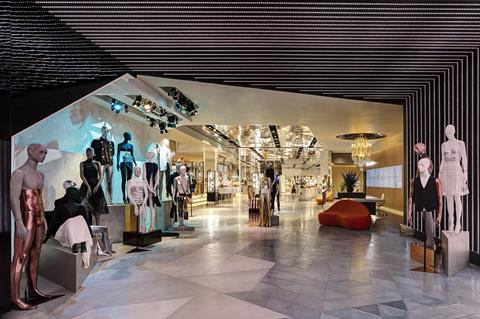 Glamour can date, but the revamped Harvey Nichols outpost in Birmingham's Mailbox development shows what can be done with imagination and a fitting budget. This interior is designed by London-based consultancy Virgile + Stone and beyond the Hollywood style LED light-studded corridor that forms the entrance to the store, this 47,000 sq ft single-floor space is a canny mix of futuristic design and in-store digital elements.
The outcome is an interior that has no walkways, but which does define the space through mid-shop equipment and different palettes of materials that demarcates each department. In terms of glamour without flash, this is as good as it gets currently.
12. Next Home & Garden, Camberley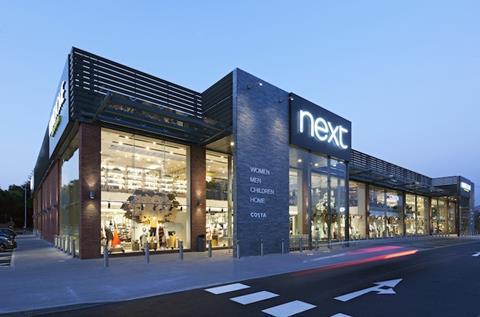 Next manages to pull rabbits out of hats as far as pleasing City updates are concerned and the massive Home & Garden store in Camberley is one of the reasons that this is the case. This monolithic store, designed by Dalziel + Pow, is, as the name might suggest, divided into very large and separate rooms covering everything from sofas to shears, but there is a distinct sense that it could only be Next.
Yet in spite of the name, the predominant factor in this store is clothing and the full offer from the retailer is displayed. In short, this store sums up Next's out of town approach at its best.
13. Paperchase, Glasgow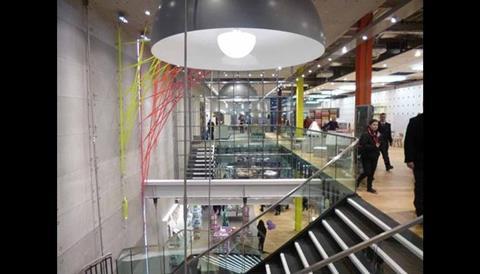 Stationer Paperchase opened its store at the top end of Glasgow's Buchanan Street in 2013. This is a two-floor branch and while, at 15,000 sq ft, it is very much smaller than Paperchase's larger Tottenham Court Road outpost, it has all the trappings that shoppers expect of a retail show-pony. From the large glass frontage, designed to look like an envelope, to the modern take on a Palladian staircase on the left-hand side of the mid-shop, this may be "design-neutral", as the design company that created the store blueprint claims, but it is hard not to admire what has been done.
14. T2, Regent Street, London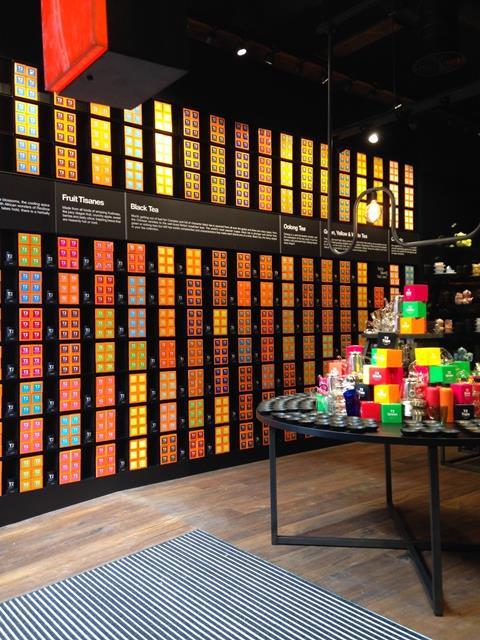 A store on London's Regent Street is something of a coming of age for Aussie loose-leaf tea brand T2, which welcomed shoppers to the store in the summer of 2015. This narrow store on the northern reaches of the long thoroughfare is comprised of three elements: a "library" (where brightly packaged teas are displayed), a front-of-shop table where teas can be smelled, and a tasting counter, where shoppers can sample the brews.
Much of the interior is an uncompromising black, which contrasts with the bright orange of the packaging and this is a world away from the genteel tea shops that rivals have a tendency to offer.
15. Waitrose, Kings Cross, London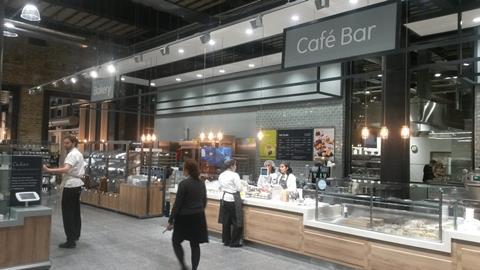 Putting a 24,000 sq ft supermarket in central London is unusual, given the constraints of cost v return on investment. Doing this in a historic, listed railway depot that dates back to the Victorian era makes the Waitrose store at London's Kings Cross station close to being unique in the UK.
With features such as a semi-discrete wine bar and counters that place a heavy emphasis on snacking this is a large store that sets its cap at the pedestrian shopper (there is no car parking associated with the store) in this newly fashionable part of London.
16. Hedonism Wines, Davies Street, London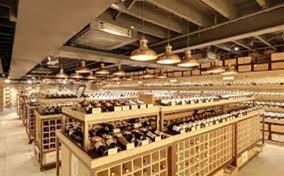 Sculptures created from groups of inverted and suspended wine glasses on which light is shone and long, low, plain wood aisles featuring wines from across the globe, mean that Hedonism Wines is not a standard shop for oenophiles. The store is set across two levels and with a bottle of Torbreck Laird 2006 available for £6482.90, its design is appropriate to its upscale offer and location.
What this store, which opened in 2013, succeeds in delivering is a no-nonsense yet highly seductive interior which fits the experience of buying fine wine.
17. Habitat, Tottenham Court Road, London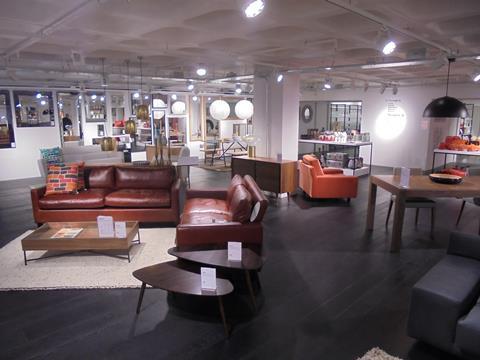 Although the business endured a radical business downsizing, the Habitat flagship on Tottenham Court Road has continued to be a landmark in an area famed for its furniture stores. Now, phoenix-like, it has risen from the corporate ashes under the ownership of Home Retail and £1m has recently been spent on its basement to create the kind of place that would be first choice for those in search of a little design-led urban chic in their homes. More money is being spent on the ground floor and the shop is undergoing a small expansion while this happens, due for completion in early 2016.
18. Lush, Oxford Street, London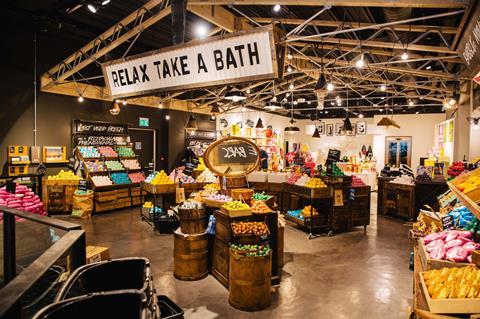 Opened in the spring of 2015, this is a three-floor flagship for the cosmetics retailer most famous for its 'bath bombs'. The underlying intention here is to create a destination that will deliver a range of experiences from spa treatments in the basement to a Lush "party" on the first floor. The ground floor features bath bombs of various compositions in baskets, on shelves and stacked high on tables, providing a feast of colour for the eyes and scents for the nose. With heavy use of recycled materials for the fit-out, the store manages to maintain the ethical stance for which Lush is known.
19. JD Sports, Oxford Street, London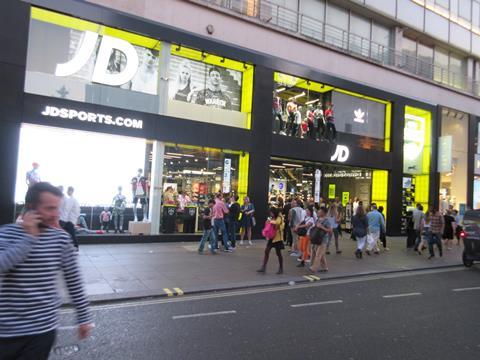 With Niketown just along the street, any rival has to deliver something special if it is to be a contender. JD Sports achieves this with a store relies heavily on technology to provide an experience where shoppers can look at sportswear, examine its quality and see the use to which it might be put.
The shop principally offers training shoes, but clothing acts both as a commodity in its own right and as a visual merchandising prop for the main event. Couple that with an interior where the stock, rather than the shop, is lit, and shoppers have a sports and leisure space that goes the distance.
20. Hamleys, Regent Street, London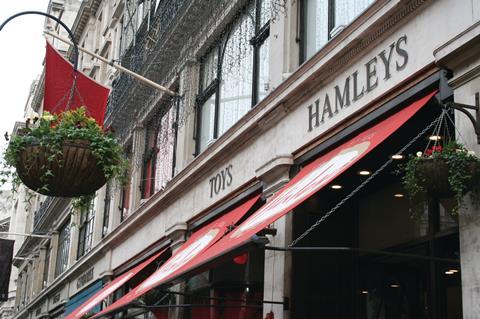 A toyshop that is to the UK and possibly the world, a byword for its category, this is a destination in every sense of the word and is one of the major draws on Regent Street. Hamleys has been around for more than two centuries. Today the shop's floors are themed and one of the elements that sets it apart is the high degree of in-store interactivity and live demonstrations in most departments.
The windows are also noteworthy, acting as magnets in a way that few others can manage. Most shoppers with children arriving in London will, at some point, make a trip to this store.
21. Waterstones, Piccadilly, London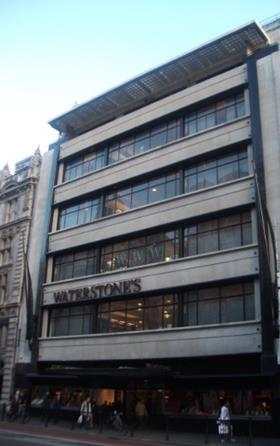 The UK's largest chain of bookstores has its flagship in the former Simpsons of Piccadilly building, an Art Deco classic with many listed external and internal features. This is an enormous space and one that endeavours to cover every category of books with authority and in a manner that gives the shopper room to move, as well as massive choice.
The store also features an impressive café and bar on the top floor with views south across the capital. As a flagship, this has no UK equal in bookselling and is worth a visit even if books and reading are not top of mind.
22. Argos, Old Street, London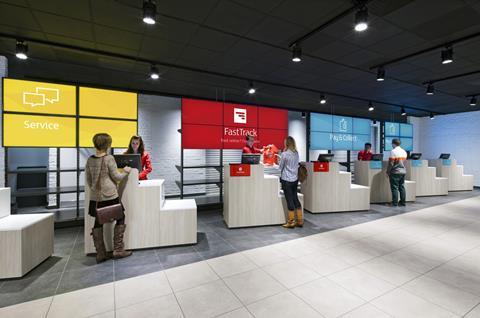 As the first of a new digital breed of stores for the one-time catalogue-based retailer, this Argos branch in east London, is a flag in the sand. Shoppers here no longer have to leaf through hundreds of pages to find the product they want, write down the product number and then enquire at the cash desk if it is in stock. Instead, everything can be achieved at using tablets that allow the whole process to be carried out prior to arrival at the service desk.
The shop is also designed to make clicking and collecting more rapid, and although Argos shoppers may not have quite yet entirely switched to digital the store is a brave break from the past.
23. Wickes, Chatham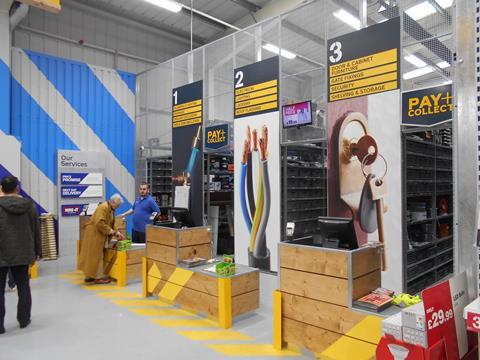 Grasping the digital nettle, Wickes has created a store designed to make DIY shopping more straightforward. For customers that means a shop that has a "browse & choose here" area close to store entrance, meaning that the usual peregrinations around the aisles that comprise a DIY store are cut short.
Shoppers can select to "browse" either using a paper catalogue at one of the mid-shop wooden desks, or to inspect the range via a tablet that is also part of the same display. For those opting to look at the more physical aspect of the shop, much of the offer is colour-coded using frames suspended overhead, acting as beacons and obviating the need to signage. This is a new take on a retail segment that tends to be steeped in tradition.
24. Marks & Spencer, Cheshire Oaks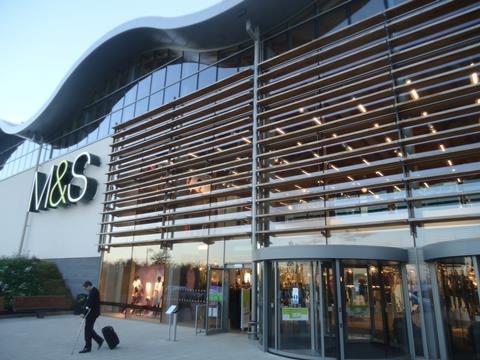 At 148,000 sq ft this is the biggest Mark & Spencer ever built in a single go (Marble Arch is bigger, but was expanded over many years). Like other large M&S it encompasses food, homeware and fashion and is spread across two floors.
It does however make each manageable for shoppers, avoiding the ever-present danger in large spaces of visual boredom and a slight sense of being overwhelmed. It was also a showpiece for Marks & Spencer's Plan A when it opened in 2012, as well as incorporating elements such as an illuminated series of plinths that form a mannequin catwalk on the ground floor. It remains a beacon of best practice for the retailer.
25. River Island, Bullring, Birmingham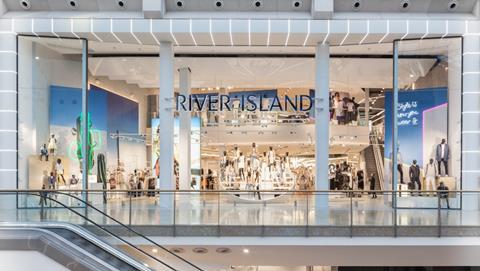 Opened in early 2015, this store is a relocation in Birmingham's Bullring shopping centre and the most obvious thing that marks it out from its competitors is its frontage. It is open, triple-height, and affords passing shoppers views deep into the interior of this palatial branch.
The underlying intention inside is to create a sense akin to a luxury experience without the concomitant price structure. Practically, this means on both of the two floors extensive use is made of visual merchandise props, ranging from copper-clad 1960s-style cocoon chairs to a gold-plated Tyrannosaurus Rex as the introduction to menswear on the first floor. The store also makes very good use of large format graphics.
26. Hunter, Regent St, London
Taking a single item, in this case an upmarket wellington boot, and then using this as the basis for a large store on one of London's most expensive streets would seem to many to be something of a gamble. Yet that is what Hunter has done on Regent Street with a three-floor store, designed by Checkland Kindleysides, which centres on the humble rubber boot. It does so with, variously, the stone-built frontage of a Swiss chalet, a rubber pine tree plantation and a first floor filled with suspended square hedges formed from light boxes.
Everything about this store is stylised and it makes much of creating a Hunter 'experience'.
27. Burberry, Regent Street, London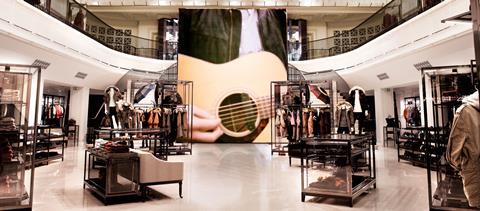 Trading from a space that was originally a cinema, Burberry's Regent Street global flagship is an exercise in putting technology to subtle good use. This is a listed interior, so much of the fit-out had to be freestanding and not to touch the perimeter walls. Yet with what Burberry claimed was the world's largest video screen (on which the brand's fashion shows are screened live) and a myriad smaller interactive screens (including in the fitting rooms) this is testimony to what is possible without making the luxury shopper feel that technology has been used simply for its own sake.
28. Wyevale, Shrewsbury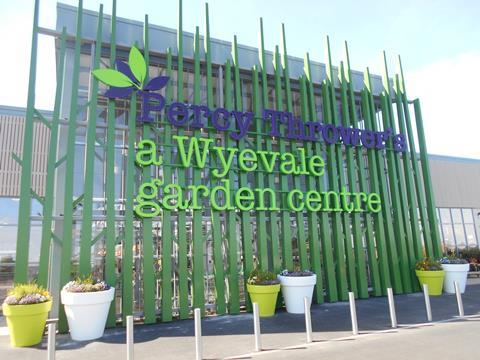 As well as featuring a giant spade next to its car park, the Wyevale store in Shrewsbury has about it all that might be hoped for of a flagship garden centre and a number of additional features. This is a reworking of the original garden centre by 1960s and 70s TV gardener Percy Thrower, but when it reopened in the summer of 2015 it was almost completely different from what went before.
Today the 60,000 sq ft store includes everything from abstracted green vines, which adorn the frontage, to a Coffee Ground café, by way of leisure, cook and kids' areas among others. The store's appeal means it is seen as a day out as much as a haven for budding horticulturists.
29. Maison Louis Vuitton, Bond Street, London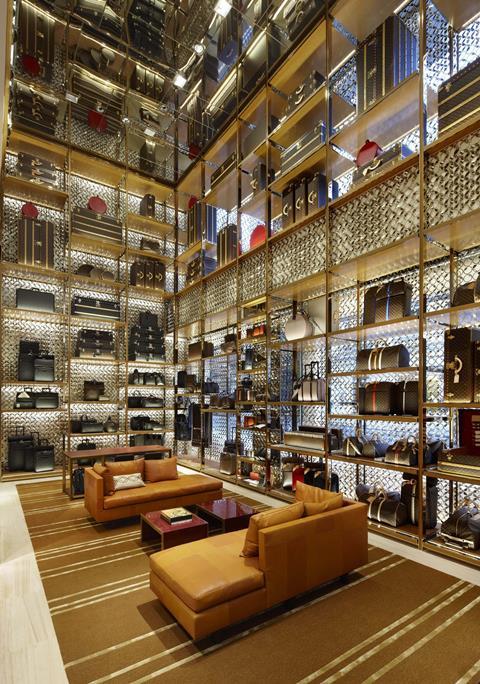 Creating luxury stores that are claimed to be examples of the interiors of the houses of people who shop them is increasingly common, but when this massive "Maison" opened in 2010 it was a novelty and no expense was spared in its design. Practically, this means a store that has an art exhibition on its top floor, a bag wall that changes on a constant basis on ground and a pot-pourri of dark woods for the moodily lit menswear department in the basement.
Luxury can have a tendency to be a little staid in terms of store design owing to a wish not to alienate customers by shocking them, but when this outpost welcomed its first shoppers it was a reimagining of the norm.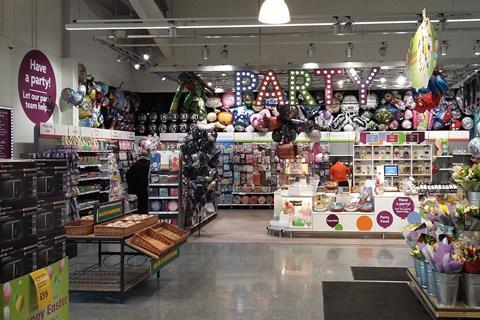 30. Morrisons, Colindale, London
Morrisons has taken a bit of a battering over the past year or two, but the new store in Colindale, north-west London, shows how it is honing its act and is now creating stores with interiors that shoppers will want to spend time in. With its dedicated "Party" shop-in-shop, a "Market Street" featuring graphics that make their point without shouting at the shopper and with a very heavy emphasis on fresh, this is what modern supermarket retailing is all about in the UK. Couple all of this with a café that creates a space to have coffee without feeling like you are in a supermarket, when you are, and this is worth visiting just to get a sense of what a retailer can do when it pulls out the stops. This 43,000 sq ft outpost of the Bradford-based grocer opened in March 2016.