Retail space at London Luton Airport will more than double to almost 60,000 sq ft as part of a £100m redevelopment of the transport hub.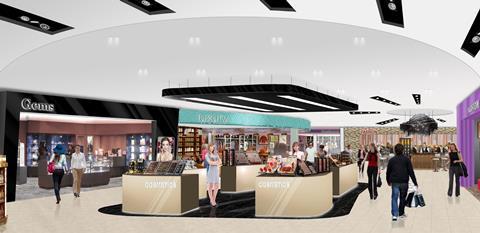 The new-look terminal, which will increase airport capacity from 12 million to 18 million passengers per year, will include 22 new retail units covering 59,760 sq ft.
That will comprise 41,461 sq ft of shops and a further 18,299 sq ft for a new Duty Free Store.
Airport bosses said the new retail space will be broken into three distinct sections for luxury, affordable luxury and high street goods.
They will sit alongside 37,862 sq ft of new food and beverage space, with 21 units available for bars and restaurants.
The airport has now launched a major commercial tender programme to fill the new units.
London Luton Airport commercial director Rupert Lawrie said: "The launch of our commercial tender programme is another significant milestone in our £100m transformation. Doubling the size of our retail space and bringing in new fashion and catering concepts is central to our plans to give passengers the best possible experience and become a great airport.
"Travel retail is one of the most attractive categories for brands. It offers not only an incredible opportunity for building brand recognition but also provides a great platform for consumer trial.
"We're very excited by the level of interest in the tender programme so far, particularly from luxury and premium fashion stores."