More than 700 shops were shuttered and almost 5,000 jobs lost as a result of high street retailers falling into administration last year.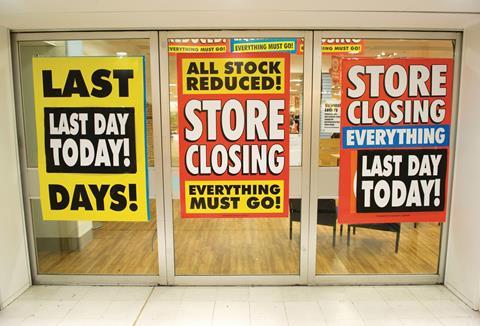 The collapse of high street chains including Phones 4u, Jane Norman and La Senza led to the closure of 735 shops across the UK during 2014.
According to restructuring firm FRP Advisory, just 42% of the 1,270 shops that fell into administration last year were rescued. Half of the jobs put at risk were saved as rival retailers snapped up the closing stores, but the remaining 4,900 roles were made redundant.
However that marked an improvement on the 35% survival rate for stores and 48% survival rate for jobs in 2013, FRP Advisory added.
Back in 2011 there was a 67% survival rate for stores that entered administration.
Future of the high street
The FRP report comes just days after the British Retail Consortium warned that 80,000 shops could close within the next two years unless the business rates system undergoes a radical overhaul.
The BRC based its stark prediction on what would happen if six out of every 10 high street retailers that have leases expiring in the next two years opted not to renew them.
But FRP partner Glyn Mummery said: "The high street has finally turned a corner and is re-emerging after four years of significant store culling.
"It is in a fitter, albeit leaner, shape with retailers having to cope with a new norm of tougher operating margins but boosted by a return in consumer confidence and spending power.
"We anticipate that for the 18 months ahead – as the economy continues to hold firm with consumer confidence spreading further onwards from London and the Southeast – there will be fewer retail failures overall."