Ambitious plans for the transformation of London's Oxford Street have been unveiled as the prime shopping street moves a step closer to becoming pedestrianised.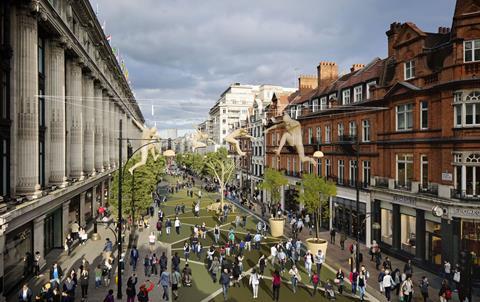 The Mayor of London, Sadiq Khan, and deputy leader of Westminster City Council, Cllr Robert Davis, have revealed a blueprint designed to create traffic-free spaces in the heart of the West End.
Under the proposals, new seating would be placed along the street and an 800m-long artwork could also be commissioned to line the pedestrianised retail thoroughfare.
The plans would see all East-West traffic restricted from entering Oxford Street between Orchard Street and Oxford Circus, but North-South routes would remain in operation.
A public consultation has been launched and will remain open until December 17.
Should the plans be approved, the first stage of the scheme would aim to coincide with the launch of the new Elizabeth line, due to open in December 2018.
Transport for London has already been working to cut the number of buses running along Oxford Street by 40% to reflect changing travel demands.
The opening of the Elizabeth line will reduce the number of buses further, with two services poised to be rerouted off Oxford Street along Wigmore Street, Henrietta Place and Cavendish Square.
New and extended taxi ranks would also be created close to Oxford Street as part of the plans, but cyclists would need to dismount when travelling along the section of the street.
'Excellent news'
Mayor of London Sadiq Khan described the plans as "hugely exciting" for the city.
"Whether you're a local resident, a business, or shop in some of the area's famous stores, our plans will make the area substantially cleaner and safer for everyone, creating one of the finest public spaces in the world," Khan said.
"We will continue to work closely with residents, businesses and Westminster Council to ensure the plans are the very best they can be, including investing in wider pavements, pedestrian crossings, more taxi ranks and further high-quality cycling infrastructure to support everyone living and working in the wider area."
New West End Company chief executive Jace Tyrrell added: "After years of campaigning, it's excellent news finally to see commitment from our politicians to a game-changing transformation of Oxford Street.
"In just over a year, the opening of the Elizabeth Line will bring profound change to the West End as an additional 120,000 visitors arrive every day.
"With an expected £1bn increase in turnover in the West End by 2020, the economic impact will benefit all Londoners as well as the wider UK economy at a time when we face the uncertainty of a post-Brexit Britain."