The shortlist for the New Store Europe Retail Week Interiors Awards 2012 has been announced.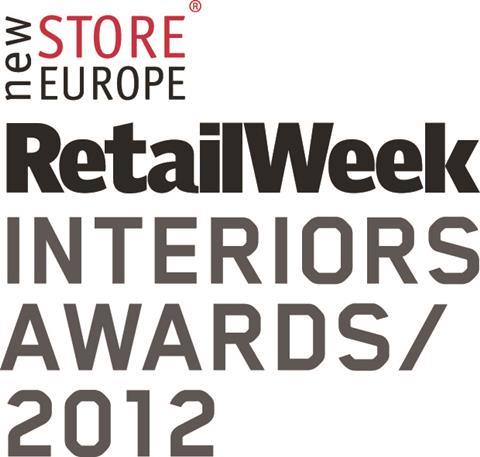 With names including most of the UK's major retailers, as well as a much larger field of international retailers than in previous years, this is the leading competition of its kind.
Final judging for the event takes place on June 14th and the winners will receive their awards at a gala evening at the Hilton Park Lane on September 27th.
New Store Europe Retail Week Interiors Awards 2012 Shortlist
The Patton Best Department Store of the Year
John Lewis consumer electronics department, Stratford by Dalziel and Pow Design Consultants
Beauty Hall, Selfridges, Manchester by HMKM
John Lewis, Westfield Stratford by Dalziel and Pow Consultants
Harrods Denim, London by SFD
Marks & Spencer, Westfield Stratford by Marks & Spencer
The McCue Fit Out Best Leisure, Food and Drink of the Year
Oasis Dining Quarter, Meadowhall by Birley
Harvey Nichols Fifth Floor Café, London by Edge Architecture and Design
Bocqueria, Stockholm by MOOD
Ruetz, Austria by JHP
Hotel Chocolat Roast + Conch, London by Terry Moore Design
Best Lighting and Fixturing of the Year
Aigle, Covent Garden by Aigle
Pret-a-Manger, Covent Garden by Fagerhult Lighting
Colour with Asian Paints, Singapore by Fitch
Ann Summers, Westfield Stratford by Fitch
A10 Center, Berlin, by Lichtvision Design & Engineering
Bench, Manchester by SFD
Best POP/VM Solution of the Year
Oasis, Nationwide by Hawkes and Forman
The Making of Harry Potter Store, London by Lumsden Design
Nike Ultralounge, Selfridges, Oxford Street by Officetwelve
Oasis, Argyle Street by SFD
House of Fraser, Christmas by SFD
Oasis, Light up your wardrobe by SFD
Marks & Spencer "Rings" by SFD
Next Christmas by SFD
The MINI Store, Westfield Stratford by Studio 38
Best Small Store
1948 by Nike and Child Graddon Lewis Architects & Designers
Blott, Guildford by Raylian
The MINI Store, Westfield Stratford by Studio 38
Hotel Chocolat Roast + Conch, London by Terry Moore Design
Dr. Marten's, Spitalfields by Triplar
Thorntons World of Chocolate, Birmingham by Thorntons
The Bottleshop, Models Own, Westfield by The Yard Creative
Onitsuka Tiger Factory Outlet, Madrid by Wests Design Consultants
The ISG Design Team of the Year
Arcadia Design
The Boots Bishopsgate Team by Child Graddon Lewis Architects & Designers
Dixons Retail In-House Design Team
Ann Summers, Westfield by Fitch
Koncept Stockholm
Reactor Retail, Norway, entered by New Store Europe
The Portview Fashion Retail Interior of the Year
Ben Sherman, Carnaby Street by Brinkworth
Nike Glasgow by Child Graddon Lewis Architects & Designers
Oasis, Argyll Street by Dalziel and Pow Design Consultants
Primark, Edinburgh by Dalziel and Pow Design Consultants
Moss Bros, Regent Street by The Faces
House of Fraser menswear, Oxford Street by Kinnersley Kent Design
JJB Sports, Broughton, by Liberation Creative Consultants
Urban Outfitters, Exeter by McCue Fit-Out
New Look, Nottingham by New Look
The VINCI Food and Supermarket Design of the year
M local: The First Urban Format for Morrisons, Grafton Street Manchester by Fitch
Spar, Salzburg by Interstore Design/Schweitzer
Alfa Beta Kifissia, Athens by Interstore Design/Schweitzer
Marks & Spencer, Westfield Stratford by Marks & Spencer
International Department Store of the Year
Jemloli, Switzerland by Blocher Blocher Partners
Mr. Price, South Africa by Dalziel and Pow Design Consultants
Houseoffraser.com, Liverpool and Aberdeen by Fusion Interiors Group
Interlomas. Mexico City by Liverpool
K Town, Germany by Karstadt Warenhaus
Birley International Fashion Retailer of the Year
Alessandro Oteri, Italy by Simona Dentone
Topshop and Topman, Chicago by Arcadia
Michael Meyer Liza & Yves, Germany by Blocher Blocher Partners
Lindex, Oslo by Dalziel and Pow Design Consultants
Juventus Store, Turin by Nike
Tommy Hilfiger, Brompton Road by rpa:vision
F&F, Brno by Tesco F&F- Four IV
The Bridgford Interiors International Non-food Large Format of the Year
M.Video, Moscow by Campbell Rigg
Fixtures Living, California by Fitch
Eldorado, Moscow by Fitch
MOOD Stockholm by Koncept Stockholm
Non-Food Design of the Year
Omega Boutique, Westfield Stratford by QD Project Management and Portview
Boots, Westfield Stratford by Child Graddon Lewis Architects & Designers
Next Home and Garden, Shoreham-by-Sea by Dalziel and Pow Design Consultants
The Locker Room, Foot Locker, Bent Cross by Dalziel and Pow Design Consultants
Primark, Edinburgh by Dalziel and Pow Design Consultants
Harrods Technology Floor, London by Dixons Retail
Domus Tiles, Clerkenwell by 'i-am' Associates
The Making of Harry Potter Store, London by Lumsden Design
BHS, Hartlepool by Markwick Architects
The NAS Shopfitting Excellence Award
Bridgford Interiors, Lichfield
ISG, London
McCue Fit-Out
Umdasch Shopfitting, Oxford