JD Sports has secured five former Kiddicare stores as it prepares to roll out its Ultimate Outdoors fascia, Retail Week understands.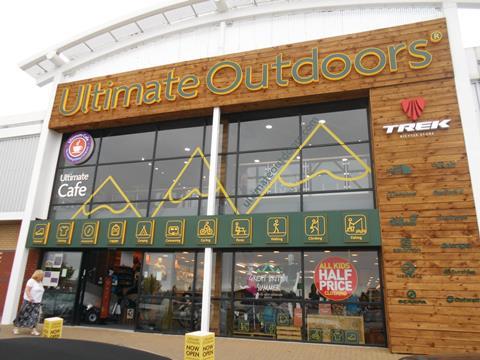 The sports retailer has signed for half the shuttered Kiddicare property estate. JD will add more than 200,000 sq ft to its specialist outdoors fascia, which at present only trades from one store in Preston and online.
JD Sports has signed for the 47,000 sq ft property in Rotherham, the 58,000 sq ft premises in Aintree, the 41,000 sq ft store in Merryhill, the 34,000 sq ft shop in Nottingham and the 34,000 sq ft site in Southampton.
It comes after Retail Week revealed last week that big-box value sports retailer Decathlon wants to trial smaller stores and click-and-collect sites due to a lack of 50,000 sq ft sites available in the UK.
Both retailers will be pitting themselves against discount sports giant Sports Direct, which has become dominant in the sector across its big-box and high street stores.
Retail property industry experts said the deal made sense.
DTZ senior director of retail Stuart Lunn, who specialises in retail parks, said: "It is a massive intent of growth for JD, showing it wants to be a major player in the era of major sports and leisure department stores."
Out-of-town property specialist Rob Asbury, Montagu Evans partner and head of retail, said sports retailers are still looking to fill the gap left by former sports retailer JJB, which collapsed in 2012.
He said: "JD is probably taking the view that it's got clothing covered with the JD Sports fascia, and so perhaps it's time to look at the wider market and other sports-related products.
"Shoppers know where the stores are because they were Best Buy and then Kiddicare. So, the stores are not a bad place to trial something."
The move into big-box stores comes as JD Sports prepares to take a second store on Oxford Street.
JD could not be reached for comment.
Next takes two Kiddicare stores
Fashion retailer Next is also understood to be taking two of Kiddicare's shuttered shops at Hayes and Enfield.
Kiddicare's former owner Morrisons put the maternity and baby specialist's store estate on the market when it sold the business to Endless in July. Morrisons bought the retailer, which was an online pureplay, in 2011 and launched Kiddicare in the 10 former big-box Best Buy stores but the conversion to bricks and mortar did not go smoothly and the business struggled.
Last week, online home retailer Worldstores bought Kiddicare from Endless for an undisclosed sum.