Ikea will test three small store formats in the UK as it seeks to make itself more accessible to consumers.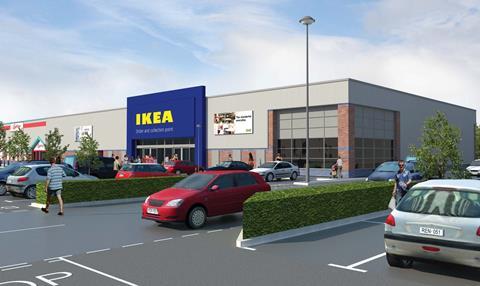 The first trial is a 19,000 sq ft 'order and collect' store in a Norwich retail park that will open in the autumn and act as a studio where customers can plan complex purchases such as kitchens.
Ikea UK country manager Gillian Drakeford told Retail Week the small formats will not act as a "replacement" for upcoming big-box stores, which have struggled with planning permission.
Drakeford said: "We need to start testing [different store models]. That is one of the areas where many UK retailers have been at the forefront and now it is Ikea's turn to do that. But it will always be as a complement to the [existing] store portfolio."
She added it was an exciting time for Ikea in the UK because it last opened a store six years ago in Southampton. The small format trial is part of a global initiative and Ikea is also trialling similar stores in Pamplona, Spain, Tromsø in Norway and Jyväskylä in Finland.
In the Norwich outlet, which is less than a tenth the size of its existing UK stores, customers who order in store will have the option of having products delivered to their homes or to the store for pick-up.
Drakeford believes click-and-collect will launch in small format stores eventually, but only once it has launched in larger stores first, after the retailer completes a global IT infrastructure overhaul.
A café will also feature in the Norwich store, which aims to be a place to "inspire" customers about their kitchens, living rooms, bedrooms and bathrooms.
More accessible
Ikea hopes the Norwich store will make the retailer more accessible to customers in the area, who currently need to undertake a four-hour round trip to get to the nearest Ikea in Lakeside.
Drakeford said customers ordering kitchens from Ikea often visit the store up to eight times.
The retailer is still developing the layout of the three small-format stores, which will all be order and collection points, but plans to develop different concepts in each including in-store technology that will link up the offline and online experience. All three tests will be complete by autumn next year.
Ikea is exploring the possibility of launching one of its small format stores in London and is following in the footsteps of other furniture retailers that are adapting their store portfolios to suit changing shopping habits.
DFS recently launched a small-format store in Westfield Stratford as it pursues city centre expansion. Rent-to-own specialist BrightHouse also said this week it is targeting a roll out of 140 small-format stores.
Meanwhile, Carpetright has around 50 high street stores and is in the process of reviewing its property portfolio to ensure it has an even spread of stores across the country.
As part of this it has just launched a concession in Morley's department store in Brixton and also has 10 concessions in Homebase stores.
Drakeford claims Ikea no longer has the problems it once did obtaining planning permission because local authorities and government are much more willing to co-operate with Ikea.
She added: "Some of our competitors have too much physical space.
"We still have a huge opportunity to build our portfolio of stores and in some respects we are coming from a position of strength now."
Ikea is still planning to open four large stores in Reading, Greenwich, Sheffield and Exeter. The Reading store will open first and is expected to be ready for business by next summer.