Pay a visit to the Harrods wine shop and you might be forgiven for expecting premium prices to be the order of the day.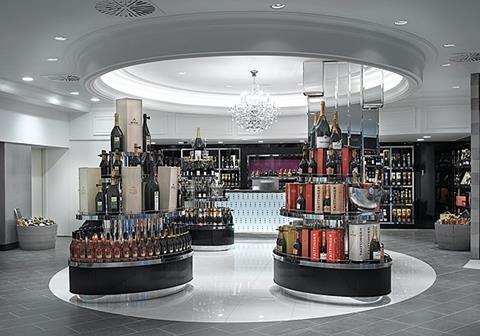 But even the most cursory look around the recently completed makeover of this space will suffice to tell the shopper that yes, you can spend £120,000 on a rare bottle of whisky, but there's a lot that's around a tenner or less.
This 7,000 sq ft space, designed by HMKM and fitted out by Portview, feels swish and modern, but not intimidating. With grey terrazzo flooring, dark wooden pigeonholes around the perimeter for the wines, arranged by country of origin, and a glass temperature-controlled box that contains the best of the best, this is a good-looking and easily understood department.
It also contains a number of features that you're very unlikely to find anywhere else, with Le Nez du Vin probably being foremost among these. This is an interactive screen beneath which there are more than 50 scents, all intended to replicate the smells and aromas associated with wine. "It's about education and enjoyment," says Harrods wine buyer Alistair Viner, and as you press the buttons associated with the smells that are in phials, it's hard to disagree.
There's a lot to be said for understanding more about what you're drinking, particularly if you're paying a fair price for it, and this shop makes finding out straightforward. It also succeeds in putting the prospective buyer at ease when faced with a bewildering selection. And for the rappers among you, there's a substantial display of Cristal champagne, although enthusiasm for it among the hip-hop community is waning apparently.