Halfords is to roll out cycling-only format Cycle Republic to take advantage of the boom in bike ownership in London.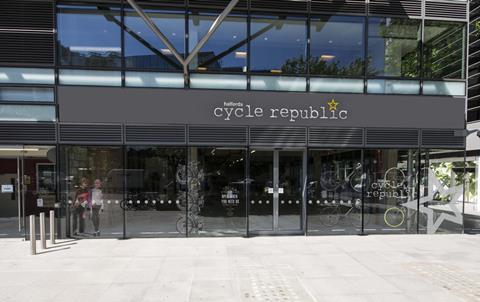 The retailer is reviving the Cycle Republic brand and will open its first store under the name at London's Euston Tower in the coming months, and Halfords said "further stores will open in London in 2015, with potential for more sites to open across the UK".
Halfords had operated a chain of Cycle Republic stores until 2009, when the retailer closed it down.
Halfords said it wants to tap into the "explosion in the number of people rediscovering cycling" and has designed the new format to "reflect the needs of the London cyclist".
The shop will offer Londoners exclusive premium editions and an "extensive" range of parts, accessories and clothing. The retailer's full range will be available to customers via click-and-collect.
The store will also offer repairs and servicing "at competitive prices".
Cycle Republic director Peter Kimberley said: "We have the opportunity to bring something different to the marketplace in central London – new and unique ranges for the urban cyclist and an expert team offering servicing and repairs.
"Our new stores will offer range, expertise and convenience, helping to make cycling more accessible for Londoners and supporting more people getting on their bikes."
Halfords reported cycling sales up 21.3% in its first quarter, including a 35.1% increase in premium-bike sales.