Halfords boss Matt Davies said he can see scope to open 100 new small-format Cycle Republic shops in major towns and cities.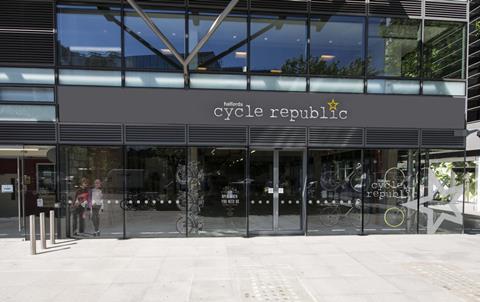 Halfords opens its first Cycle Republic store next month at Euston Tower in London in order to better "exploit the growth in cycling", according to Davies.
Davies said: "In Greater London there is opportunity for 25 Cycle Republic stores. Over the next few years, if somebody asked me, 'could we have100 stores?' I don't think that's silly.
"We see the opportunity to take Cycle Republic to major towns and cities across the UK. This isn't about just London."
Davies said Halfords increased its share of the cycles market in its first half and that the retailer intends to take sales from rivals with its new chain of Cycle Republic shops. Its market share stands at 22% at present, making Halfords the market leader.
Davies said Halfords was taking share from "independents, grocers and other mass merchants".
Cycling is now the biggest part of Halfords' business, accounting for 38% of sales.
Attracting cycling fanatics
The Cycle Republic shops will cover 3,000 sq ft to 4,000 sq ft and will sell bikes ranging from £300 to about £2,000, as well as accessories.
Davies said its premium ranges are the fastest growing part of its cycles business. He said Halfords has made some progress in attracting cycling fanatics who would once have shunned the retailer for being too mass market. But he added there is still "huge work to do" on that front.
"There is a customer who believes that cycling is just a part of Halfords' business, that it isn't a cycle specialist. We are absolutely a cycle specialist," he maintained.
The retailer has launched a new premium range, called 13, that will sit alongside Boardman, its existing top-end range.
Davies said Halfords has in the past failed to fully capitalise on the growing popularity of bikes. For instance, he said that in 2012, the year that a host of British cyclists won gold at the London Olympics, Halfords bike sales were flat.
Halfords results
He made the comments as the retailer unveiled pre-tax profit and non-recurring items increased 10.8% to £49.4m in the first half.
Cycling sales jumped 16% in the first half while car maintenance sales increased 7.1% in the second quarter.
Davies said: "We're delighted with the performance. Our turnaround plan is bearing fruit.
"I've been in place for two years and these are the most satisfying results I've presented. We're generating growth upon growth."
Davies said he was confident for a good Christmas but cautioned that the weather would have a "massive impact". "If it's cold car maintenance goes through the roof," he said, cautioning that warmer weather dampens sales.
"When it hits September and October, we want it to be cold," he said.
Davies warned that consumer confidence "is still very fragile. People aren't seeing any real improvements in disposable income".
He added that Halfords is "focused on the debate around the living wage".
Davies called the campaign for business's to pay a living wage "incredibly fair". He said by March 2016 80% of Halfords store staff will be paid 50p above the minimum wage. That compares with the 50% it expects to reach by March 2015.
"The business is moving at pace away from minimum wage," he said.