Beauty is in the eye of the shopper, but not everything appeals. John Ryan looks at how different retailers deal with this category on the high street.
As brand-owner L'Oréal considers whether or not to offload The Body Shop – which has outposts on every UK high street – it is worth considering how it measures up to other beauty retailers, and what this means in London's West End.
Beauty is constantly touted as one of the few categories of retail that continues to enjoy growth, where new players appear and existing companies expand their operations.
"The problem for The Body Shop is that there is also nothing to differentiate it from any of its rivals"
Yet, as is the case in every sector, success usually comes from being better than the competition.
At some point however, the sector will become saturated, and new tactics will have to be employed.
The Body Shop, Oxford Street
There are several branches of The Body Shop along Oxford Street with a lone outpost on Regent Street.
Currently all of them have window signage offering the chance to say yes 'To A Fresh New You' – done by in-store skincare consultations.
Once indoors, the decor is as expected with wooden planked floors, ligneous mid-shop display tables that feel mass-produced, and open-fronted wardrobes surrounding the perimeter.
In many ways this look is a benchmark for the sector, but for The Body Shop there is now nothing to differentiate it from any of its rivals.
If this one is to succeed in the longer term – even allowing for its ethical credentials – an interior rethink will be required.
Lush, Oxford Street
There is just one branch of Lush in the West End, and it's the flagship for the chain.
Lush also has a strongly ethical take on the products that it offers, but that is probably not the reason that its often youthful customers frequent it.
Instead, the store is about making the business of buying a bath bomb an experience, and to this end there are white porcelain butler's sinks across the store, encouraging shoppers to try before they buy.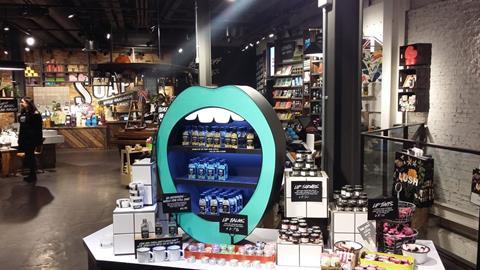 Demonstrations are a major part of the proposition, and in the basement there is a spa treatment area.
In terms of look and feel, this store extends a single-digit salute to the wooden floor and clinical interior beauty brigade, with an environment that uses dark, repurposed wood, blacked-out ceilings and graffiti-style graphics.
Overall, the sense is of down-to-earth chic.
There is nothing else like this one in the West End.
Kiehl's, Regent Street
New York-based beauty products retailer Kiehl's is also owned by L'Oréal, but, unlike The Body Shop, it has a very distinct personality.
The prop skeleton that is found in the window of every store, sometimes seated on a motorcycle, is the brand's icon and is instantly recognisable.
This large shop uses a counter that spans its width, with a chandelier as the main focus. Parquet wood flooring and a mid-shop display table complete the picture.
Like The Body Shop, Kiehl's is the product of a fairly uncompromising rollout.
Unlike The Body Shop however, it has a point of view and one that will pull shoppers in from the Regent Street pavement.
Molton Brown, Regent Street
Upscale skincare and beauty product retailer Molton Brown has been on Regent Street for close to two decades, expanding in size around five years ago when it was refurbished.
Today it has a mid-floor twin sink, abstract woodblock pattern panels around its perimeter and a clear division between the different product areas throughout the shop.
There is also a lot of space, immediately providing a sense of luxury that is reflected in the prices.
Of all the stores visited, this one was by far the most welcoming. And although it is a somewhat generic fit out, quality is on show throughout.
L'Occitane En Provence, Regent Street and St Christopher's Place
Both the interior and exterior of L'Occitane stores across the world are instantly recognisable, which is certainly a selling point for the French beauty brand.
The retailer's main offer is that it's straight from sun-kissed Provence, a notion confirmed by figures in diaphanous dresses, passing time in a 'Terre de Lumière' graphic in the window.
Even if the shopper doesn't like what is presented, there is at least no mistaking the brand.