Dreams is launching its largest marketing campaign outside of peak trading as it unveils a more ambitious store expansion plan.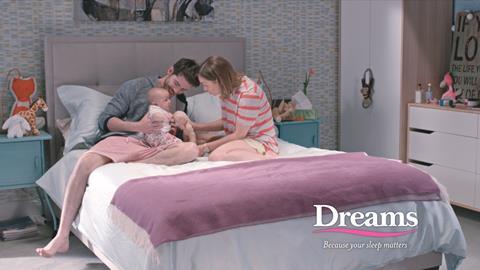 Dreams is launching its biggest marketing campaign outside of peak trading as it builds on strong sales and unveils a more ambitious expansion plan.
The beds specialist is spending £4m on its Replace Every Eight campaign that encourages consumers to upgrade their mattresses every eight years rather than every 12, which its says is the norm at present.
Dreams chief executive Mike Logue said the campaign is designed to stimulate the mattress market, which has declined in the past 10 years.
The retailer will now print on mattresses the date of delivery in order to remind shoppers when the products were "born".
Despite the declining market, Dreams has recorded strong sales growth in the first half of its financial year.
Year-to-date like-for-likes increased 13.5%, while web sales jumped 30%.
The retailer also revealed it has delivered 44% like-for-like growth in the past two years to July.
Logue described the sales rise as "off the scale" and said the retailer is on track to achieve its ambition of doubling profits this year.
Upping expansion
Dreams is also revisiting its store expansion programme as a result of the sales growth. The retailer will now open a further 50 stores.
Previously it only believed there was space in the market for 20 more. Dreams will open 10 branches in the "next few months" and plans to open 30 next year.
Logue said: "Clearly Dreams closed too many stores when it went through its pre-pack [administration] – understandably because they were too big and too expensive."
Dreams will focus on opening the stores in the Northeast, where it has never had a presence, and opened its first store in Stockton three weeks ago.
Logue maintained the "jury was still out" on whether it would roll out the Dreams at Home format nationwide. It sells homeware products and is being tested in Watford.