Disney is to unveil a new format in at least three of its UK stores this year as it seeks to make them destination stores for children.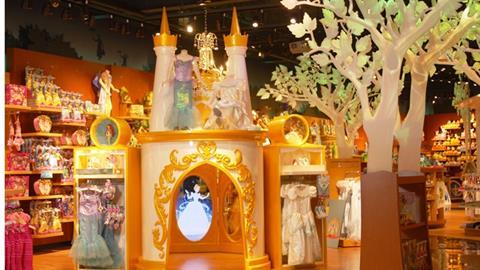 The 53-store retailer will launch the new format in Centre MK in Milton Keynes, in the Bon Accord Centre in Aberdeen and at Donegal Place in Belfast "later this year", said a Disney spokeswoman.
The store design has been "developed from a child's perspective and integrates the latest technology", she added. It includes products such as a 'magic mirror', which talks to kids, integrated into a Disney Princess castle feature.
Other interactive elements will be deployed in its Disney Store Theatre, which will be an area in the middle of the store for activities such as story-telling. Elsewhere, products will be grouped together in store by category.
The spokeswoman said further UK stores could be reformatted after the first three openings, but she added that not every UK shop "lends itself" to the full refit.
She said: "We are creating a destination and experience, which we hope will lead to an uplift in sales. We need to be ahead of the game, to push the innovation."
The spokeswoman said the retailer would look to open more stores. She said: "We are always looking for opportunities to bring the Disney magic to the high street and we'll try to develop this wherever possible."
Disney is in discussions to relocate its Oxford Street store. It is located at 360 Oxford Street but wants to move into the former Mexx store at number 350.