Retailer to shake-up store experience with augmented reality cards and personalised printing.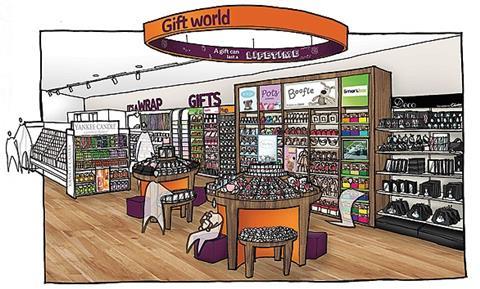 Clinton Cards is fighting back against falling sales by launching a new store format using state-of-the-art technology in a "major step change" for the retailer.
The new look stores, part of a wider rebranding of the retailer, will feature touch-screen TVs and web cams. Customers will be able to send augmented reality greetings cards containing a special code that, when scanned on a recipient's webcam, allows them to play games or 'dress up' via their computers.
Recipients must log on to the Clinton Cards' website to be able to activate a card's interactivity.
Special sections of the store will be devoted to augmented reality cards, where customers can try them out on in-store screens before they buy. Cards will cost from about £2.59.
In phase two of the store trial, to be launched in the summer, customers will also be able to print off personalised cards in store.
The design is a break away from Clinton Cards' existing store environment, which has been largely unchanged for many years.
The greetings cards retailer is launching the format - designed by design agency the Yard Creative - in Nottingham, St Albans, Uxbridge and Bristol in the coming weeks.
Managing director Clinton Lewin said: "We have now created a space that is easy and interesting to shop while discovering new and exciting products. We believe this major step change to our brand will ensure we continue to be leaders in our market place."
Clinton Cards buying and marketing director John Robinson said the retailer was using the technology to create a "completely new kind of greeting card".
Clinton Cards is fighting back in a tough trading environment - its first-half profits plummeted 41%.
Robinson said. "We're trying to maximise sales. We're the market leader, and we're pushing [innovation] further and further."
The new shopfits are easier to navigate and the product less cluttered and grouped in themes.
Robinson said the retailer would conduct a "quick testing procedure" before rolling the concept out to all 650 stores over the next three years.
The retailer will also relaunch its website in May, which will link with the stores, offering personalisation.