Rent-to-own specialist BrightHouse is targeting a roll out of 140 small-format stores after a trial of a 'satellite' shop in Scotland.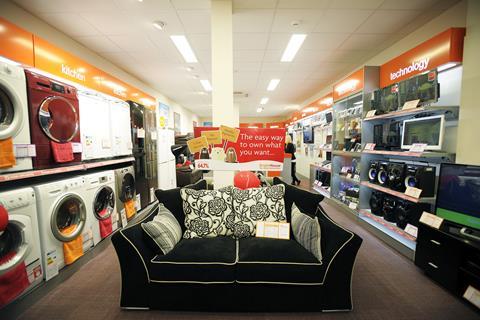 Small shops will be twinned with parent stores
Sales in the trial small-format store have accelerated 'like a train'
Two new small-format stores are opening this week
The rent-to-own retailer hopes to reach smaller communities with the format, which at about 750 sq ft will be less than half the size of the 2,000 sq ft stores it operates at present.
BrightHouse will launch the format in "sizeable communities" where there is a parade of shops or at least a post office and a convenience food store in order to drive footfall.
The concept has been trialled in Saltcoats, North Ayrshire, which used to be a popular seaside destination for people living in Glasgow and the West of Scotland.
Although there is less space to display product, BrightHouse is installing interactive screens to help showcase furniture not stocked in store.
BrightHouse chief executive Leo McKee said: "We have been looking at how we can go beyond our existing stores' reach. The sales performance of the satellite store has taken off like a train and is substantially ahead of expectations, but more interestingly the furniture sales are higher than the chain norm."
McKee believes furniture sales are higher in the new format because customers are able to see the whole range online, while in its larger stores customers can only see the full range in a catalogue.
Each 'satellite' small-format store will be connected to a nearby parent store in order to share its logistics infrastructure. The Saltcoats store is twinned with BrightHouse's shop in Irvine, a larger town eight miles away.
Two more of the satellite stores will open later this week in Dumbarton, near Loch Lomond, and Farnworth in Greater Manchester.
The smaller-format shops will trade between 10am and 5pm as opposed to the 9am to 5.30pm trading hours of the larger stores.
Customers who shop at BrightHouse still have to complete the purchase in store in order to prove their identity and perform credit checks.
However, online is playing an increasingly greater part in the customer journey after BrightHouse launched a website 18 months ago.
McKee said that 15% of customers are coming to its stores to make a purchase having visited the BrightHouse website.
BrightHouse plans to open 20 stores a year over the next three years and a proportion of these will be the small-store format.