Argos has launched its first store in an Underground station to give customers convenient access to products as they travel around London.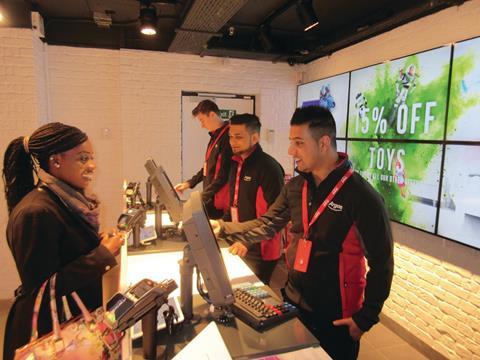 The 650 sq ft store is opening in Cannon Street Underground station and will have a sales floor of 170 sq ft, the equivalent of a large kitchen in a family home, and will offer 20,000 products.
It will be open from 7.30am to 7pm Monday to Friday and between 9am and 6pm on Saturdays, and Argos will use its 'hub and spoke' logistics network to deliver to the store twice daily.
Transport for London (TfL) has signed the deal with Argos as part of its plans to generate revenue that can be reinvested in the transport network, a scheme that has already seen it launch click-and-collect points in tube stations with Asda.
The store will offer both same day and next-day collection as it seeks to offer a convenient option for those who use the Underground, which registers 4.2 million journeys every day.
John Walden, chief executive of Argos parent company Home Retail, said: "Digital shoppers are increasingly demanding improved choice, convenience and speed in the fulfilment of their online orders, especially via click-and-collect; the collection of their online orders from a conveniently located shop.
"Our new Argos Collect format at the Cannon Street Underground station will complement our other Argos digital store trials, including converted traditional Argos stores, small format digital stores, and concessions in select Homebase stores; nearly 50 in total in place for Christmas.
"Because of our innovative new 'hub and spoke' distribution network, we can now provide over 20,000 products to any of our locations within hours, regardless of the stocking capacity of each individual store."
TfL director of commercial development Graeme Craig said: "We have over 1,000 retail units across our transport network. We are keen to retain a wide base of independent quality retailers that reflect the character of the local area and sit alongside pop-up shops, click-and-collect units and high street brands, to provide our millions of customers with better journeys and the range of shopping options they want."
Argos launches first Tube station store as it focuses on convenience
1

Currently reading

Argos launches first Tube station store as it focuses on convenience

2