As traffic to high street stores continues to decline and ecommerce sales rise, many retailers face a fight to survive.
In a climate of fragile consumer confidence with incomes squeezed by inflation, and the allure of discounters and online shopping growing, traditional retailers must undergo a reinvention or risk extinction.
They can learn how the future might look by turning their gaze East.
Chinese retailers such as Alibaba, JD.com and Suning Retail are creating a new generation of stores, aimed at not just increasing baskets, but keeping shoppers in a broader retailer ecosystem by providing an all-encompassing and interactive experience.
Here are some of the things that Chinese retailers are doing differently.
Putting online-to-offline at the heart of store design
While UK retailers are working to integrate more online-to-offline (O2O) characteristics into stores – by adding online order collection points for instance – new formats in China, such as Hema by Alibaba, 7Fresh by JD.com or SuFresh by Suning – have such capabilities at the core of their design.
One example is Hema, Alibaba's fresh-focused supermarket, which also serves as a hub with store-picked orders home-delivered to addresses within 3km inside 30 minutes.
This type of format makes additional use of costly store space in urban areas and allows for fresher, more convenient deliveries.
Additionally, the localisation that this type of fulfilment allows for means that ranges can be tailored to particular areas, helping to combat out-of-stocks as well as boost shopper loyalty.
Last week, Alibaba unveiled a major expansion of Hema, which would add 30 new outlets in Beijing and put the stores at the heart of what it calls a "three-kilometre ideal living community".
The venture will bring together its Hema supermarket, the Tmall digital marketplace, Ofo (a bike-sharing operation) and Autonavi (mapping and navigation services) to create a localised digital micro-ecosystem.
The initiative goes beyond simply connecting online to offline, and instead creates a truly seamless experience.
While the Hema project at present comprises only a handful of services, Alibaba's ecosystem is vast, ranging from media and entertainment services to shopping, to transportation.
As the digital giant incorporates more services into the experiment, its customers will effectively be able to go through their entire day without exiting the Alibaba ecosystem, using their accounts for any digital service they need.
While an initiative of this scale might be out of reach for retailers with established infrastructure in a market the size of the UK, smaller-scale integration of digital services, in-store apps and fulfilment should be on the retail agenda over the coming years.
Alibaba's ecosystem centres around the third-party marketplace Tmall, and encompasses a vast network of products and services, a number of which can be incorporated into the retailer's physical offer.
The Hema supermarkets, which will be at the heart of Alibaba's "communities", operate in tandem with the Tmall app – a shopper scans their Tmall app upon entry, and can checkout with a single barcode scan.
The social store – foodservice as a driver of traffic and dwell time
JD's O2O venture, 7Fresh, which opened in Beijing's Yizhuang Plaza Husheng last month, provides another possible future for the supermarket.
Similarly to Alibaba's Hema, the store operates using the etailer's app and emphasises its beautifully-presented fresh section.
A significant portion of floor space is also dedicated to various premium foodservice offers, in the style of a department store food court.
It is targeted at busy professionals working in the megacity's commercial district. The ability to pick fresh food, have it cooked instore and consume it in a comfortable social space is very appealing to 7Fresh's target consumer – the time-poor young professional.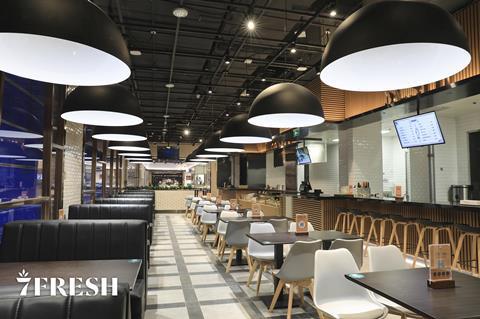 As professionals in UK cities feel the constraints of rising inflation and stagnating wages, they begin to turn away from costlier high street foodservice operators.
Grocers who manage to provide an alternative to these social spaces will be well positioned to win with this shopper group. Providing additional services – such as WiFi and charging stations in-store, in the vein of 7Fresh, will be crucial for the success of any such reinvention.
Capturing this intersection of experiential, frictionless and social stores will be crucial for retailers across all sectors if they want to retain shopper interest.
Product information improves the journey and boosts baskets
Digital touchpoints are a mainstay of the O2O supermarket format in China. But they don't always require costly investments in instore tech.
Hema, for example, uses barcode scanning and an in-store app to allow shoppers to learn more about any product they pick up – including product origin, use by date and even recommendations for similar products available instore.
As the impacts of Brexit begin to manifest themselves across grocery and supply chains shift, verifiable product origins will become increasingly important to shoppers, making these types of solutions increasingly relevant.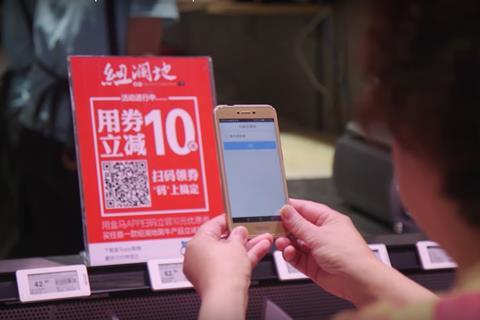 Interactive product information – whether delivered using touchscreens or beacon technology – is not a novel idea.
However, Hema stores go one step beyond previous solutions by using movement sensor technology and product screens.
When an item is picked up from the shelf, the screen automatically begins displaying the relevant information. This type of interaction can make the journey feel more engaging, and capture the attention of the more health- and sustainability-conscious shopper.
The technology is personal, but avoids being creepy by only communicating with the customer after they register interest.
"By adding similar capabilities to their own shopping apps, UK retailers can bridge the gap between online and the store and add an experiential layer to physical retailing"
By adding similar capabilities to their own shopping apps, UK retailers can bridge the gap between online and the store and add an experiential layer to physical retailing.
In the future, in-store apps could also be enhanced to allow for the addition of a product to an online order by scanning the barcode, thus boosting spend by sidestepping the trend of shrinking baskets and convenience shopping.
China is setting the pace in the creation and adoption of new retail models, and UK retailers could pick up and replicate them to successfully navigate the changing industry landscape.