Since the first Hotel Chocolat opened in 2004, it's become a thriving chain of shops and cafes. We look at how design has aided its success.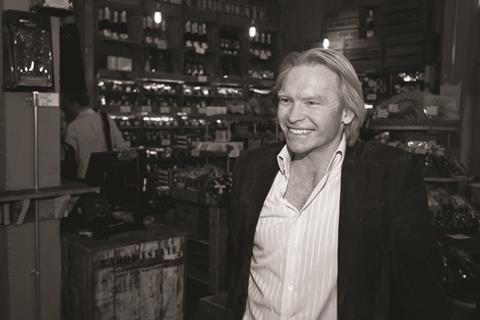 A retailer that chooses a designer and then continues to work with that same designer from 2004 until the present day is surely unusual. Retailers usually tend to try out a few elements from a consultancy and then, when a change of direction or even format 'evolution' is perceived to be necessary, a new consultancy is hired to create difference.
The outcome of this approach is that it is frequently difficult to discern a design thread that defines the brand. Indeed, the look of a store may be completely different to what it was a few years ago – thanks to a constant chopping and changing of design consultancy.
Hotel Chocolat is an exception. Since its foundation as a bricks-and-mortar entity eight years ago not only has it stuck with designer Terry Moore but it is easy to see how it has evolved to its current store design format.
"Terry's part of the team now," says Angus Thirlwell, Hotel Chocolat's founder and chief executive. "Eight years ago, we wanted to create a store that would have the feel of a hotel lobby. Before us, chocolate tended to be sold in small shops in unmarked white boxes and you didn't really know what you were getting. It's a bit like treating customers as idiots. We knew we could do a lot better than that."
Successful strategy
If results are anything to go by, Hotel Chocolat has done better. This sweet tooth empire now trades from stores, online, and via mail order. It even has its own cocoa estate and has opened cafes where customers can see cocoa beans being transformed into chocolate. Prices are certainly at the top end of the mid-market but, according to Thirlwell, as well as good chocolate, a visit to Hotel Chocolat entails being informed about product provenance and immersed in clever storytelling. "We work to bring chocolate alive in terms of look and colours," he says.
Underpinning much of the brand's success and its appeal for customers is the appearance of its shops and the in-store environment. Hotel Chocolat is that much overused term –an experience. Whether you go into one of its branches on a high street or in a shopping mall, or head for the more elemental, rough-and-ready Rabot Estate shop-cum-cafe at London Bridge, you know where you are.
The brand stands for an idea that has been developed over time. Sitting in the basement of the latest Hotel Chocolat spin-off, Roast & Conch – a cafe where cocoa-based hot drinks and food are served and chocolate is manufactured – Thirlwell is keen to show off his new products. After a cup of chilli hot chocolate and a tart with chocolate ganache (made on the premises), it is not hard to understand this organisation's success.
Attention to detail – whether it's the in-store leaflets with beautiful photography, or the packaging that gives any of the Mayfair and Knightsbridge chocolate specialists a run for their money – is what this retailer is about.
And the raffishly attired Thirlwell remains the high-profile face of the brand. "I eat chocolate every day," he says. You have to guess, on the evidence of his elegantly waisted frame, that he just doesn't eat too much of it.