BHS may have lost its resonance with shoppers, but vibrant new retailers are emerging to add a bit of spice to the high street.
The embattled department store chain's slump into administration has presented an opportunity for landlords to breathe new life into retail destinations up and down the country – and there are no shortage of up-and-coming retailers who are already doing exactly that.
Retail Week takes a look at five emerging retailers who are already making their mark in the UK.
Tiger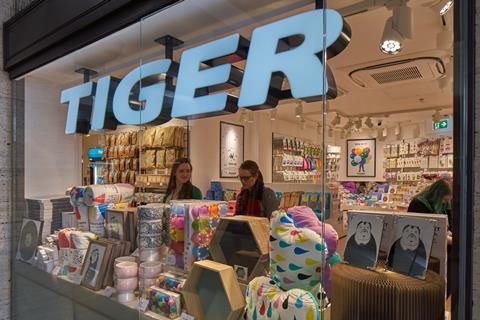 The Danish homewares retailer has been expanding at a rate of two stores per week across a number of its European markets, including the UK, where the business is gaining traction among value-hungry shoppers.
Its parent company Zebra, which recorded a 68% jump in pre-tax profits to 196m krone (£18.6m) in 2014 – its most recently published financial figures – runs Tiger as separate regional entities in the UK.
Its biggest region, London and the Southeast, posted profits of £4.8m in 2014 as sales soared 45% to £30.7m, driven by the rise of middle-class bargain-hunters.
Tiger already has 74 stores across the country, 38 of which are in London and the Southeast, but it is now moving into travel retail, eyeing stores in 10% of the capital's 270 Underground stations.
It will also continue to target stores in more premium locations, having already secured stores in Oxford Street, Westfield Stratford and Richmond, making it one of the top 10 fastest growing retailers in the UK.
Pep&Co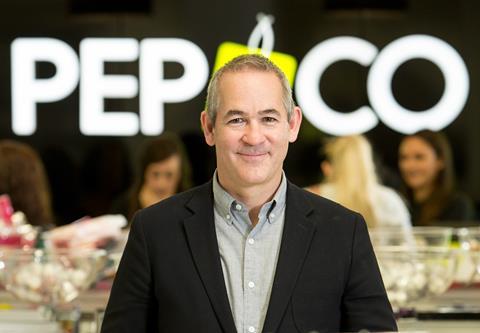 Andy Bond's discount fashion chain hit the headlines before it hit the high street after laying out its plans to launch 50 stores in just 50 days.
Pep&Co opened its first location in Kettering, Northamptonshire, on July 1, with shops from Maidstone to Middlesbrough and Derby to Dunfermline following as the Christo Wiese-backed chain launched its assault on the high street.
The retailer's managing director Adrian Mountford – a former Sainsbury's and Matalan executive – claimed it would carve out a niche for itself by creating a "genuine discount retail format for fashion and families".
After refining the proposition since its well-publicised launch by scrapping homewares, introducing menswear and boosting womenswear lines such as leggings and jeggings, Mountford and co have rubber-stamped proposals to open up to 15 more stores before October as it bids to increase its slice of the fashion pie.
Smiggle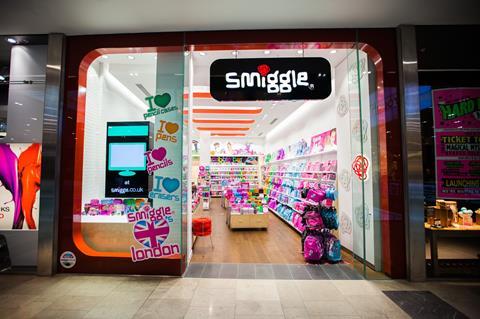 Having made its UK debut at Westfield Stratford City in February 2014, Australian stationery retailer Smiggle quickly entered the hearts of British children with its Willy Wonka-style offer.
The retailer designs its products in-house, churning its colourful range of pencil cases, backpacks, lunch boxes, pens and toys on a fortnightly basis to keep its six- to 14-year-old target customer coming back for more.
Owned by Australia's The Just Group, Smiggle already has around 50 stores across the UK but is accelerating its growth strategy under the guidance of boss John Cheston, formerly of Marks & Spencer.
Using his knowledge of the UK market, Brit Cheston is aiming to hit the 100-store mark by Christmas, with his sights set on 160 branches by the end of 2017, and at least 220 by Christmas 2018.
Smiggle launched a transactional online website a year ago and is also eyeing a click-and-collect roll-out to grow its multichannel proposition.
Missguided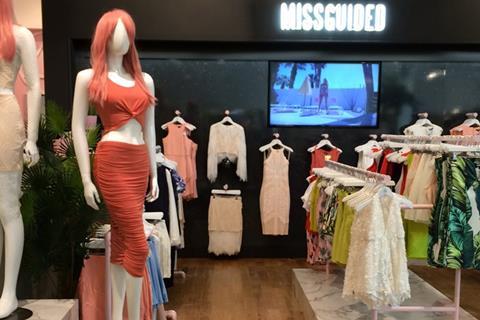 Fast-fashion etailer Missguided is already growing at a pace online, posting a profit of £5.5m for the year ending March 2015.
Not content with its ecommerce success, though, the business is looking to expand its reach beyond digital and into bricks and mortar.
Missguided secured concessions in US retailer Nordstrom in March 2015, following that up with its first physical UK presence in luxury department store Selfridges three months later.
In January, Retail Week lifted the lid on its plans for a UK-wide push into standalone stores after it drafted in former Abercrombie & Fitch UK property boss Richard Collyer on a consultancy basis.
It is understood that Missguided is targeting prime London locations as it continues to grow its presence and muscle in on the UK high street.
Oliver Bonas
Oliver Bonas claimed column inches last September when it became the first British retailer to start paying a 'real' living wage, as called for by the Living Wage Foundation.
But the lifestyle business has been quietly growing its store presence since being founded in 1993.
It already has around 50 stores in the UK and has long-term plans to double its bricks-and-mortar footprint after striking a chord with consumers – it was named among our top 30 retailers by sales densities earlier this year.
Despite that success, Oliver Bonas is pressing ahead with a strategy to "digitise" its in-store proposition by using tablets and click-and-collect, while also bidding to double its proportion of online sales from the 10% it stood at in 2014.