Consumers may have flocked to pick up a bargain during the Black Friday/Cyber Monday weekend, but retailers were busy bagging deals of their own.
Home and furniture business Dunelm snapped up etail rival Worldstores – which owns the Kiddicare and Achica brands – in an £8.5m acquisition, while JD Sports completed its mooted takeover of Go Outdoors for £112.3m.
While both deals mark important steps for the two retailers, it is the latter move by the sportswear specialist and its buoyant boss Peter Cowgill that has captured most interest.
JD has been outscoring its biggest rival Sports Direct for more than a year now, but is clearly in no mood to sit on the lead it has established and park the proverbial bus.
To say Sports Direct and its owner Mike Ashley have helped JD's cause by netting a few own goals over the past 12 months would be an understatement.
The under-fire retailer's sales and profits have tumbled amid controversy over its use of zero-hour contracts and allegations of poor working conditions at its Shirebrook warehouse.
In contrast, JD is in the form of its life, upping profit expectations on more than one occasion as the business goes from strength to strength, both domestically and on European soil.
On Monday, it split all of its existing shares into five new ordinary shares to improve liquidity, as it eyes the next phase of growth.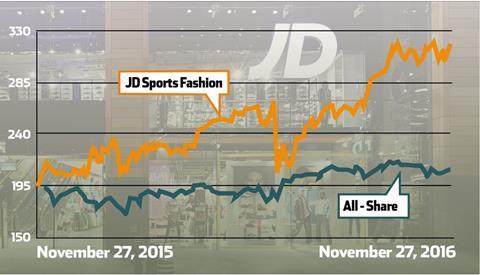 Outdoor underperformance
But if there was one weak link in the firm's formation, it is its underperforming outdoor business, comprising Millets, Blacks, Ultimate Outdoors and Tiso.
Cowgill told Retail Week in September that he was focused on "stopping the bleed" within that division, after it posted an operating loss of £2.3m in the 26 weeks to July 30.
The big-money signing of Go Outdoors represents a huge victory on his way to doing precisely that.
In one fell swoop, JD's outdoor division has more than doubled in size.
Blacks, Millets, Ultimate Outdoors and Tiso amassed combined revenues in excess of £155m in the year to January 30.
Go Outdoors generated sales of £202.2m during the same period.
The deal not only allows JD to rapidly expand its footprint in that sector, but it is doing so in the right locations, opening itself up to a new fan base.
Complimentary portfolio
Go Outdoors' 58 stores lie predominantly in out-of-town retail parks, averaging 30,000 sq ft in size, whereas JD's existing line-up of outdoor fascias are mainly high street-based, with a typical trading space of 3,700 sq ft.
Perhaps unsurprisingly when considering those statistics, JD plans to continue operating all of its newly-acquired Go Outdoors stores as a standalone business.
Cowgill and co could also see scope to further expand Go Outdoors' operations, particularly with the Brexit vote – and the resulting slump in sterling – expected by many to spark a 'staycation' boom.
But therein could lie the problem, says Peel Hunt's Jonathan Pritchard.
"Our big concern is that it will distract management from the exciting job of work to be done on the core business," he says, noting that "the previous foray into this sector was not a glowing success."
JD will have to ensure it doesn't take its eye off the ball if it is to extend its impressive winning streak.