Sports Direct chief Mike Ashley has accused House of Fraser's former bosses of "totally" misleading suppliers and the retailer's warehouse operator.
Ashley has called for the Insolvency Service to launch an inquiry into the company's former directors, including ex-chairman Frank Slevin, just weeks after he bought the chain out of administration in a £90m deal.
House of Fraser was owned by Chinese conglomerate Sanpower when it collapsed with an £884m debt pile.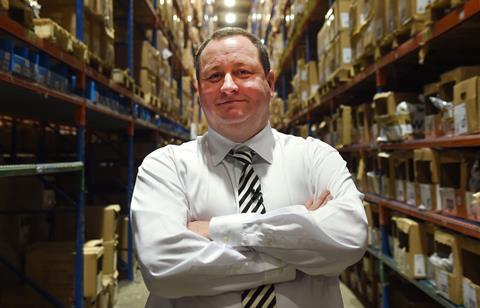 It owes £30.4m to XPO Logistics, the company that runs its distribution centres and has downed tools amid an ongoing row over the debt.
According to The Sunday Times, Ashley has claimed Slevin and his colleagues misled XPO and other suppliers by promising them deferred payment.
Ashley said: "I believe that XPO and others were totally misled by Frank Slevin and the House of Fraser board, and the demise of House of Fraser should be fully investigated."
Slevin said Ashley was "entitled to his view" but insisted he had not been involved in any "direct conversations" with XPO.
Revolt
It comes as Ashley faces a potential shareholder revolt at Sports Direct's AGM on Wednesday. Advisory groups have urged investors to vote against his re-election as boss.
The two groups, ISS and Glass Lewis, are also agitating for shareholders to oppose the re-election of chairman Keith Hellawell amid what they claim are "continued failures" by Ashley as chief executive.
Glass Lewis highlighted Ashley's history of running Sports Direct, which came under particular fire in 2016 when he was hauled in front of MPs to answer allegations of running his distribution centre like a "Victorian workhouse", saying he had overseen years of "poor governance" at the sportswear retailer.
ISS charged him with "continued failures" and added that his plan to pay £5m to his future son in law Michael Murray, who holds the role of head of elevation at Sports Direct, "exacerbated" its concerns.
It added that Ashley, who will not attend the AGM due to other demands on his time, had shown "apparent unwillingness" to listen to independent shareholders.
In previous years, more than half of independent shareholders have voted against Hellawell's re-election but Ashley, who controls 61% of the business, has vetoed their influence and backed his chairman.
ISS said: "These votes of no confidence from independent shareholders suggest that Keith Hellawell's continuation in the position of chair is not tenable."
A Sports Direct spokesperson said: "We hope that shareholders will continue to recognise the further positive progress that we have made over the last 12 months."