Halfords has launched an ecommerce site for its premium cycling fascia Cycle Republic, nearly two years after it revived the brand.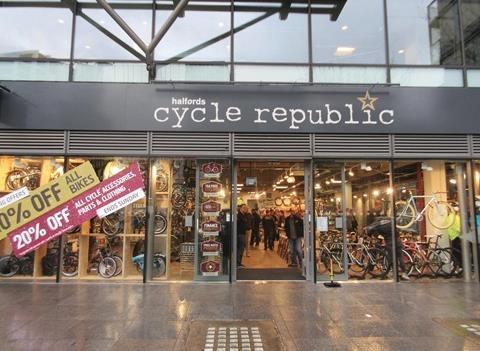 The website offers around 7,000 product lines, including bike brands such as Boardman, Pinarello, Basso, Haibike, Gocycle and accessories brands such as Garmin, Mavic, Kask and Shimano.
Halfords said the site is designed to complement its 12 existing Cycle Republic stores.
The bikes and car parts retailer opened its first Cycle Republic in Euston, central London, in late 2014, five years after it pulled the brand.
The then Halfords boss Matt Davies said there was scope for around 100 Cycle Republic stores, but this ambition appears to have been scaled back under current boss Jill McDonald.
In June, McDonald said it would open fewer Cycle Republic stores as it focuses on the website launch. It also acquired online specialists Tredz and Wheelies in May.
Cycle Republic managing director, Peter Kimberley, said: "We've enjoyed fantastic high-street visibility with our 12 shops, which occupy city locations in key cycling areas, but with the launch of our first fully transactional website we can reach cyclists across the country, bring them our premium range of bikes, parts, accessories and clothing to suit enthusiasts and city cyclists alike."
The site will also offer customers free delivery on purchases over £10 and click-and-collect options, plus launch offers on leading brands.
In June, Halfords reported a 1.2% drop in full-year pre-tax profits, while total annual group sales rose 1.7% to £1.02bn.