Halfords boss Jill McDonald says she sees potential for up to 50 of its upmarket Cycle Republic stores as the chain is "resonating well".
Eight Cycle Republic stores are currently open, while two more are planned by next March. Between five and 10 more are due to be open for next financial year.
Former Halfords chief executive Matt Davies said a year ago he saw scope for 100 of the stores.
But McDonald told Retail Week: "I see potential for up to 50 stores, it could a few more or a few less. It depends if we can find the right location." She said London was an obvious target and other major cycling cities but declined to say where outside the capital.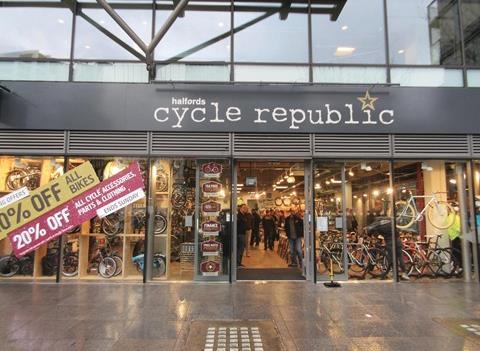 The upmarket chain, which appointed its first managing director in August, was revived late last year after Halfords had previously closed its eight Bikehut and Cycle Republic stores in 2009.
McDonald said today she is satisfied with how the chain is performing despite the more moderate prediction. "Cycle Republic is resonating well with customers."
Halfords reported today that its half-year cycling like-for-likes slipped 2.9% partly due to a tough summer.
Meanwhile McDonald insisted she was happy with the size of Halfords store estate as 98% of shops are profitable. However Halfords' boss has plans to re-locate and re-size a number of stores as part of her new strategy, revealed today.
McDonald said 93 leases are up for renewal out of its 463-strong estate in the next financial year. She said some may become bigger but it is likely most will become smaller. But she added: "We see the store footprint as differentiating us."
Halfords currently gets around 30% of sales from cycling, while the remainder comes from its automotive and car parts business.