Go Outdoors is upping its focus on cycling with a multi-million pound investment in new dedicated in-store departments.
The Sheffield-headquartered retailer will launch the departments, called Go Cycling, in 51 of its 57 UK stores by the end of May. The average space for Go Cycling will be between 3,000 and 5,000 sq ft.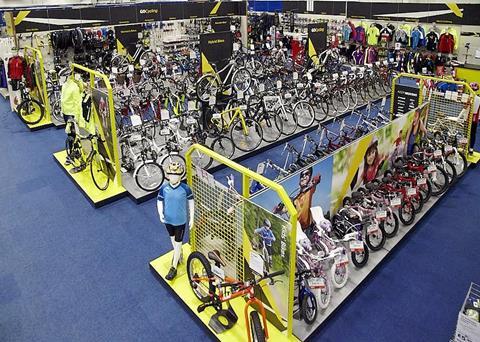 It follows a trial in its Pudsey and Swindon branches.
The move will set the retailer in competition with retailers such as Halfords and Evans in the mainstream cycling retail sector.
Each store will stock hundreds of cycling products, including clothing, equipment, road bikes, mountain bikes and US-phenomenon, fat bikes. Bike fitting and servicing will also be offered.
Cycling brands on sale will include Orbea, Ghost, Raleigh and Go Outdoor's own-brand range, Calibre.
Go Outdoors chief executive Chris Matthews said: "We saw over 100% increase in bike and cycling equipment sales in our trial stores signalling that our customers are crying out for great bikes and equipment at great prices."
Matthews said the aim is to "position Go Outdoors as the go-to retailer for all cyclists below pro".
An extra 2,000 jobs will be created by the push into cycling, the company said.
In its last full-year, Go Outdoors reported pre-tax profits of £3.1m, off the back of £181.4m sales.