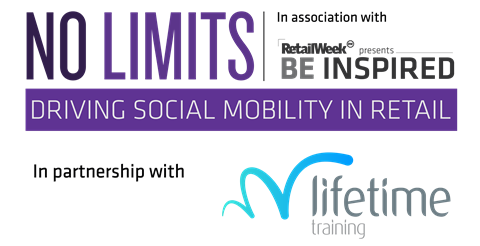 But amid the hundreds of store closures and tens of thousands of job losses across UK retail due to the coronavirus crisis, that reputation is at risk.
As the furlough scheme winds down, and with the job support scheme revealed by the chancellor last week only offering a fraction of that financial help to retailers, hundreds more entry-level roles are likely to be at risk, removing opportunities for people from disadvantaged backgrounds across the country.
That is why Retail Week is today launching its No Limits campaign, in association with Be Inspired, designed to raise awareness of and reinvigorate a focus on social mobility as a benefit to us all as individuals, to our businesses and to society.
Retail Week has also teamed up with the Social Mobility Commission, which is launching a toolkit next year to help drive the social mobility agenda across retail, and it wants to engage with our readers to help shape that resource ahead of its publication.
In the wake of the Covid-19 pandemic, retail's once strong engine of social mobility risks grinding to a halt. But together, we can ensure that social mobility is not forgotten amid the immediate battle to trade and survive, or the longer-term journey to transform for a digital future.
No Limits launch ambassadors
Sir Terry Leahy, former chief executive, Tesco, and trustee, Social Mobility Foundation
John Roberts, founder and chief executive, AO.com
Bridget Lea, managing director North, Sainsbury's
Linda Campbell, managing director, The Body Shop
Lord Mark Price, former managing director, Waitrose
RWRC group content director Charlotte Hardie said: "Our concern, and why we're launching the No Limits social mobility campaign, is that the coronavirus pandemic has served to separate, even further, the haves and the have-nots. The fragile ground upon which diversity is based has really been exposed.
"We need high-profile people to be involved in this debate, so we've gathered together some brilliant leaders from different backgrounds throughout the sector to show just how much a career in retail has meant for them and just how much every leader in UK business needs to be assessing their culture and looking at new ways to drive social mobility in their organisations."
Former Tesco boss and No Limits launch ambassador Sir Terry Leahy said: "I was the beneficiary of a very good and supportive employer in the Co-op, which introduced me into the retailing profession.
"It's one of the great things about the retail industry – how it welcomes people in, irrespective of their background.
"Social mobility matters terribly. It's one of the most fundamental examples of a free society, of justice, that it doesn't matter what circumstances you are born into, everybody should have the same opportunity."
Fellow No Limits ambassador and AO.com founder John Roberts added: "Social mobility matters because talent is equally distributed and opportunity is not.
"Retail is so well-positioned because you can start at the real basement of retail. I started in a warehouse – that was my career, I wasn't great at school – and I worked my way through."
Get involved in No Limits
If you are a senior retail leader and want to get involved in the No Limits campaign, or if you are a retail employee with an inspirational story of how the sector has changed your life for the better, contact Retail Week editor Luke Tugby on luke.tugby@retail-week.com.
Join the conversation on Twitter using the hashtag #RWNoLimits.