Selfridges is to ramp up its overseas online offer after sales soared when it soft-launched delivery outside the UK.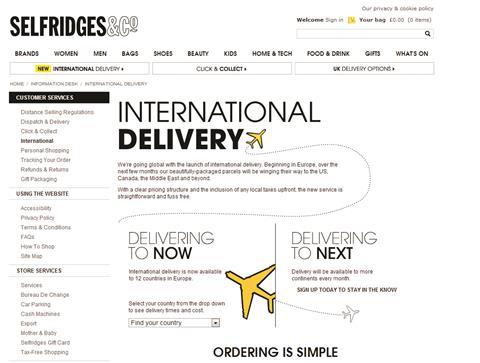 The department store began delivering to 12 European countries on August 28 and said it had beaten its sales forecast by nearly 1,000%.
Selfridges had planned to roll out delivery to an additional 40 countries including the US, South America and Australia by the first week of October. But after the success of the initial venture it will now aim to roll out to more countries including China simultaneously.
International offers a big opportunity for Selfridges. More than 25% of the retailer's traffic came from outside the UK before it offered international delivery and 50% of those visitors had tried to purchase.
Selfridges has simplified duty and delivery tax for its foray into international ecommerce, with VAT paid back to shoppers immediately.
The retailer said Sweden has been its most popular market so far.
Pre-launch, the highest international demand came from the Middle East, the Far East, the US and Australia. The retailer said sales expectations were "very high" for the second phase of its international delivery roll-out.
Selfridges has no plans to launch overseas stores.
Selfridges is linking with Hong Kong fashion conglomerate IT to bring seven of its streetwear brands to the womenswear department in Selfridges. The brands will take a 2,500 sq ft space and go on sale for seven weeks from today.