Selfridges has launched a beta version of its eagerly anticipated transactional website.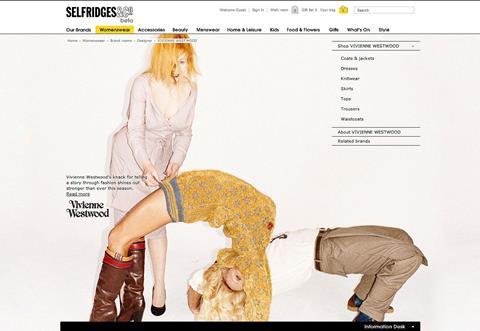 The site, at present only available to a small number of shoppers who registered earlier this year to test it, features categories including womenswear, accessories, beauty, menswear and home.
Product can be searched for according to features such as colour, size and price. Shoppers can also refine their search by "brand rooms" such as designer, contemporary, casual and street, and by category. Each brand features strong imagery and product pictured on live models.
The site incorporates drop-down menus such as "what's on" and "style", which showcase news and events, and fashion areas including a blog, product of the week feature, and a self-style page where shoppers in Selfridges' stores model their latest outfits.
A "wish room", which doubles up as a community page enabling shoppers to share their style ideas with each other, allows users to save their favourite products, put looks together and see what fellow customers are eyeing.
Standard delivery is two to five days at present and customers can choose next-day delivery for an extra charge.
A Selfridges spokeswoman emphasised that the site was a work in progress and likely to look different at full launch, which is expected in the second half of March.
Selfridges has been a late starter with its transactional offer and online specialists such as Net-a-Porter and Asos are already well established in its market.
Last October, Selfridges chief executive Paul Kelly said that the retailer had taken a cautious approach to the launch.
He said then: "It's going to be a slice of Selfridges and is certainly going to be a very entertainment-led ecommerce experience. It's not just about selling products online, it is about getting people to interact with the business."