Mike Ashley's efforts to get the Sports Direct house in order took another dramatic turn today as chief executive Dave Forsey quit.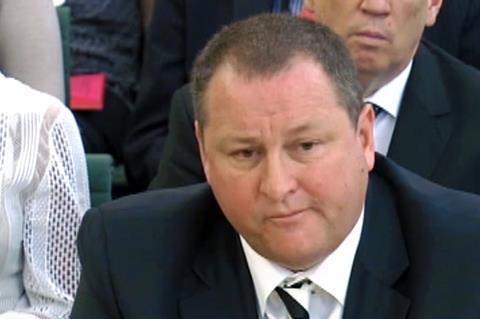 After 32 years with the company – having joined as a Saturday boy aged 18 – Forsey has left his old pal Ashley to take his old job.
It's unclear whether Forsey was pushed or fell on his sword, but in some ways his exit was inevitable. He forewent his bonus this year and came in for harsh criticism in a report this month from Sports Direct's legal advisers, RPC.
The report accused Forsey of failing to inform the board of some of Sports Direct's "issues" – notably its failure to pay the minimum wage. It noted that Forsey acknowledged he was responsible for the "day-to-day running" of the company.
However, some observers, including veteran analyst Nick Bubb appeared shocked by Forsey's exit. Ashley himself said losing Forsey felt like he had "lost my right arm".
Ashley's 'chief admin officer'
Perhaps Forsey just got fed up with being the whipping boy?
During Sports Direct's open day this month, Forsey wandered around with the assembled journalists, investors and union representatives while Ashley ran the tour in his inimitable way.
For the chief executive of any other company this would be a chastening experience.
Insiders suggested that Forsey took on a lot of administrative and HR duties, whereas Ashley focuses on the sales side of the business. One former colleague referred to Forsey as the "chief admin officer" and doing the "boring jobs that Mike Ashley didn't like to do".
But this sums up the fact that Sports Direct is unlike any other plc.
Making a mockery of corporate governance?
A big question mark remains over Sports Direct's corporate governance. As its chief executive, can Mike Ashley really convince investors the company will be run in a different way?
One shareholder advisory group has already expressed its concern. "Shareholders really want to see that Mike is willing and able to take independent advice," says Manifest founder and chief executive, Sarah Wilson.
Fund manager Mike Fox from shareholder Royal London Asset Management says: "The installation of Mike Ashley as chief executive, consolidating his influence at the top of the business, is unlikely to reassure anyone."
"Mike Ashley is making a public commitment to refocusing and getting the company he founded back on track"

Jasper Lawler, CMC Markets
But CMC Markets analyst Jasper Lawler is convinced it's a positive thing. "By taking over as chief executive, Mike Ashley is making a public commitment to refocusing and getting the company he founded back on track," he says.
Sports Direct has also sought to strengthen the look of its executive team by promoting Karen Byers to global head of operations and Sean Nevitt to global head of commercial.
Initial signs are promising for Ashley as Sports Direct's share price is currently up around 5%. However, it is still tanking well below the glory days of mid-2014, before all the company's woes kicked off.
Ashley had previously admitted the company had got too big for him to handle. "You wake up one morning and you're on an oil tanker," he told MPs.
But now he has lost Forsey, the challenge to revitalise the company he loves will be laid bare before him.
The task is significant, but who would bet against retail's most colourful maverick?