Big-box retailers are branching out of retail parks and adopting new channels such as smaller high street stores to target new shoppers.
Before the dawn of ecommerce, retail parks – with anchor tenants like B&Q, Halfords and Homebase – stole footfall away from home and DIY retailers on the high street and spawned the big-box format.
In the late 80s and 90s retail parks represented convenience: Numerous shopping missions could be completed in one go; it was easy to park; and retailers had space to stock and display a large amount of bulky goods.
More recently however, big-box home retailers including Topps Tiles, Carpetright, Ikea and DFS have been finding merit in shrinking down to fit the high street and exploring the benefits of alternative channels.
This is because the advantages of big out-of-town stores have been obliterated by ecommerce, according to consultancy director Alex Sbardella at retail technology advisory firm Red Ant.
He says: "Even the amount a big box can stock is a fraction of what Amazon can have at your house within two hours. And for brick and clicks retailers, what benefit is the space when you can fit your entire range on an in-store iPad?"
This, along with decreasing vehicle ownership in cities, has conspired to make retail parks less convenient and diminish their appeal.
For Carpetright, being on the high street means reaching new audiences – those who don't drive, or don't want to make the journey to a retail park
So, accepting that to stand still in retail is to seal your fate, traditional big bricks-and-mortar retailers have begun the process of metamorphosis. Through a range of strategies, innovative retailers are reaching a new audience and reaping the benefits of brand reappraisal too.
Big box turns little box
Many big-box retailers have begun trialling a range of smaller store formats in high street and desirable inner-city locations. And for early innovator Topps Tiles branching out into smaller stores three years ago has reaped many rewards.
Topps Tiles commercial director Brian Linnington says the retailer's tranche of boutique stores – measuring around 1,000 sq ft instead of its usual 5,000 sq ft – was borne from a desire to be more accessible to its affluent customer base and to rectify a misconception some people had of the brand.

"We identified a gap in our coverage, and customer research revealed we were misunderstood by people who hadn't shopped with us. Many people saw us as being a hard-end trade retailer, but we're decorative and design-driven."
Its 15 boutique stores are designed to be inspirational, with tiled floors, appealing merchandising and a consultation table. Linnington says: "The boutiques have a slower maturity curve than the core stores, but they work as fantastic adverts for the brand, prompting passing shoppers to consider Topps and showcasing some of our products.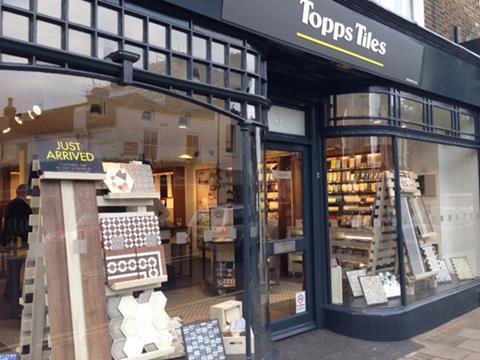 "They also work as a halo for our main store chain, driving traffic to our bigger stores nearby," he adds.
As well as continuing to open boutique stores, Topps Tiles has decided to roll out some of the small-store features, such as the consultation table, across its core estate.
Linnington admits that one of the biggest challenges was shrinking to fit desirable locations – London in particular – without compromising the brand's specialist proposition.
"There's a size you can get down to without doing the brand a disservice. We wouldn't want to go any smaller than the boutique we have in Chelsea," he says, which measures a modest 613 sq ft.

Likewise, Carpetright has put "considerable effort" into making its proposition work in a smaller format, by refurbishing a number of high street stores in order to attract new customers. The carpet specialist's chief executive Wilf Walsh says the high street offers both advantages and disadvantages.
"For Carpetright, being on the high street means reaching new audiences – those who don't drive, or don't want to make the journey to a retail park – good brand visibility, reduced staffing costs and the chance to be an integral part of a loyal, local community."
Walsh points out however, that rents can be higher in sought-after areas and the stores often cost more to fit out. He is confident though that this strategy will be profitable for Carpetright and its newly refurbished high street stores will deliver double digit growth.
The smaller format showrooms are designed to inspire and inform customers, who can then order products to be delivered either to their homes or the store.
"The retail environment is tough and brands have to adapt to changing customer needs in order to survive. That can mean having a slicker digital offer, a more inspirational store format or adapting your location strategy," he says.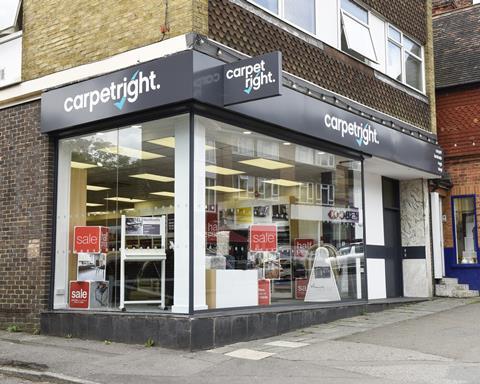 Other recent adopters of the small-box strategy include DFS, which is set to open its third high street store incorporating its Swoosh technology to support sales in a smaller space.
DFS chief executive Ian Filby says: "There is obviously a reduced physical range due to space constraints. However, we utilise Swoosh to visualise all our range options on the big screens in store. We can show any customer all our models, colour sand material options, while they can sit on the product."
Likewise, Pets at Home is trialling its Barkers dog specialist format, and, although not targeting high streets, Hobbycraft has shrunk its store size in order to access greater London.
As Mintel senior retail analyst Nick Carroll points out however, it's much easier for a specialist like Topps or DFS to shrink than a broad-range retailer like B&Q, because "reducing its size would inevitably dilute its proposition and customers expect to find everything they need".
Big box turns cardboard box
Along with other tried and tested channels, such as pop-up stores, some big-box retailers have entered into pure-play territory, launching spin-off companies to bridge the gap between their traditional retail park audience and the etail-savvy, convenience-hungry generation.
One example is beds specialist Dreams, which has backed mattress-in-a-box firm Hyde & Sleep. The standalone spin-off was founded by Andrew Tyler, who previously worked with Dreams boss Mike Logue at Mothercare.
Hyde & Sleep allows Dreams to tap into the new dynamic mattress-in-a-box market, and requires no store space what-so-ever. The online-only mattress market has recently been infiltrated by Simba, boasting retail partner John Lewis and Casper, which launched in the UK earlier this week.
Tyler says: "We're like the cheeky kid brother to the more grown-up Dreams business. Our customers have been raised on social media and are used to one-click next day delivery via mobile."
Tyler adds that being backed by Dreams gives Hyde & Sleep an "unfair competitive advantage over other start-ups, who simply don't have the heritage or know-how that we enjoy."
Following suit, big-box bike and car parts retailer Halfords recently aquired specialist etailers Treds and Wheelies.
Swapping click-and-collect stores for the showroom
After opening two click-and-collect-only stores in 2011 – one in Aberdeen and another in Liverpool – department store House of Fraser toyed with the idea of opening more. It backtracked however, closing its Liverpool unit and opening click-and-collect counters within stores instead.
Mintel senior retail analyst Nick Carroll says that the danger of having space purely for collection, such as sports giant Decathlon's store in Canary Wharf, is that the retailer eliminates the possibility of spontaneous spend.
"Smaller concept stores need to be more than a just collection point. They need to fulfil the consumer demand for advice and an in-store experience. They should feel like a flagship – a vessel for the retailer's branding and expertise."
Carroll predicts therefore that Ikea's trial of Order and Collection points, as they are known, in various high street and shopping centre locations will prove fruitful.
The smaller format showrooms are designed to inspire and inform customers, who can then order products to be delivered either to their homes or the store.
Carroll says: "Ikea has been stuck in limbo for years – struggling to find stores large enough that wouldn't cannibalise trade in other areas. Its showrooms will be a great way for the retailer to gain greater physical presence with fewer barriers to entry."
Ikea's Birmingham Order and Collection point is due to open at the end of this month and will be the retailer's first store in a high street location.
But where does this leave the big box and the retail park?
"It's almost inevitable that developments in technology will lead to a reduction in store sizes in large format stores over the next 10 years for all but a handful of retailers," says Red Ant's Sbardella.
"Recent omnichannel shopping trends are almost actively opposed to big-box stores, and advances in virtual and especially augmented reality – although they're probably a good 5-10 years away – are going to completely remove the uncertainty of what a big ticket purchase will look like in the home."
"I can see retailers converting some of those massive stores into fulfilment centres for faster delivery"

Alex Sbardella, Red Ant
He adds that, as fulfilment speeds increase to essentially real time in most suburban areas, consumers will have even less impetus to head to retail parks.
"I can see retailers converting some of those massive stores into fulfilment centres for faster delivery," he says.
"If you were starting out now without the legacy retail park estate, would you consider big box? Seeing as both Made.com and Sofa.com have broken into a market previously dominated by big-box retailers using the town centre showroom plus digital model, it seems the answer is no."
As the fate of BHS made all too apparent, no retailer can stand still. According to Carroll, this is particularly true for retailers traditionally based in retail parks, because they typically attract older shoppers and "there's a danger your consumer will age with you".
Perhaps the key for retailers is to spread the risk, and to find a way to fit into boxes of all shapes and sizes, be it big, small, cardboard or otherwise.