After the strongest growth, excluding Easter, for 18 months in June, the BRC-KPMG Retail Sales Monitor reveals positive results in all categories.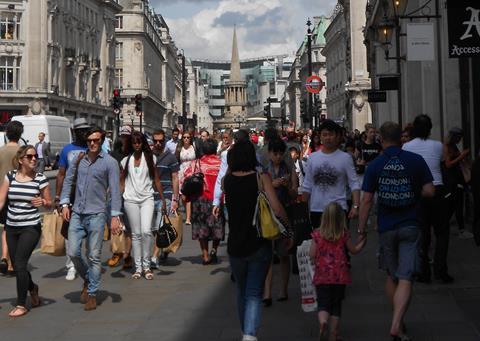 Food - up
Food retailers enjoyed a fairly buoyant June with total food sales rising for the seventh month in a row, excluding Easter distortions.
Sales of salads, berries, picnic and barbecue food increased when the sun made an appearance, but typically colder weather food such as soups and roast meat also sold well.
Clothing - up
With such varying weather – drier and sunnier but also colder and windier than average for June – clothing sales remained below expectations.
However sales notched up towards the end of the month when the hot weather encouraged customers to snap up new summer clothes, coinciding with many retailers' Sales.
The report noted that retailers who bucked the trend of hoisting up Sale signs earlier than last year, reported profitable sales for June.
Online continued to be the star growth channel, with fashion's entire sales growth in June stemming from the web. In-store recorded "no rise" in sales.
Footwear - up
Sandals and canvas pumps were the footwear of choice in June, but boots still sold well – no doubt aided by the colder than average weather.
The report highlighted that men's and children's footwear performed slightly better than women's, but added that all of women's growth stemmed from online sales.
Health and beauty - up
Sales in the category increased in June, boosted by customers picking up suncare products and travel-related items.
The report noted that there was less demand for allergy products compared to last year, and added that there was evidence of customers trading up when it came to shower gels.
Furniture - up
Another strong performance for the sector, with furniture ranking second of all categories.
The report said that GfK's Climate for Major Purchases Index increased from 2 in May to 16 in June, its highest level since January 2006.
Home accesories - up
Gifts and outdoor living items were singled out as categories that performed well in June, helped by a successful Father's Day and the dry weather.
House textiles - up
The report noted that house textiles had a better start than finish to the month.
Toys and baby equipment - up
The glorious weather in the latter part of the month meant that sales of paddling pools and other outdoor items soared, leading to toys and equipment topping the rankings in July.
Household appliances - up
The warm weather in the final week of June encouraged consumers to buy fans and air conditioning units in a bid to combat the heat.
Jewellery and watches - up
The sector enjoyed a good month in June, leading to the category achieving a second position on a three-month basis, which the report said was a sign of consumer confidence to spend.
Other non-food - up
Up against tough comparatives last year with the World Cup helping sales of televisions to rocket, this month sales of electricals proved to be weak as expected. Sales of computers could be having a revival, the report noted.
The release of the latest edition of Fifty Shades of Grey helped boost book sales, with the Nielsen BookScan achieving its strongest level of growth since April 2008, excluding Easter distortions.
Department stores
Department stores "held up well" during the month, but the report said they didn't perform as well as supermarkets, which benefitted from extra non-food seasonal sales.