Grocers such as Asda and Sainsbury's are piloting scan-and-shop devices to cut queue times and increase convenience.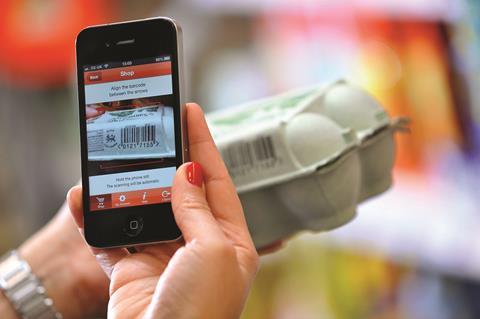 Why are we talking about it now?
Asda has revealed it is to leverage parent Walmart's "revolutionary" technology to test Scan and Go mobile technology in "a number of stores over the next few months". The service, which features in 70 Walmart stores in the US, saves shoppers time because they can scan items on their iPhone or iPad in the aisles and pay for them at a self-checkout counter.
Who else is doing it?
Last year Sainsbury's began piloting an app, Mobile Scan & Go, in three London stores. The grocer asked 800 Nectar Card customers around its Tadley, Clerkenwell and Bethnal Green stores to test the technology. Shoppers use a QR reader to 'check in' when they enter a store, scan items and then checkout at a regular till without re-scanning the items.
Shoppers buying loose items can scan shelf-edge labels and weigh the items before receiving a printed sticker. Separately, shoppers at Sainsbury's, Tesco and Waitrose can use the grocers' own devices to scan as they shop.
Tesco has the devices in 100 stores and intends to roll them out nationwide. Chief executive Philip Clarke said last year that the devices, which had been tested for two years in five stores, were a hit with children who enjoyed helping their parents shop. The Co-operative Food last month invested £6.5m in rolling out wireless handheld devices.
The technology is attractive to grocers because of the large number of products shoppers buy.
What are the advantages?
The main benefit for retailers is the reduction in queuing time as shoppers move more quickly through the store. And because the mobile scanning apps rely on shoppers' own technology, retailers do not need to invest in devices.
Customers benefit from a speedier shopping experience and by being able to calculate the value of their baskets as they go.
Will there be further developments?
If Asda and Sainsbury's trials are successful it appears pilots will be extended to further stores. Separately, Clarke has said Tesco will spearhead a "digital revolution" with mobile at its heart, and, with a new app development office in Shoreditch, it is likely to be studying the scanning market.
It is understood some scanning technology could be extended to encompass store navigation, so customers could input their shopping lists and then be shown the fastest route around the shop. Moreover, if payment could be integrated into the app shoppers could theoretically shop without having to queue at all.