Profits have surged at grocery home shopping specialist Abel & Cole and the retailer could be put up for sale next year.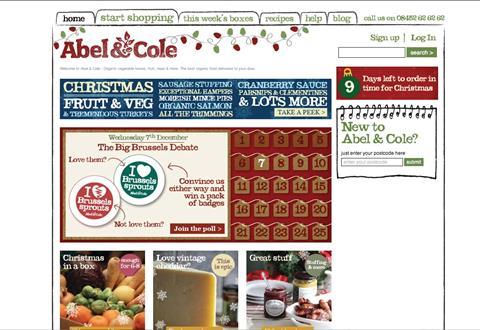 Figures being filed at Companies House will show a healthy sales uplift as well as improvement to the bottom line.
The strong performance is thought likely to prompt backer Lloyds Banking Group – which holds a significant stake following a debt-for-equity swap last year – to eye opportunities for exit.
Founder Keith Abel, who returned to the business last year to lead a turnaround, said that a back-to-basics approach and improved focus on the quality of the organic vegetable boxes the retailer sells had delivered results.
"A large part of the growth has come from increasing density of customers rather than the geography we serve," he said.
Improved marketing and increased word-of-mouth recommendation also bolstered Abel & Cole's performance last year, as depressed consumers sought refuge in simple pleasures such as the enjoyment of good food.
"People want a bit of sunshine in their lives," said Abel. "We're the antidote to Jeremy Paxman in times of doom and gloom. We're all about fresh, wholesome product and here to cheer them up."
In the year to August, operating profit at Abel & Cole rose from £396,000 to £1.5m and underlying EBITDA increased from £1.9m to £2.8m. Sales rose from £28.7m to £35.7m.
Abel believed that Lloyds might well seek an exit now that the retailer is back on form. He said: "They're not in the business of selling vegetables.
I expect it could happen in 2012." PwC, which has been retained by Abel & Cole for some time, is expected to run a sale process should it go ahead.
There was speculation earlier this year that Abel & Cole might be sold. Observers said the retailer could make a good fit with The Co-op, which at present does not have an online food business.
Abel founded the business in 1988 with his friend Paul Cole, from the basement of a flat in southeast London.
Buy Multichannel Now. Retail Week's exclusive report reveals what UK retailers really think of multichannel, and how they'll act on it in 2012.