In a welcome break from the endless rounds of Christmas ads, Sainsbury's has launched a campaign with David Beckham to raise awareness of its Million Kids Challenge, which aims to get children involved with sport.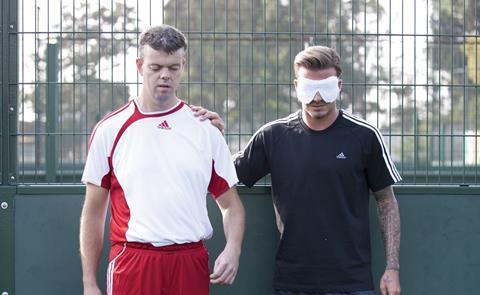 The campaign also draws attention to the level of skill required to participate in the Paralympics Games, for which Sainsbury's is the main sponsor.
The short film, created by agency AMV BBDO, will show in cinemas and features Dave Clarke, the Paralympics five-a-side football captain for Great Britain during the Beijing games in 2008, as he coaches a blindfolded Beckham through a set of drills.
The Million Kids Challenge is giving out free sports equipment to 6,000 schools and Sainsbury's wants more schools to sign up.
It gets the message across without being preachy and the use of David Beckham stokes immediate interest from children, footfall fans, tabloid newspapers – pretty much everyone. Plus, scheduling its release for this time of year means it stands out among the schmaltzy Christmas ads, X Factor news stories and Strictly Come Dancing obsessions.
Not only this, but the Paralympics often gets forgotten by the press amid the Olympics hype and this nicely highlights the skill of the athletes taking part. Sainsbury's hasn't hogged the limelight either with little evidence of the retailer until the final frame. It's not interested in pushing a price or product message, rather it's content with the branding benefits of being associated with something people will talk about.