What's it like doing all your shopping on a smartphone? We asked Will Dorling, a partner at Weve, to try it out and report on his findings.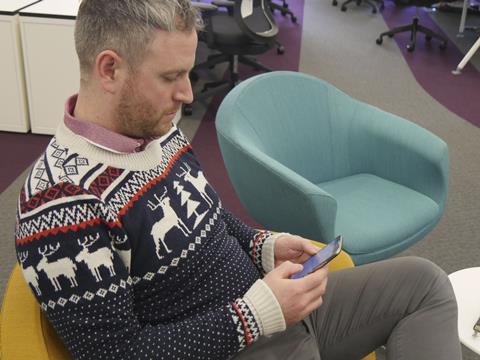 The mobile channel is a growing one for retailers, but how easy it is to do all your shopping on it? Will Dorling kept a diary for a week as he bought all his gifts on his mobile phone.
Monday: Getting started
First, a confession: I love Christmas. I love everything about it, from the planning of menus to the TV scheduling; and I particularly enjoy the shopping, despite the crowds and the chaos.
So when my colleagues at Weve challenged me to do all of my Christmas shopping on my mobile this year, I was in two minds. Would I miss the sights and smells of the high street, or would it be a relief to get it done without having to endure the Christmas crush? And how well would mobile technology stand up to the mobile Christmas experience? I'm going to find out.
I already know that I can't replace some aspects of Christmas. Case in point: I'm definitely not giving up the queue at the butchers for the turkey, complete with its mince pies and mulled wine for the freezing punters. But on day one, I'm thinking about what I can replace. My preliminary list of presents for my family looks promising and well within the scope of a mobile approach. In fact, I think I'm going to struggle with too many options - a few casual mobile searches for terms such as 'mobile Christmas gift guides' yields an overwhelming number of options.
I clearly need to find some ways to narrow this down. Have I bitten off more than I can chew?
Tuesday: Inspiration
It's 7am on day two and I've got a flying start to the day's research before I've even got off the train.
The good news is that finding ideas for presents is incredibly easy, with three particularly rich sources of ideas. First: the gift guides from traditional publishers such as the Guardian and Telegraph, whose mobile-optimised sites made browsing especially easy.
Secondly, individual retailers' own gift guides and their site design made light work of trawling through their wares, despite some limitations. Finally, good old-fashioned mobile search for terms such as 'Christmas gift ideas' yields the usual plethora of options, pointing me to several sites I hadn't previously considered.
The problem is that none of the sites I'm visiting are particularly festive. There's barely a holly leaf or Santa hat on display, let alone any cheery Christmas music. On mobile, there is no extension of the Christmas campaigns that fill our screens. It's a stark contrast to the high street, where retailers have pulled out all the stops with their window displays and their seasonal in-store embellishments.
There are some exceptions. The White Company has done a great job of instilling its mobile site with some Christmas spirit alongside its distinctive branding, while Debenhams has made a good effort to inspire Christmas shoppers too. But overall it's a pretty poor show.
Here's another thing that's missing - cross-selling. Christmas is a great opportunity for retailers to drive impromptu sales, but few of the mobile apps or sites seem interested in trying to make me buy anything other than the items I've searched for and nobody's giving me many options outside my immediate field of view. It's hard to see this as anything but a missed opportunity.
I'm also not seeing many Christmas ads at all either. I'm on my Android handset and expect plenty, but the ads I'm seeing might be from any day of the year. Why aren't brands competing for my festive pound with their mobile ad campaigns like they do on TV or in the press? I have no idea, but it seems like yet another missed opportunity.
I'm really hoping that the efficiency and utility of the experience compensates for the lack of festive cheer.
Wednesday: Family presents
Now we're really cooking. My research earlier in the week has helped me decide on presents for my brothers - a Superdry hoodie for older and a smartwatch for younger. The first of these is a doddle. The Superdry mobile site is very user-friendly and everything's ordered in no time, although there's an interesting departure from the norm here, as he and I are the same size so I'm used to trying things on before I buy them for him.
No matter. That's what returns policies are for. More pressing is the smartwatch, a subject about which I know very little. The excellent gadget review sites help here, and I quickly narrow the options down to the Pebble. But another problem quickly rears its head. In a world of near-identical commodity pricing, which site do you choose?
The answer is the one with the most loyalty points, it turns out. Thanks to the magic of Nectar eShops, I can get quadruple points if I buy at Argos with my mobile, thus adding a vital contribution to next Christmas's booze fund.
Finally, a footstool for my parents that I can buy in the high street but which I can get cheaper via mobile and delivered for free too. I'm a big fan of supporting local high streets but this deal is too good.
All in all, day three of the mobile Christmas challenge has been a breeze. If I had any doubts about the value of mobile as a shopping tool at this time of year, they're starting to evaporate.
Thursday: The wife
I've hit my first serious roadblock today. Finding a pair of trainers to match the ones my wife wore in our university days with mobile-only search tools has highlighted a big issue for retailers: the importance of mobile SEO.
It's always important to be high up the search list, but on mobile it's even more critical. Small screen sizes really do reduce the amount of info per page of results, and flipping through multiple pages becomes tedious very quickly.
So I've hit the high street today, hoping to find what I need among some real store inventory. And sure enough, I find what I need almost immediately - not an exact match, but close enough. And once I know what I'm looking for, buying it on my mobile couldn't be easier. Showrooming really does pay dividends, it turns out.
The same technique pays off again for my wife's second present, a pair of luxury PJs. This time I know what I want, but I want to check the quality before I buy from the retailer's own site. It's fine, but here comes a separate worry: will the packaging look as good when bought online as it does in the store? That's one uncertainty I'll just have to live with for now.
Friday: The daughter
My final purchase - a lovely Russian doll for my daughter - highlighted another serious potential problem with mobile-only shopping trips. Forced to use my own personal steam-powered phone from 2011 for reasons beyond my control, it quickly became apparent that the modern mobile web is just too demanding for anything but the most recent handsets.
Zooming in to type credit card numbers into small spaces results in dreadful lag and multiple refresh-related errors. If I had one bit of advice for shoppers buying on mobile, it would be this: use the most recent handset you can find.
That aside, it has been an enlightening week. My other purchases were all conducted with little or no hassle, packages have already started to arrive, and I've found several items that were only available online and not in stores, which turns out to be one of the biggest benefits of this challenge. Lacking in seasonal inspiration the mobile sites may be, but they're also incredibly efficient.
Best of all, though, it's all done. Much as I enjoy the build-up to Christmas, it's incredibly liberating to realise that for the first time in years I'll be able to relax into it the best way possible - on the sofa in front of this year's Elf screening, instead of in the high-street scrum. I'll probably make a trip to Bluewater with the family for the sake of tradition, but the pressure will be well and truly off. Merry Christmas!
Some lessons…..
The mobile shopping experience is best when you know what you're looking for. Research is now so easy on the mobile web that it's actually quite overwhelming, and it can make the whole process more of an ordeal. Real-world research can help you narrow down your options.
The ease and enjoyment of buying is defined by the quality and age of the handset. Don't try this if you're still using a first-generation Android handset or a mark 3 iPhone. Faster processors and better screens make a vast difference to the quality of the experience.
Retailers are missing some opportunities. I really didn't expect Jingle Bells to be playing on every site I visited, but the lack of mobile Christmas spirit was very noticeable. That really makes a big difference to Christmas fans like me. I even really missed the Christmas ads - at this time of year, I'm just not inspired by the same old advertising for PCs, tablets and TV sports subscriptions.
It's not just about the money. Sure, you can save some money shopping via mobile - I probably saved 10% or so in total - but the real benefit is the convenience and the liberation.