Next year's Retail Week Live will be bigger and better than ever. Here are just a few of the highlights and some of the speakers who will be helping to make the 2014 event our best yet.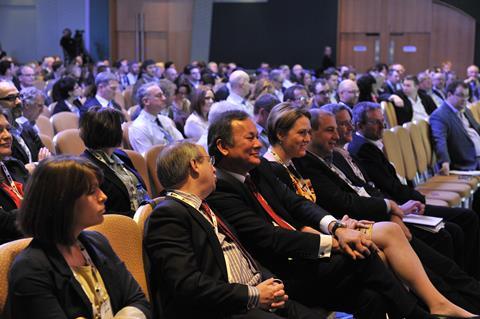 There are few opportunities to hear from the calibre of senior retailers already lined up to speak at Retail Week Live 2014.
The event will play host to the biggest names in the industry - including former Kiddicare boss and new Haatch "big cheese" Scott Weavers-Wright - and next year, more than ever, the focus will be on the evolving business models and disruptive innovation that is causing such fundamental change in retail.
As Debenhams international director Francis McAuley says: "Retail Week Live is the leading event for the retail industry in the UK. It's an opportunity for those involved in our industry to meet, pull together and help shape the retail landscape into what we want and need for British retail, whether that is trading in the UK, or international markets through stores or ecomm. I look forward to Retail Week Live 2014."
Retailers are in the middle of one of the most important periods of change ever encountered, and nothing is more helpful than listening and speaking to peers. From industry giants such as Tesco boss Philip Clarke to exciting young retail upstarts, Retail Week Live will cover the issues and conversations retailers need to hear.
Retail Week Live's speakers will share insight into their business experiences, as well as their predictions for retail's future, to help delegates shape the next phase of their business.
48 hours that will change the way you think
Retail Week editor-in-chief Chris Brook-Carter
For two days in March the biggest names, brightest minds and most innovative thinkers in retail will come together in one place to discuss, debate and drive the retail industry's agenda for the next year.
Staged by the industry for the industry, we will be tackling the subjects that matter to your business in 2014 and beyond. We have collaborated with our Retail Week Advisory Board, made up of retail chief executives, to create an experience that casts the spotlight on current challenges, future trends, technologies, innovations and business models.
Attendees will walk away from the event with new ideas, a handle on the biggest market opportunities and fresh approaches to driving revenue. We will also be taking a retail-focused look at the big macro topics that help underpin business decisions including the economy, consumer confidence, business rates, the perception of the industry and leadership.
In a world that is changing fast, fresh thinking from every direction is crucial. As a result, we are looking at each topic from the perspective of the consumer, innovation and the business.
Innovation happens when you share, talk and explore, and Retail Week Live is about finding opportunities to stimulate those interactions. You will be mixing with the people shaping tomorrow's retail landscape.
Next year's event promises to be a brilliant one - we look forward to seeing you there.
Topics covered
DAY 1
The need to adapt to changing consumer behaviour, the multichannel environment and the blending of leisure and retail are all changing the relevance, role and future of physical space. There is no one-size-fits-all approach to property but the race to create compelling space is on.
The supply chain is a key source of competitive advantage. From sourcing and manufacturing to marketing and product, an effective and efficient supply chain that strikes a balance between agility and predictability is imperative to growth.
The lure of overseas markets remains strong for British retailers but, as some high-profile exits have demonstrated, it's not an easy task. The product offer must be tailored to the market, internal operations need to be organised and supply chain strategies have to be seamless.
DAY 2
The relationship between customers and retailers has fundamentally altered as the economic, cultural and technological trends of the last few years have taken effect. It is essential retailers understand how these forces have changed consumer behaviour and how the industry can react.
Retail is a technology-enabled industry and the pace of change is unrelenting. It poses unique challenges for retailers to keep up, but also extraordinary opportunities for growth.
Lots of work has been done on multichannel, but there is still a need to better understand how customers are shopping across channels, as well as how to create a single view of their data, while still delivering bespoke channel experiences.
Speaker highlights
Philip Clarke CEO, Tesco
Euan Sutherland group CEO, The Co-operative Group
Simon Calver CEO, Mothercare
Tim Steiner CEO, Ocado
Sebastian James group CEO, Dixons
Holly Tucker CEO, Notonthehighstreet.com
Shingo Murakami MD, Rakuten's Play.com
Scott Weavers-Wright big cheese, Haatch
Kate Ancketill CEO and founder, GDR Creative Intelligence
Vernon W Hill II founder and chairman, Metro Bank (VIP breakfast speaker)
Declan Curry business and economics journalist
Agenda highlights so far
The big retail story - Philip Clarke, chief executive, Tesco
At the helm of Tesco since 2011, Philip Clarke is effectively reinventing the business. He has launched the 'Building a Better Tesco' plan in the UK and is repositioning the grocer to become a global digital leader.
With a laser-sharp focus on the customer and with innovation at the heart of its strategy - including the launch of own-brand tablet device Hudl - the retail giant is positioning itself for leadership in the multichannel world.
Clarke will be sharing his insights into online and in-store challenges and opportunities in today's fast-changing retail landscape.
Tim Steiner interview
Ocado's pivotal deal with Morrisons in May stunned the grocery industry and proved a landmark moment in the etailer's development. It has changed the perception of Ocado from a pure-play grocer to a world-leading technology and logistics company with valuable intellectual property attractive to retailers across the globe.
Steiner will give an insight into why it was time to spread Ocado's wings, transform the business and focus on developing coveted specialist technology and knowledge. We ask Steiner what this means both for Ocado and the future of the grocery industry as more and more customers choose to shop online, breaking down traditional barriers and changing leadership thinking.
Leadership panel
In what will be one of the most anticipated sessions of Retail Week Live 2014, three high-profile leaders will share their insights into how they have approached and tackled the challenges of a business turnaround.
During the leadership panel, entitled 'Strategic reorientation and business turnaround', delegates will hear Simon Calver, Sebastian James and Euan Sutherland explore how they handle the mounting pressures of getting the strategy right. Moderated by Sally Elliott, senior client partner at Korn/Ferry, this keynote promises to stimulate and inspire while offering a unique and fascinating insight into leadership.
Innovation 2020 report
Retail Week is teaming up with GDR Creative Intelligence to produce its second report on innovation in retail. The report looks in-depth at the brightest and best examples of retailing today and is packed with new content for 2014. It will be available to Retail Week Live 2014 Premium delegates. Below are two exclusive case studies from the 2014 report.
E-Mart Flying Store
Location Seoul, South Korea
Date February 2013
Design Cheil Worldwide
South Korean supermarket chain E-Mart opened 'flying stores' that floated over busy parts of Seoul.
The flying stores were truck-shaped balloons with wi-fi routers. When people connected to them they were sent coupons for E-Mart which they could use immediately to buy items via the store's app.
South Koreans work some of the longest hours in the world so tend to shop at their closest store, and this campaign meant E-Mart could always be that store.
During the one-month campaign, in-store sales rose 9.5% and mobile sales more than doubled, increasing 157%.
The E-Mart app was downloaded 50,000 times in one month.
The remote-controlled wi-fi balloons were flown over public squares, shopping centres and transport hubs. Text on the side of the balloon encouraged people to connect to the wi-fi using their smartphones or tablets and download the E-Mart app to receive the coupons. Three balloons were used.
In South Korea, smartphone penetration is very high, particularly among 16 to 34 year olds. With two thirds of the population using smartphones, wi-fi is becoming a 'commodity'. This makes it the ideal way for E-Mart to connect with the younger generation.
Kate Spade Saturday window shops
Location Manhattan, New York
Date June to July 2013
Design Kate Spade New York and eBay Inc
Website Saturday.com
Fashion brand Kate Spade Saturday is online-only in the US, but it opened shop fronts in New York where people could see items, buy them via touchscreen and have them delivered free to any location in Manhattan within an hour.
With flashing lights to draw attention and cameras mounted around the window, the new diffusion brand from Kate Spade New York could see who was excited to buy from it and who ignored it.
Buying items took seconds. Shoppers could see an edit of 30 pieces in the window, learn more about them using the touchscreen and enter their mobile number to arrange delivery.
Payment was taken by the courier and customers could even try the item on while they waited and return it there and then. Items could be delivered to any location - the customer's home, their place of work or even a park.
Kate Spade New York partnered with eBay Inc to create the windows. The fashion brand supplied the stock, design and delivery service. The touchscreen and mobile payment system - PayPal Here - were provided by eBay.
Kate Spade New York parent company Fifth & Pacific plans to use the technology in existing stores for its other brands and ranges too. For example, smaller Juicy Couture stores with digital windows offering 200 shoe styles to buy, or mainline Kate Spade New York stores offering full homewares ranges.
The services provided by eBay Inc are available to other brands.
Download the full, exclusive 2013 Retail Week GDR Creative Intelligence Report from Retailweeklive.com
Ringing the changes in mobile
As mobile continues to dominate the retail agenda, Retail Week and Omnico Group are to produce acomprehensive report into its use as part of retailers' multichannel strategies.
The report will contain in-depth interviews with retail leaders in this field on:
Opportunities and challenges arising from the mobile revolution
The game-changing innovations in m-commerce
Barriers to change
The role of mobile in loyalty
Mobile integration within multichannel plans
Effective use of mobile in store
Mobile payments
What the future holds
Also included in the report will be the findings from a survey into consumers' use of mobile. How, when and where do they use mobile devices to browse or buy? What do they like about shopping on mobile devices and what don't they?
VIP delegates will receive a full copy of the report at Retail Week Live 2014. For more information on VIP and standard passes to Retail Week Live visit Retailweeklive.com.
Book now for Retail Week Live 2014
Book before November 30 to save up to £500 off standard rates
To discuss delegate packages
Andrew Falconer-Borgars
020 3033 4247
Andrew.falconer-borgars@emap.com
For sponsorship opportunities
Andrew Walker
020 3033 4279
To discuss speaker opportunities
Jaisica Lapsiwala
020 3033 2880
@RetailWeekLive
#RetailWeekLive