The Entertainer takes home the Zolfo Cooper Growth Retailer of the Year award, after driving profits and expansion in the wake of the downturn.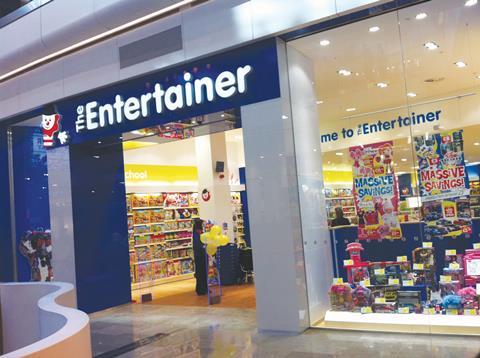 The Entertainer is one of the UK's home-grown retail successes, founded by husband and wife team Gary and Cath Grant in 1981 when they bought a local toy shop in Buckinghamshire.
While expansion was initially slow - three stores were opened in the first 10 years of the business's life - it picked up significantly during the downturn.
The Entertainer is a classic example of a retailer that benefited from a recession - its expansion programme started picking up in the aftermath of the collapse of Woolworths at the end of 2008. Woolworths was not a toy specialist, but still held a market share of around 15%.
The Entertainer was initially affected by the problems at Woolworths, which had launched a discounting offensive in a last-ditch attempt to survive. But the general merchandise retailer's demise left a gap in the market that The Entertainer was keen to fill.
Back in 2009 the toy retailer had 47 stores and that number has now almost doubled to 91. It has stores throughout the UK and has recently opened stores in Scotland.
Steady growth
Despite the rapid expansion of recent years, Gary Grant says growth has not been gung ho, and that caution has been key to success. The family home is still used as collateral against business loans and that has kept him focused. He says: "I've had to put my heart and soul into the business. I've worked long hours but it's no different from any other entrepreneur."
The Entertainer remains a 100% family-run business and Gary Grant still leads from the front as managing director. His two eldest sons, Stuart and Duncan, have joined as buying director and multichannel director respectively.
The retailer is guided by the religious principles of Gary Grant, a born-again Christian. The product range excludes toys that are deemed incompatible with Christian ethics, such as Halloween merchandise or Harry Potter-related lines.
Grant has also committed to donating 10% of the retailer's profits to charitable causes. Payments to charity reached £500,000 in 2012/13, up from £200,000 in the previous year.
'I've had to put my heart and soul into the business. I've worked long hours but it's no different from any other entrepreneur'

Gary Grant, The Entertainer
In another deviation from the norm, the retailer does not open on Sundays - even in the run-up to Christmas - so staff can spend time with their families. This had initially hampered expansion, particularly in shopping centres where landlords often insist on seven-day trading.
But in the longer term, this hasn't hampered The Entertainer's ability to pull in shoppers across the country, and it now has a presence in several high-profile shopping centres such as the Bullring in Birmingham and both Westfield shopping centres in London.
The retailer has recently focused on expanding its presence in the pre-school toys market, particularly as it seeks to capitalise on the ongoing rationalisation at Mothercare's Early Learning Centre. The Entertainer claims to have a market share of just under 5% in the overall toys market, but within pre-school toys it is just 2.6%.
Buying director Stuart Grant says: "Pre-school is one of our smallest categories but it is one of the biggest opportunities. The Early Learning Centre has left low-hanging fruit for us to pick up."
Online play
The online channel is also growing. In 2012 The Entertainer invested £1.5m in a new ecommerce platform that has integrated the online business, physical stores and supply chain. This has allowed it to offer a click-and-collect service with a 30-minute turnaround time, in contrast to three days before the upgrade.
Click-and-collect sales were reported to have nearly doubled over Christmas 2013, which management attributed to the fact that many customers are seeking to avoid wasted journeys if they know exactly what they want.
The retailer has also teamed up with delivery firm Shutl to offer a 90-minute delivery service, which has had a "huge" response. These deliveries are free for customers spending more than £50.
Things are clearly going well. Sales increased by 13.9% to £94.3m in the year to January 2013 as the retailer benefited from the net addition of 11 outlets as well as like-for-like sales growth of 5.4%, while the online business increased turnover by 27.4%.
'Sales increased by 13.9% to £94.3m in the year to January 2013'
Profits have also risen. Operating profit more than tripled to £5.1m, giving a healthy operating margin of 5.4%.
The company says 2014 continues to go well, with like-for-like sales ahead by 7% over the key Christmas trading period in 2013. The retailer's recent strong performance is all the more remarkable as the UK toy market has been in decline in recent years - consumer spending on toys declined by 2% in the year to November 2013.
These problems have been highlighted by the performance of the market leader, Toys R Us. The out-of-town superstore group has reported consecutive sales declines in recent years, which took its turnover down to £460m last year - some 20% below its peak reached in 2005.
The Entertainer is clearly different from Toys R Us - it arguably offers a more child-friendly and interactive environment. For example, steps are installed at tills so that children can pay for their own purchases. It is also committed to offering good value and there are strong ranges of pocket money toys.
The retailer's success has given management the confidence to expand internationally. In September 2013, the retailer signed a franchise agreement covering the Middle East with Dubai-based Al Owais Enterprises.
A first store was opened in Dubai in December 2013, and a further 44 shops are planned to be opened over the next five years.
The focus will likely remain on the Middle East in the coming years. Gary Grant says: "We want to get it right so all our resources are being poured into getting the franchise model right. In Al Owais we believe we have a partner that meets all of our requirements."
The industry will be watching with interest as The Entertainer expands overseas - it is clearly on a roll.
Methodology: How we chose the winner
Zolfo Cooper compiles the annual index, listing the top companies with the fastest growing profits within the UK's retail sector.
Qualifying companies have a turnover of at least £30m for the past three years and profits of more than £3m in their latest accounts.
They must also have two consecutive years of growth and have been profitable in all three years. Businesses must be registered in the UK and be independent and unquoted.
UK subsidiaries of European businesses are included in the analysis. However, only their performance in the UK has been considered.
Companies that have grown through acquisition have qualified for inclusion. However, food service companies, wholesalers, car retailers and petrol retailers have been excluded.
Zolfo Cooper
Zolfo Cooper LLP is a leading independent advisory and restructuring practice. Our partner-led teams assist clients facing financial, commercial and strategic challenges at all stages of the business lifecycle. Via our three service lines of Financial Advisory and Restructuring Services, Corporate Advisory Services and Pensions Advisory Services, we work with a broad range of stakeholders delivering expertise that extends from the mid-market through to the very largest and most complex international assignments.