Tesco's Hudl tablet device won the Rethink Retail Technology Initiative of the Year following an impressive debut and strong sales.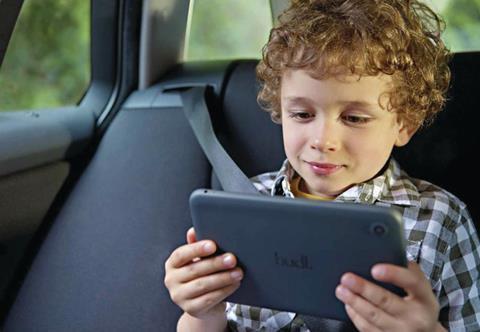 Tesco's decision to launch Hudl, its own-brand tablet, was brave. Not only do technology giants such as Apple inspire strong brand loyalty among their customers but other retailers, such as Next, had already tried and failed to do something similar.
And by building from scratch a product with an affordable £119 price tag, there was always the danger that the hardware wouldn't make the grade.
But the grocer proved it can make technology that people want to buy. The seven-inch Android tablet, which features a high-definition screen with 1,440x900 pixels and 16GB of memory which can be extended to 48GB, was launched on September 30 last year.
In the two days following the tablet's debut, Tesco sold 35,000 of the devices and went on to retail more than twice as many Hudls in the first week as it has ever done with any other tablet, selling out of the device twice in the run-up to Christmas. By the start of December it had sold 300,000 units.
Value for money
Crucially, the tablet had attracted good reviews on technology blogging sites and from the technology press. Many reviewers thought the product offered value for money and that it held its own compared with similarly priced competition.
Hudl is never going to lure hard-core technology enthusiasts away from their more highly priced tablets, but that was never the intention. The aim was to make an affordable tablet that delivered what most people wanted - web browsing and entertainment.
Hudl, which comes in four colours, is also family friendly and accessible for those not familiar with technology - it comes pre-loaded with a Getting Started app and freephone support from a dedicated technical team.
Another draw is undoubtedly its price. Clubcard customers can pick one up even more cheaply than the standard £119. Using Tesco's Clubcard Boost scheme, customers can double the value of their Clubcard vouchers and use them to buy a Hudl for £60.
Tesco says its sourcing and manufacturing approach enabled it to tightly manage costs.
The grocer decided to produce a budget tablet after spotting a gap in the market. According to Ofcom, only one in four households in the UK have a tablet computer and they are still seen by many as aspirational products. However, they are becoming increasingly popular and have been a common feature on people's Christmas lists for the past couple of years.
Figures released by YouGov in December revealed that more than 4 million people were planning to buy or expecting to receive a tablet for Christmas.
Built from scratch
Tesco had initially considered linking with an existing consumer electronics brand, but decided instead to build everything from scratch (apart from the Android Jelly Bean 4.2.2 operating system).
A key challenge was bringing together people who don't normally work together, especially the electronics teams, who source electrical products and the IT development teams, who build in-house applications.
The judges highlighted how Tesco built a strong team based around three disciplines: electricals, IT and mobile experience.
The judges applauded Tesco for its audacity in creating the Hudl.
One remarked: "The idea that a grocer has created a tablet people do not deride and are buying in volume marks a shift in the world of retail."
But the tablet is more than just a good value product. It is an important part of the grocer's multichannel strategy. Tesco has integrated its brand with the technology, and shortcuts to its online store and Blinkbox app are expected to drive sales of products on Tesco.com.
'The idea that a grocer has created a tablet people do not deride and are buying in volume marks a shift in the world of retail'
A launcher button - a small white 'T' in the bottom left-hand corner of the screen - means users are just one touch away from Tesco's range of digital services. These include Blinkbox movies and TV, music and Clubcard TV (which offers free films and TV programmes exclusively for Clubcard holders), banking and shopping. It also has pre-loaded apps such as YouTube, Google Maps and Google Play.
Tesco will be hoping to both strengthen its relationship with existing customers and target the next generation of consumers who have grown up with smartphones and are used to shopping on the go.
Writing for Retail Week just before Hudl's launch, Matt Atkinson, chief marketing officer of Tesco, said: "It's about having a single and direct relationship with customers, where everything they need from us is in one place and so more convenient for them."
And as Tesco prepares to launch an updated version of Hudl this year, it seems its brave move has paid off.
ReThink Retail
The retail world is constantly changing and what we used to call multichannel is now considered the norm. The aim for all retailers is to coordinate different channels to create a truly seamless in-store and online global customer experience.
And as the once clear lines between trading, buying, digital and technology have blurred, it is essential this is reflected in the skills of the people in your organisation.
At Rethink Retail we understand these changes and have brought together a unique blend of recruitment and resourcing skills. No other recruitment company can offer this range of resourcing capability and understanding.
So, partnering with us means you work with one supplier who can cover all your key head office roles.